Flacco Needs to Mix it Up
Print this article
It's been said often that when athletes have mastered a playbook or game plan and inherently understand their assignments, it allows them to unleash their innate physical abilities.
They can then play more aggressively, more swiftly.
Now if you take this athlete and he happens to be a defender whose job is to attack the line of scrimmage or the quarterback and couple it with a predictable snap count, chances are it will spell doom for the offense or at best place the offensive linemen at a competitive disadvantage.
And that's why I've never been able to wrap my mind around the cadence of Joe Flacco. It is nearly always the same.
BUT…
If he could mix it up, throw in a few hard counts or fake cadence, he might slow defenders down – force them to think a bit more and plant in their minds a split second's worth of doubt. And that could prove to be the difference between a successful play and a colossal failure.
John Elway at least in part, built a career around a cadence that ushered in free 3rd down attempts. After drawing the defense offsides during third down passing plays, Elway, knowing he was just given free 5 yards and possible a first down, took shots downfield that often led to a bigger play or a more significant penalty.
This is Joe Flacco's 8th season behind center in the NFL.
Isn't it time that he include an unpredictable cadence as part of his arsenal?
SUGGS' LEGAL HIT
The Philadelphia Eagles are doing a lot of bellyaching over Terrell Suggs' hit on Sam Bradford during Saturday's preseason game. They claim that Suggs played dirty and then added that the play wasn't a read-option but rather a simple draw.
NFL vice president of officiating Dean Blandino said Monday that after further review, Suggs' hit was legal.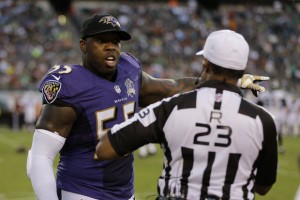 "We clarified it in 2012 with the proliferation of these read-option schemes," Blandino explained on NFL Network. "Because the quarterback has an option, he's considered a runner until he either clearly doesn't have the football or he re-establishes himself as a passer."
Why is this even a debate? If you want to whine about your quarterback being exposed Messrs. Kelly and Pete Carroll, don't run the read option offense.
If I was a team's defensive coordinator and wanted to control the read-option, I'd be sure that my guys were hitting the quarterback within the rules repeatedly until the opponent stopped or until the quarterback was battered to the point of being gun shy.
This is football people.
What's next? Running backs lining up behind center, complaining about being tackled because they are lined up as quarterbacks?
Give me a break!