Tyrod Wanted Out of Baltimore?
Print this article
It's interesting how many fans have suggested that the Ravens blew it when they chose not to re-sign Tyrod Taylor. Taylor aspires to be a starting quarterback. Was that going to happen in Baltimore?
It's called a crossroads. Players call it "business".
It was time to move on.
We're rooting for you here in Baltimore Tyrod as is John Harbaugh who had this to say after hearing that the former Ravens QB was named the starter in Buffalo.
"Congratulations – congratulations to Tyrod [Taylor]. I know we all believed that he could be that kind of a player. He and I had that conversation many times. Congrats to him, and [I am] happy for Rex [Ryan] that he has him."
CONCUSSION
Will Smith will star in the movie Concussion set for release on Christmas Day. If the trailer (see below) is any indication the film could become a Pandora's box for the NFL, particularly as the league enters the postseason.
It could also open the minds of promising athletes who are hopeful professionals. Given the short careers, the non-guaranteed aspect of contracts and the post-career trauma associated with playing in the NFL, might our country's best athletes, prodded by their parents, focus on other sports. Could it eventually erode the quality of the sport?
This movie certainly won't curtail the number of concerned moms and dads.
SHORT YARDAGE
According to Football Outsiders, the Ravens ranked 20th in short yardage offense in 2014. This past offseason the team did nothing to improve that aspect of their offense.
This week the Buffalo Bills jettisoned RB Fred Jackson. When you consider that Justin Forsett is coming off a year during which he had by far a career high seasonal workload, Lorenzo Taliaferro's iffy status and propensity for injury and Buck Allen's inexperience, Jackson could be a solid choice for the Ravens provided he still has some giddy up.
But what would he cost?
SALARY CAP
Currently the Ravens have a little over $7.5M in cap space available but that space is only available under the Rule of 51 that determines offseason cap numbers. Once final cuts are made on September 5, teams will need enough cap space to account for all 53 players, those on injured reserve, PUP and the practice squad.
That $7.5M will dwindle quickly and it remains to be seen how much cap space will be available for Ozzie Newsome to make final roster augmentations.
So if you don't see the Ravens jumping at the likes of Fred Jackson, Tim Jennings or Phil Taylor, this often overlooked element of the salary cap could be the culprit.
Read more about The Rule of 51 and salary cap implications from our Cap Guru here.
THE THRILL IS NOT GONE
Will Hill signed a new 2-year, $7M extension and will be a Raven through the 2016 season. Kendrick Lewis is signed through 2017 and the coaching staff is buzzing about the commitment of second-year player Terrence Brooks.
And then there's Matt Elam.
2015 was supposed to be Elam's breakout season. Instead it could eventually represent his breakdown season in Baltimore. He could be released in 2016 and invited back at a lower cap number by the feeling here is that his ship has sailed, another example of a good college player incapable of making the transition as a tweener. Elam's release in 2016 would trigger over $1.3M in cap savings.
ROCKY MOUNTAIN HIGH OCTANE?
The Ravens traveled to Denver in 2013 for their season opener and got smoked by Peyton Manning. But those added two seasons have diminished the velocity on Manning's fastball and his mobility is just a notch above a cigar store Indian.
Adding to the potential offensive problems in Denver is Gary Kubiak's system, which is being thrust upon Manning. The pair hasn't quite meshed yet if the preseason is any indication. Maybe you can't teach a 39-year old dog new tricks after all.
Catching Manning early in the season might not be such a bad thing this time around.
FIGHT NIGHT
Albert McClellan is battling Zach Orr and Arthur Brown for what appears to be two backup inside linebacker jobs. That fight could go down to the final whistle in Atlanta on Thursday night but if things don't go well for the former Marshall backer, maybe he can take his fight game into the ring.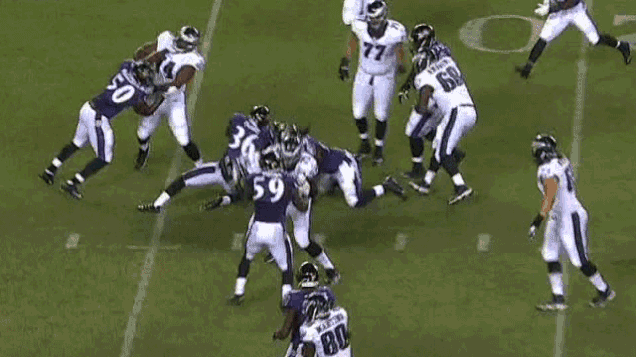 A MATCH MADE IN HELL