What's Next for Ray Lewis?
Print this article
I think it's safe to say the entire city of Baltimore was heartbroken when the iconic Raven, Ray Lewis, decided to hang up the cleats for good and ride off into the sunset. Sure, we knew Father Time had caught up to the future Hall of Famer, but his presence in our lives was something we've always had as Ravens fans since the 1st draft back in 1996.
Shortly after his retirement, Ray decided to join the ESPN broadcast crew for Monday Night Football. It was the perfect gig for Ray, and the perfect fix for Ravens fans still looking to keep 52 in their lives.
Alas, ESPN decided Ray's time in the studio would be short lived. Just a few weeks ago he was handed the pink slip after 2 seasons with the MNF crew. And once again, Ravens fans are left with a Ray-less void in our lives. No bueno.
But this is the great Ray Lewis we're talking about here! Is he going to roll over, call it quits and fade into the background?
NO!
Ray will inevitably surface again, and when he does, we'll be waiting with open arms and open ears (which… how does one 'close' their ears? Aren't they always open?).
So the big question remains: where does Ray end up?
The most obvious answer would be…
NFL Network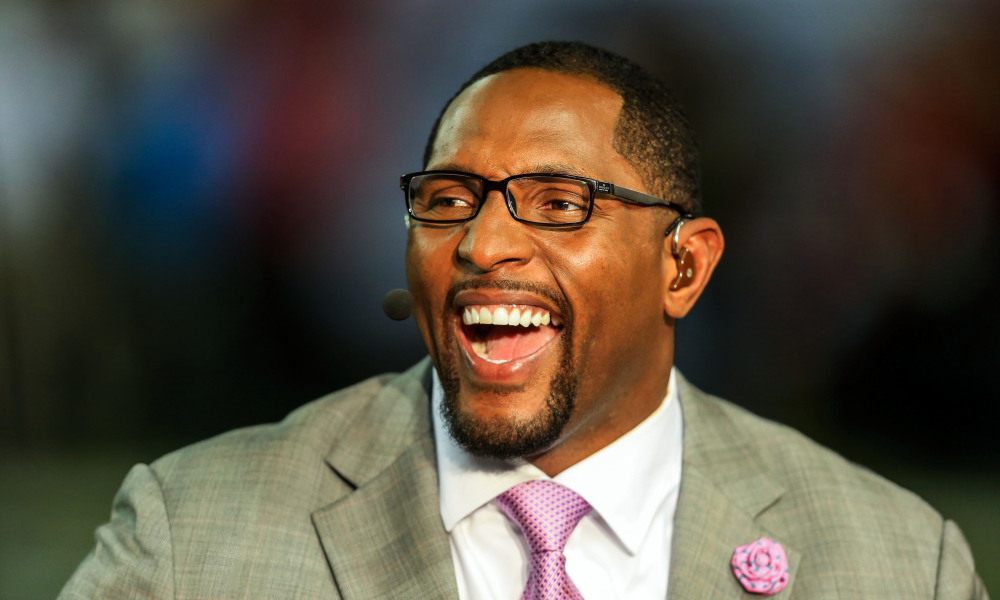 Let's face it- the NFL Network could use a fresh face or two (and in the process, replace Heath Evans, please!) and who better to jump on board as an analyst than one of the greatest defensive minds to ever play the game? Working the NFL Total Access Kickoff and postgame shows for Thursday Night Football would work great for Lewis, and great for the fans who are tired of Michael Irvin (you know you're nodding in agreeance right now).
It's possible Ray looks at broadcasting as 'Been there, done that,' and decides to move into a different aspect of the game. Don't count out the possibility that we see Ray…
Taking a page out of Favre's book
Before you even think to say it, I'm not suggesting Ray come out of retirement umpteen times, nor am I recommending he take some questionable pictures and send them to attractive sideline reporters (sidebar- Sterger does standup comedy now? Who knew!). Instead, I'm looking at Favre's post-retirement life (the last one), when he decided to take on the Offensive Coordinator duties at Oak Grove High School, just outside of his hometown in Hattiesburg, Louisiana. If Ray were to jump on board with a local high school in his hometown of Lakeland, Florida, perhaps that would help him gauge whether he'd like to continue down the path of a coach.
Then again, he could always skip the local level and go right to…
The Sidelines at 'THE U'
Ray Lewis will forever be THE Baltimore Ravens icon, but don't underestimate his value to THE University of Miami football program (sidebar #2- why does every athlete feel the need to emphasis 'THE' before naming their college?). Just like the Ravens, I expect 'The U' will always have a place available for one of the greatest Hurricanes to ever don the uniform. Perhaps Ray could jump on as a Linebackers coach, or a Defensive Assistant, but from the Canes' standpoint, can you imagine the recruiting impact having Ray Lewis would have on that defense?! Even a simple "hey kid, I'm Ray Lewis. Come to Miami so I can coach you to achieve greatness," (albeit, with MUCH more gusto) would be enough to get any kid to jump on board.
Of course, Ray could also skip the college level if he wanted to join the big boys, as I'm sure he's already received calls from…
The Buffalo Bills
Admit it, you totally thought I was going to say the Ravens! But hear me out: Ray's former Defensive Coordinator (and Baltimore fan favorite may I add) Rex Ryan is the head coach in Buffalo. This season, Rex has added former Raven/Super Bowl Champ/Ring of Honor Member/Future HoFer/Two Tickets to Paradise holder Ed Reed to his coaching staff as an Assistant Defensive Backs coach. I'd be willing to bet that Rex and Ed have reached out to Ray after his ousting at ESPN to get the band back together… just in a new town.
Of course, we all know Ray has spent his entire career in purple and black, which leads me (and many hopeful fans) to believe it's more conceivable that Ray ends up…
On the Ravens' Sideline
There's no doubt about it. We all want it. If Harbaugh could bring #52 on board as a Special Assistant to the Linebackers (or whatever creative title they make up), just to get his foot in the door, the city of Baltimore would be jumping for joy. Think about it: The Great Ray Lewis coaching up C.J. Mosley to become the next great inside linebacker? Zach Orr taking the next step? Arthur Brown… I'm not even sure Ray Lewis can save his career.
The thought of it sends chills down my spine. And who knows? If Ray starts with the linebackers and works his way up the chain, we could be discussing Dean Pees' replacement (Pees out, Dean!).
Then again, maybe coaching isn't what 52 wants to do. After all, this is a man who spent nearly every waking moment training and studying and learning how to become the best linebacker to ever play the game for nearly 20 years. Perhaps he's best served…
In the Ravens' Front Office
What better way for Ray to stay close to the game while also taking it back a notch? Ray's discerning eye for talent could be of great use to a franchise that's had some serious shortcomings in the draft department in the past several years. Perhaps Ray could drop his 2 cents on prospects with the scouting department? Maybe become a defensive minded liaison to Joe Horitz? Imagine Ray Lewis doing the player interviews at the combine and how quickly he'd be able to pick apart players with questionable character or lack of heart!
… But I guess there's always the possibility Ray would step away from the game for good though, and look to use his talents elsewhere. Maybe he'd consider…
Running for Mayor of Baltimore
Look… I won't get all political here. But if our current Presidential election race has taught us anything, it's that sometimes people running for office with little to no experience can actually gain momentum and have some seriously good ideas (or, y'know, bad ideas, but that's counterproductive to my point). And as we've seen with the past two regimes in the Mayoral office of Baltimore, a change isn't just a want. It's a NEED. After seeing Ray Lewis' video on social media following the 2015 Baltimore Riots- a video in which he harshly criticized the crime in this town as a whole, and put it on the shoulders of the people to change their ways and become men, not boys- who's to say this man can't make a change and restore this city to its once great image?
Then again, politics can be messy and isn't necessarily something Ray would want to attach to his great image in this town. Instead, maybe those great oratory skills can be best served…
At the Pulpit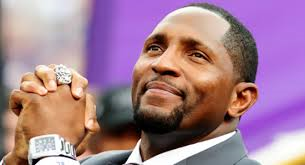 Throughout Ray's career, he's always been known as a preacher. Some take that as a positive (great locker room motivator) while others take it as a negative (they're wrong). But there's no denying 52 is a true Man of God. He spits Bible verses faster than Drake spits out bandwagon teams for the next in line. He speaks with authority and confidence when it comes to his faith and how it relates to success. And maybe, just maybe, Ray will take the next step in his faith and pursue the path of becoming an ordained minister. Heck, maybe he'll even look into starting up his own church!
Then again, Ray can continue his devout path without rocking the clerical collar and still reach the people. And maybe after decades of being strict and serious about every aspect of life, 52 is ready to let loose, like he does with his Squirrel Dance! Maybe he's ready to take that infamous Squirrel Dance to the next level on…
Dancing with the Stars
Honestly, I just want to see Ray Lewis do his thing on the dance floor. I can picture EXACTLY how this plays out. Ray would partner with [insert professional dancer name here, as I don't watch the show] and the pair makes it to the final round where he'd drop Nelly's "Hot In Herre" (don't go grammar police on me- that's how it's spelled!). The crowd would go nuts (Squirrel dance pun). They'd hand him the belt or trophy or whatever it is they do. Jacoby would be all proud and Antonio Brown and Hines Ward would be all bent out of shape because they never won. How sweet it would be!
Surely, Ray would have himself a good time on DWTS. But I think if Ray wants to have some real fun while showcasing the Squirrel Dance to Nelly, the one thing the Great 52 needs to do is pick up the phone, call LL Cool J, and make an appearance on…
Lip Sync Battle
This show deserves more hype than it gets; it's buried in the 10pm slot on Spike TV. There's been some seriously hilarious lip syncage going on over there. Whether it's Clark Gregg (Agents of SHIELD) performing Britney Spears "I'm a Slave For You," Josh Gadd (Olaf/Frozen) in full Trump-attire belting out "I Touch Myself," or Channing Tatum (lame looking new Ghostbuster's reboot) channeling his inner Elsa with "Let It Go," Lip Sync Battle always leaves the audience in stiches and cheers.
So why not Ray Lewis? Pit him up against Big Ben. Ray, would start off easy with a little Usher, while Ben would go with his favorite Backstreet Boys song, then in the final round Ray takes him to the cleaners with "Hot In Herre" with Nelly stepping out on stage to join him in the Squirrel Dance to take home the belt. It would a marvelous final win over Big Ben for the all-time great Raven.
---
One thing is for sure: wherever Ray decides to go, and whatever he decides to do, he'll have the undeniable and full support of the city of Baltimore…
…As long as he steers clear of Pittsburgh. And Cleveland. And Cincinnati. New York too. Oh, and whatever territory is considered 'New England,' which I guess is just Foxboro and Boston, but probably expands to any area the 'O' sounds like 'AH' and people think Brady is 100% innocent, which is impossible because I was raised to never trust a man wearing Uggs.
JUST MISSED THE CUT: Return of Ray Lewis' Full Moon BBQ, Celebrity Boxing Match vs. Mike Preston, & pitch Ray Lewis: Dog Whisperer to Animal Planet.