Football & Family Led Me to RSR
Print this article
For the last two years, I've had the pleasure of writing here at Russell Street Report. Having a platform to express my views and opinions on everything Ravens has been an incredible experience and one I am very grateful for.
So, how'd a guy currently living in the heart of Patriots Nation end up not only as a Ravens fan, but as a contributor to the best Ravens site out there? Well, before moving to Boston, I spent five years in my early 20's in Federal Hill. Some of my best and most vidid memories from those days are the ones forged on Sundays on the "purple patio" at Mother's. I made friendships there that will last a lifetime – friends that, without the Ravens, I'd likely have never even met.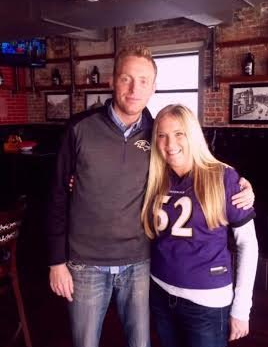 Once moving to Boston I was fortunate to link up with some other displaced Ravens fans, and Ravens Nation North was born. We currently meet at the Causeway, a bar and restaurant within a stone's throw of the famous Boston Garden. We're on the second floor and get some ugly looks as we pass through the masses of Patriots fans. But we embrace it, and in a way have even grown to love it.
The experiences of congregating with fellow fans both on our home turf and behind enemy lines have been a large source of my passion for Baltimore football. Both played a part in what ultimately led me to writing for this fantastic website. Family, however, has played the biggest role in my love for the Ravens.
My father was a lifelong Baltimorean. He was ultimately a master electrician, but while pursuing his license he drove a bread truck for Tastykake at night. Some of my earliest memories were stocking the shelves at Bi-Rite grocery store on Belair road with butterscotch krimpets and chocolate cupcakes. My parents also opened a snowball stand at the Overlea-Fullerton park in the late 80's. Summers were spent there watching fireworks and going to the annual carnival. As a child my relationship with my dad was like most between father and son.
As I grew older, however, my father and I grew apart. My parents divorced when I was fifteen, and like most separations there were times where it wasn't pretty. Divorce is never easy on kids, but during adolescence it can be particularly challenging.
We also were just, simply, very different. My father was an expert at swinging a hammer, while I'm much better at swinging a golf club. I worked for him one summer and after some failed attempts at installing a ceiling fan, my responsibilities consisted of coffee runs and trips to the supply house. We often struggled to find common ground or things to talk about. However, we always had one very common bond: our love of the Ravens.
We attended dozens of games together and had countless conversations we otherwise wouldn't have. For a father and son who often struggled to find a mutually interesting topic to discuss, the Ravens provided us a bridge, a genuine and authentic bond that we otherwise struggled with. My father passed away in 2011 at the far-too-young age of 55. Although we were robbed of many experiences that an early death takes away, I am that much more appreciative for our common passion for the Ravens.
Had it not been for Art Modell bringing football back to Baltimore in 1996, I wouldn't have nearly as many great memories, and I would have spent far less quality time with my father.
He unfortunately never had a chance to read any of the pieces I've written for RSR, but I have little doubt he would have commented frequently. Chances are he would have often disagreed with my take, and that would have been just fine.
I had been a fan of Russell Street Report for years. I'd always enjoyed their content and unique perspective from a fan's point of view. All forms of media in the sports world serve a purpose, but it was refreshing to read well-written material from others who shared the same passion I had for Baltimore football.
After some encouragement from my wife, I reached out to Tony Lombardi to see if he would be interested in publishing a piece I had written about a bunch of displaced Ravens fans living in New England. He was gracious enough to respond, give me some great feedback, and ultimately publish the blog.
Over two years and one hundred blogs later, I enjoy writing each piece as much as the first, and more importantly I appreciate all of you for taking the time to read them.
Even if at times you adamantly disagree.