The Best Displaced Ravens Fans
Print this article
Each of our lives is a journey and our respective journeys generally travel different paths.
The chosen paths are often influenced by things like ambition, life altering circumstances, a change in career, a sense of adventure or many different variables.
And when you are a native Baltimorean, wherever your journey leads, Baltimore pride is your constant companion. For many, so too is their devotion to the Ravens.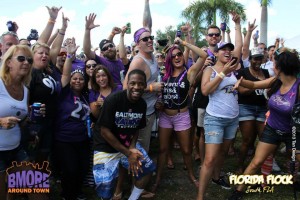 As a result, fan groups have sprouted up in many places across the nation – even across the pond in Great Britain. Many things for displaced Ravens fans pale in comparison to gathering with folks from your hometown to root for your hometown team.
Some of these groups have hosted parties for traveling Ravens fans, welcoming them to their new cities. They rally together to support the purple and black.
But which group is the best?
Which makes a Baltimorean feel most at home and which represents Charm City most enthusiastically?
Last year we invited these groups to tell their stories. Several responded. I encourage you to read about these Displaced Ravens fans HERE.
To determine the best groups we considered the following:
• Their participation in our blog series
• Activity on social media
• Presence of a dedicated website
• Size of the group
So with these criteria in mind we've come up with the following nominees for The Best Displaced Ravens Fan Group:
What Are The Edgars?
You remember the original Ravens mascots – of course you do! Edgar, Allen and Poe once enthusiastically engaged fans at Ravens stadium. As you know, Edgar and Allan retired, most likely to a cushy nest somewhere warm. And with all due respect to Allan, we've plucked Edgar over Allan from retirement for no other reason than "The Edgars" has a nice ring to it.
The Edgars will consider all walks of fandom as it relates to the Ravens. From the Maryland county that is home to the best Ravens fans to the best Ravens podcast; from the best collection of displaced fans to the best local craft brews that should be part of your next tailgating party.
Vote on These Edgar Award Nominees Too!