Ah yes, Steelers Week is upon us in Baltimore.
Sort of.
While the national media will dub this week's Ravens-Steelers bout as a 'rivalry game,' as a Ravens fan, you need to ask yourself – is this still a rivalry? Is 'Steelers Week' still a thing? Or is this just another divisional game?
Sure, the game is very meaningful for the fanbase and the Ravens alike. After all, it is a divisional game, and a victory would pull the Ravens (3-4) into a divisional lead/tie with the Steelers (4-3). Also, given the recent onslaught of Ravens PSL holders selling out to the enemy like Benedict Arnold (not to be confused with Benedict Cumberbatch who has THE coolest name ever and is starring in Doctor Strange this week! My fellow nerds, let us rejoice!), there will be a packed house full of raucous fans for BOTH teams, as always, when these two teams square off.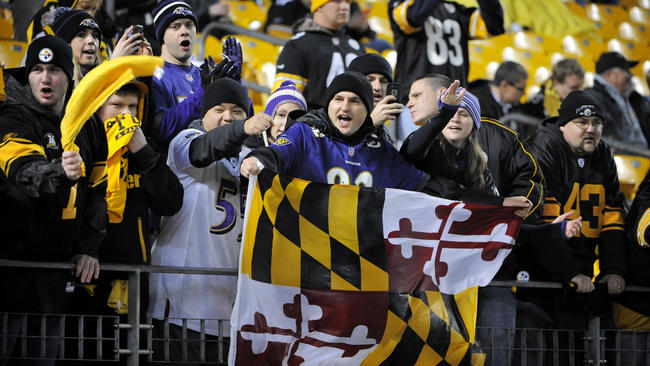 Emotions will rage. Tempers will flare. The environment will be electric.
But to continue to dub this week 'Steelers Week' is just a lazy narrative that needs to be tossed aside like a terrible towel (I refuse to treat that as a proper noun because, gross).
Let me ask a question: When you talk about the rivalry during 'Steelers Week,' do you find yourself mostly reminiscing about games from four+ seasons ago? 
That's called living in the past, and it's the very thing we all mock Steelers fans for doing when they talk Super Bowls.
Indeed, those days of the heated rivalry have come and gone.
No longer are the days of Bart Scott drilling Ben Roethlisberger to the ground, or Haloti Ngata turning Big Ben's nose around like an infant playing with a Mr. Potato Head. There is no Torrey Smith to catch a game-winning touchdown in the waning moments at Heinz Field. There's no more Ed Reed vs Troy Polamalu conversations. No more Jerome Bettis or Ray Lewis.
The greatness that once came with this rivalry now all resides on different sidelines around the NFL, in a broadcast booth, or enshrined in the form of a bust at the NFL Hall of Fame.
Instead, we are left with a shell of what once was. The defense-first battles are now offensive-minded games, where the two defenses once considered fierce, stout and intimidating are now viewed as weak, porous and laughable. That on-field intensity and anger that we've seen in players like Ray Lewis or Hines Ward no longer exists.
And to compound matters, the games between these two teams aren't exactly nail-biters anymore.
Sure, last season both games (Ravens victories) were of the three-point variety, but those weren't "Ravens vs Steelers" type games, as we were subjected to a collective group of backups, showcasing the likes of Ryan Mallet & Mike Vick, while the Ravens played the latter game without the services of Joe Flacco, Steve Smith Sr, Justin Forsett, Breshad Perriman, Terrell Suggs…
Jump back to the 14-15 season, and the three games between the Ravens & Steelers were decided by 20 points, 20 points again, then a 13 spot.
So much for 'close' games…
Fast forward to the 2016 season (Doc Brown approves all of this time traveling) as we prepare for 'Steelers Week' once again, and this game looks to have all of the excitement of a Browns at Patriots game. On a Thursday night.
The Pittsburgh Steelers sit at 4-3 with a two-game skid on the back of backup QB Landry Jones, but it sounds like Fat Ben will be making his triumphant return in an effort to right the ship. Le'Veon Bell has his legs under him once again after his suspension earlier this season, and the Steelers are looking at a +20 point differential so far in 2016.
Meanwhile, our beloved Baltimore Ravens carry a 3-4 record into the battle, bringing along the baggage of a four-game losing streak, a myriad of injuries, questionable coaching decisions, and some generally poor play all around. There's concern about the play of offensive line and Flacco this season. There's concern about the inability of the Ravens to play a flag-free game. There's concern about the depth across the board.
And the Ravens point differential?
-7
These are clearly two teams in two different places, headed in two different directions, that haven't been fierce rivals in some years now.
Please Ravens fans, understand that this so-called rivalry with the Steelers is dead.
At least for now.
To be rivals with a winning team, you need to be a winning team, and the Ravens right now are far from it (statistically speaking, I know they're close, but I'm speaking of the play on the field).
And the media has noticed as well. NEITHER Ravens/Steelers tilt this season is during prime time – when's the last time THAT happened?
Our *New* Rivals
If you want to be honest with yourselves- and I'll get chastised for this without a doubt – our REAL rivals right now?
The Cleveland Browns.
STOP.
I don't want to hear about their record over the years, or their drafts, or their owners, or their quarterbacks… all in comparison to the Ravens. It's a drastic gap, I know. I don't live under a rock. But a true rivalry is about the play on the field, and when these two teams meet up in recent years?
It's ALWAYS a close game.
Take a look at the last 10 games between the Ravens and Browns: every game is decided by 10 points or less, with eight of the 10 decided by one score. The past few years have given us some phenomenal finishes:
'14 Week 3: Tucker game-winning FG as time expires
'14 Week 17: Ravens, down 7-6, score 17 unanswered in the 4th
'15 Week 5: Tucker ties game with 30 seconds left, Browns Koons kicks GWFG in OT
'15 Week 12: Will Hill returns blocked FG for GW TD
'16 Week 2: Ravens come back from 20-0 to win game
That folks, is what a rivalry is all about. A nail-biter. A one-score game. A crazy finish.
Not 'the games used to be great, so we'll always be rivals.'
If you want to circle this game on your calendar every season, by all means do so. Trash talk on the message boards, drop memes on social media, and put out your Steelers toilet paper gag gift for a good laugh when you watch the game with buddies this Sunday.
But it's about time we let this rivalry thing go, lest we want to come off as that Swim Fan ex hanging around, hoping we can still be 'friends.'
[cardoza_wp_poll id="1472″]