The Worstest Play Call Ever…or Was It?
Print this article
Was It Really The Worst of All-Time?
A lot of hubbub has been made this week about the play calling late in Sunday's win over Philadelphia. In particular, the play that resulted in an interception and almost cost the Ravens the win. I've read blogs and news articles about how it was all Joe Flacco's fault. I've heard commentators talk about how Marty Mornhinweg is to blame. During the post-game presser, I even heard John Harbaugh say it was the "worst play call of all time" and it was his fault for agreeing to it.
My initial knee-jerk reaction was that Mornhinweg should be on the first flight to…well…anywhere other than Baltimore. Where was the situational awareness? There have been multiple games this year where the coaches have made questionable decisions that have either resulted in a loss or resulted in a massive momentum swing.
Aggressiveness versus Situational Awareness
I get why they would want to try to put the Eagles away at this point. I also appreciate the aggressiveness. This was just not the time for an aggressive play call. The correct play was to run the ball. Then, if they could not get into the end zone, kick the field goal. There was not enough time for the Eagles to come back and win.
That said, after looking at the play from a few different angles, I can understand why Flacco opted to go for Steve Smith Sr. The problem was not necessarily the play design or even the throw. The problem was that, once again, Flacco failed to look off the defender and stared down his target.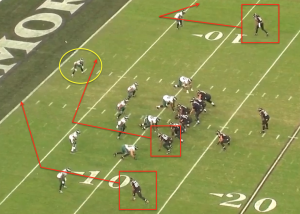 The Ravens initially line up in an offset I-Formation with Kyle Juszczyk as the up-back and Terrance West as the tailback. Steve Smith Senior was split wide left and Chris Moore was split wide right. Darren Waller was lined up beside Ronnie Stanley on the left side. The Eagles are showing Cover-1 and it looks as if they're anticipating run, which would make sense in this situation. Before the play gets going, I'm not sure why they didn't run play action here. I think had the play action been a factor, Senior would have been much more open as the linebackers wouldn't have dropped into zone coverage.
After the ball is snapped, Jenkins immediately comes up to cover Juszczyk. The other three defenders all dropped into a zone and kept their eyes on Flacco. Flacco had a good pocket to work in and plenty of time to make the proper reads. At this point, his initial read should have been to go to either West, who is leaking out of the backfield, or to Moore who is in single coverage and running a comeback route towards the sideline.
If Flacco connected with Moore here, it may not have been a touchdown, but it would have gotten them within a few yards of the end zone and plenty of time to run it in with West or Kenneth Dixon.
Flacco Doing His Best Boller Impersonation
Kyle Boller was notorious for staring down receivers long before he threw the ball. As noted above, I do not think that this play was necessarily a bad play. The problem really was that Flacco stared down Senior the entire time. The Eagles knew exactly where he was going with the ball and Jordan Hicks anticipated it perfectly.
The above image clearly shows that Flacco was staring Senior down well before he threw the ball. It also shows that Hicks is not even paying attention to anyone but Flacco.
I can understand why Flacco felt that Senior was a good choice. Flacco has just released the ball and, at this point, Hicks hasn't fully appeared in Flacco's throwing lane. Their deep safety also looks to be far enough away that Flacco has a clear throwing lane. The speed of the game is quick though…
It Should Have Been Waller
Whether or not Flacco made a poor read is certainly debatable, but what is not debatable is that he needs to do a better job looking off defenders and recognizing where they are. For a nine-year veteran with the amount of experience Flacco has, this is pretty unacceptable in my opinion. What makes it worse is that Senior is completely blanketed by Nolan Carroll and their deep safety, Rodney McCleod, is driving down towards Senior. It is not like Senior was quickly breaking away from Carroll. The odds of this play being successful were slim-to-none with this particular read.
This play is another example of Flacco not reading the field well enough. He had a good pocket to work with and he had enough time. Flacco just locked onto Senior and the Eagles knew exactly where he was going with the ball. The frustrating thing is that had he pump faked here towards Senior, or even just waited another second, he could have hit Darren Waller for a very easy touchdown. That was their goal all along, right?
Ultimately, I do not think this was the right call, but after looking at it from different angles, I cannot say that it was a bad call. I hate to use an old Harbaugh-ism, but this really came down to poor execution from Flacco. Thankfully, the Ravens were able to hang on for the win.