Ravens Rumors: Jeffery Almost a Raven?
Print this article
The Ravens signing of Brandon Carr certainly provides defensive coordinator Dean Pees with a reliable player who can be counted on to show up for work regularly. Carr leads all active corners with 144 consecutive games played, and that's durability that the Ravens can appreciate given the many injuries sustained by the secondary in recent years.
Carr's former Cowboys teammate Morris Claiborne signed with the Jets shortly after Carr agreed to terms with the Ravens. It was rumored that the Ravens extended the same offer to both Carr and Claiborne and the first to take it would be wearing purple and black. However, a source familiar with the negotiations has shared with RSR, that the Ravens were willing to sign both players, and that it was never a first-come first-serve bargaining play.
Jeffery Almost a Raven?
Speaking of bargaining, word is that the Ravens were serious contenders for WR Alshon Jeffery. Jeffery is said to be the coveted complementary receiver that Ozzie Newsome mentioned during the State of The Ravens presser. Jeffery eventually accepted a 1-year deal with the Eagles for $14M, spurning an offer from the Ravens believed to be a 5-year deal that could have been worth up to $65M, if the oft-injured Jeffery hit reasonable playing time incentives.
The last-minute bail out on the deal by Jeffery's agent Tory Dandy, left Newsome seething. Coincidentally, Dandy is representing Clemson's Mike Williams and there's concern that if the rangy receiver does fall to the Ravens during the 2017 NFL Draft, they might pass on him just to avoid having to deal with Dandy. Dandy also represents former Clemson Tiger, now Buffalo Bills WR Sammy Watkins.
Q's Return
Staying with the topic of wide receivers, some have floated the possibility of Anquan Boldin returning to the Ravens. A fan favorite here in Baltimore, the free agent is looking to return for what would be his 15th season. Boldin will be 37 on October 3 and is likely to land a 1-year deal with a team that fails to come up with a plug and play possession receiver in the draft.
Boldin had 67 catches for 584 yards and 8 TD's in 2016 as a Detroit Lion. He's looking for a modest increase over last season's $2.75M earnings. With 27 catches, Q will move into 4th place all-time in receptions and he's 952 yards shy of Steve Smith's 7th all-time leading receiving yards total of 14,731.
When asked recently if he would consider a return to Baltimore he asked in return, "Is John Harbaugh still the coach?"
Interpret that any way you wish…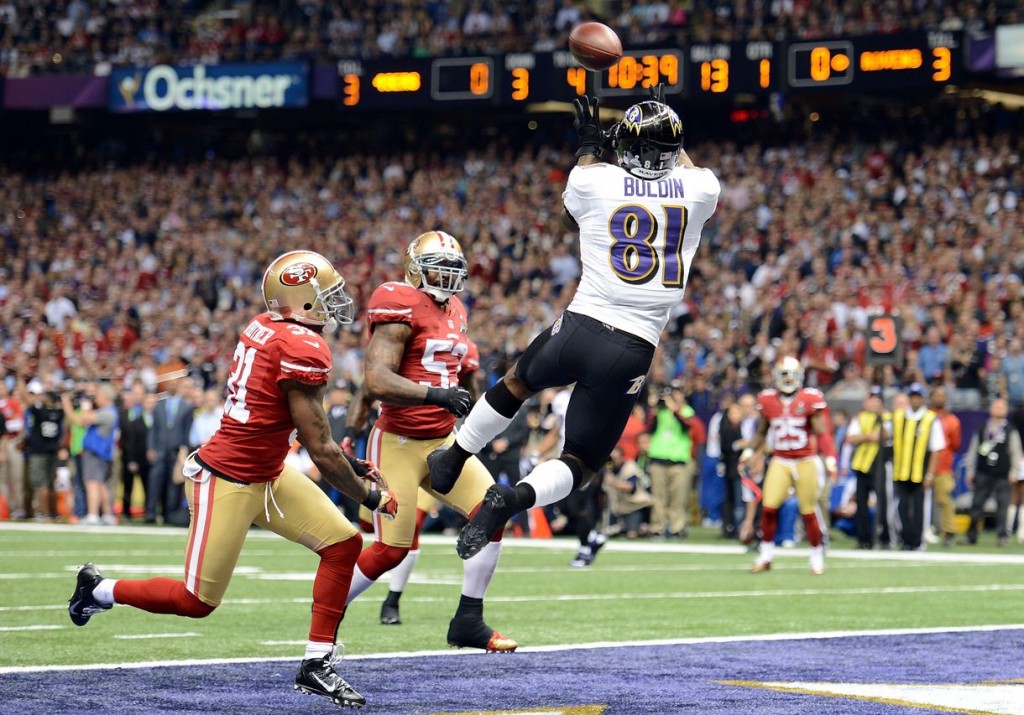 Front and Center
Given the dearth of talent at center in the 2017 NFL Draft, most assumed that Nick Mangold would have been signed by now, but the 7-time Pro Bowler and 3-time All Pro is still looking for a new employer. The longer Mangold remains available, the lower the asking price, and then, perhaps he fits Ozzie's credo, "right player, right price."
BUT…
The native of Ohio comes from a family of lifelong Browns fans who despise the Ravens. If it was earlier in Mangold's career and the dollars were bigger, such loyalties might be overlooked. But given the relatively modest salary that the former Jet is likely to command, upsetting the family dinner table on Thanksgiving by becoming a Raven, isn't worth it to Mangold.
And then there's this…
During a recent Locked on Jets podcast, Mangold was asked about the possibility of going to Baltimore following the departure of Jeremy Zuttah. Mangold shot down the idea saying, "Besides my family's disdain for the Ravens, there's Marty Mornhinweg. I played in his system for two seasons in New York and when the Jets parted ways with him, I offered to take him to the airport just to make sure he was leaving."
Ouch!
Board Games
The M&T Bank Stadium new scoreboards are supposed to seriously improve the game day experience for fans. With a pixelation density that rivals the finest in-home curved ultra HD quality, these boards promise to tantalize fans.
The boards will be controlled by Madden National Champion Frank "Stiff" Sardoni, Jr. and choreographed by the world's most famous DJ, Calvin Harris, who according to Forbes pulled down over $66 million in earnings in 2014. The entertainment on the boards might be better than that on the field.
Underhanded to Under Armour?
In other stadium-related news, M&T Bank, the title sponsor since 2003, has apparently violated the terms of the contract between the financial institution and the team. When M&T signed Joe Flacco as a spokesman for the bank, they ignored a non-compete clause that Flacco agreed to but apparently overlooked like an open receiver, with First Mariner Bank.
You may recall that Flacco was a spokesperson for First Mariner for a few years but abruptly terminated his relationship with the Baltimore-based institution. Unless First Mariner is made whole on significant punitive damages, it triggers a clause in the stadium naming rights deal that essentially voids out the balance of the contract. Word is that Under Armour is champing at the bit to be the stadium's title sponsor and their collective hope is that it happens before the Metallica concert scheduled for May 10, 2017. CEO Kevin Plank is said to be a huge fan of the California-based band.
Shady Brady
Whether you love them or you loathe them, just about everyone gave the New England Patriots credit for an unprecedented Super Bowl LI comeback victory. Some who label the Tom Brady-led team the "Cheatriots" opined that in some way, shape or form, Bill Belichick's boys had to have been cheating to muster such a comeback. And you know what? They're right!
Welcome to Headset-Gate!
When plays come in from the sidelines to the quarterback, the conduit for this flow of information is a Bose headset and comparable receiving device installed in the quarterback's helmet. Once the ball is snapped, the communication is supposed to stop. But according to Arnie VanDoren, Director of Product Management and OEM Business Development at Bose Corporation, and a native of Atlanta, Georgia, that wasn't the case this past Super Bowl Sunday.
Records retrieved from the hard drive used to enable the communication devices, show that conversations between offensive coordinator Josh McDaniels and Brady during the fourth quarter of Super Bowl LI, continued well after the snap when the Patriots were on offense. VanDoren forwarded his findings to NFL headquarters in New York and it is now suspected that the dramatic turn of events during the game were fueled by instructions fed to Brady to help him avoid the Falcons' pass rush and spot open receivers downfield.
Making Headset-Gate even more sinister, is the fact that VanDoren was recently fired by Bose Corporation, a Framingham, Massachusetts based company. This scandal could finally blow the lid off of Patriots owner Robert Kraft's evil empire.
Through The Uprights!
In other league news, you may be aware that the NFL will implement a few new rules to once again confuse officials more than they already are, and help nurture an officiating environment that can best be described as "paralysis by analysis." Surely I jest…I think.
Anyway, a suggested rule championed by John Harbaugh and Justin Tucker did not get approved by the league's competition committee. That rule would have awarded points to the team kicking off if the kick sailed through the uprights. Seems a bit cheesy to me, but be that as it may, the good folks from Pizza Boli's like the idea. And, why wouldn't they? Their business is in large part tied to cheese, right?
What Pizza Boli's has proposed to the Ravens is "Pizza Goalies". If Justin Tucker does drive any of his kickoffs through the uprights, Ravens fans will be entitled to a free pizza at Pizza Boli's. Simply present your game day ticket at any Pizza Boli's location on any of the following dates during the season, and you will leave with a free 16" pie courtesy of the Ravens and Justin Tucker.
Redeemable dates include: August 32, September 31, October 32, November 31 and December 32.
And finally before signing off, please click HERE for a very important message.