Final Thoughts on the 2017 Draft Class
Print this article
Now that a few weeks have passed and Ravens Nation has had some time to digest the 2017 draft class, we thought we'd get two of RSR's draft experts together for a roundtable. Follow along as Cole Jackson and Kyle Casey debate the outcome of the draft class and what to expect from the rookies in 2017.
Moderator (M): Thank you for joining us gentlemen. Baltimore's draft class surprised many fans by being quite defense-focused this year. What are your impressions on the lack of balance in the draft capital allocation?
Kyle Casey (KC): For me, balance in a draft is irrelevant. Team needs change every year, so drafting for the team needs of just 2017 is a near-sighted approach that sends a team back to drafting in the top 10. The Ravens sat pretty with each pick and kept it simple, adding talent across the board. The draft is a team's way to add a player who will contribute over the next four or five years, not just in their rookie season.
Cole Jackson (CJ): Ozzie's strategy has been no secret to anyone. Ozzie sets his board and uses a combination of best player available (BPA) and need in the formula. It has worked time and time again. However, at what point do you get desperate? At what point do you go off your board and focus more on need?
This draft seemed way too unbalanced to me when you take into account the free agency signings. Had the team re-signed Ricky Wagner instead of Brandon Williams (or made a play for Terrelle Pryor) I'd feel differently, but they left the first three rounds with four picks and 0 offensive additions after adding ONLY defense via free agency. While I love the players, I do not love the unbalanced investment.
KC: I get the frustrations you and most of the Ravens fan base may have. I think trusting the process and realizing the players drafted are a four/five-year investment and not a one-year addition is the best practice. The draft is the one time of the year that needs should not be addressed in my opinion. Needs are filled by simply adding talent and letting the roster take shape.
M: Did GM Ozzie Newsome make a mistake by not going after a wide receiver in the draft? Are there any spots you would have taken a WR over what Oz took?
CJ: This plays back into the BPA formula. If a WR is at the top of their board I have no doubt that would have been the selection. Going round-by -round it appears that only the 3rd round was a "miss." There were no top WR's left in the first and even the second would have been a reach for guys like Cooper Kupp and JuJu Smith-Schuster. However, in round 3 I was left asking why would Ozzie not go after Chris Godwin or Carlos Henderson?
To make matters worse, we see our rivals come away with a guy like John Ross (to add to A.J. Green) and Smith-Schuster (adding to Antonio Brown and Martavis Bryant).
The 3rd round, Ozzie missed on a WR.
KC: I do not think Ozzie "missed" by not taking a wide receiver. The pass-catching talent was rather front-loaded this year, so by the third day of the draft it would not have made much sense to force a selection at the position for the sake of drafting a wide receiver. The one spot I would have been perfectly fine with a wide receiver as the selection would have been in the second round. I think USC wide receiver Smith-Schuster was a noticeably better prospect across the board compared to Tyus Bowser, and thus would have made plenty of sense. The Pittsburgh Steelers got a steal in Smith-Schuster.
CJ: Smith-Schuster was a big target of mine and I thought would have been a good pick in the 2nd round, even when accounting for value. Between Smith-Schuster in the 2nd and Chris Godwin in the 3rd, I think Baltimore missed on a couple of guys that could have played a big role in that offense.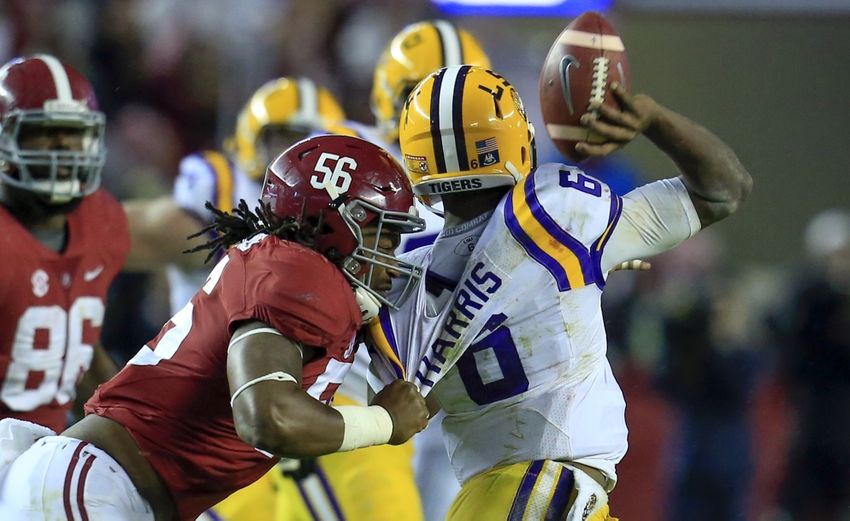 M: What are the chances that rookie pass rushers Tyus Bowser (2nd round out of Houston) and Tim Williams (3rd out of Alabama) can make an early impact?
CJ: The answer to this question is going to be determined by how Dean Pees approaches each player. Bowser is the perfect fit for the SAM linebacker spot. Picture what Albert McClellan did last year. Bowser can do it all. He can rush, he can cover, he can set the edge and that's what we need. I see his ceiling as a more athletic and a better pass rushing Courtney Upshaw.
Williams, to me, will have an earlier impact if (and I do say if) Pees lets him do what he does best…. rush the passer. Don't overload him. Just put him out there and tell him to get after the quarterback.
Hopefully we don't see any Kamalei Correa "switcheroos".
KC: I have more optimism for Williams in terms of early impact. I think he comes in as a pure pass rusher who rarely plays against the run, which is perfectly fine. The Ravens have struggled to find an impact pass rusher, and Williams has the quickness and agility to rush off the edge as a rookie in the NFL. I like Bowser's long-term outlook, but think he may struggle to contribute as a rookie.
CJ: Good point, Kyle. Williams seems to have that innate burst off the line that you just can't teach at this level. That definitely translates to early success. I do agree about Bowser's long-term outlook. I think we could end up seeing the development of a perfect SAM in the 4-3 under defense who can also play the edge and rush the QB in sub packages, such as the nickel and dime.
M: Who do you foresee having the biggest impact in their rookie year? And who will be the most disappointing?
KC: The biggest first-year impact will come from first-round pick, Marlon Humphrey. The talented cover corner was the best all-around pure corner in the draft and should not struggle to find early playing time. Humphrey could easily beat out free agent addition Brandon Carr on the depth chart, thus contributing heavily as a rookie.
The most disappointing from a first-year impact will likely be Bowser. In 2016, I compared the Kamalei Correa selection to when the Ravens drafted Paul Kruger: a player with potential to bloom by the end of his rookie contract, but not an early contributor. Bowser is similar as a pure athlete who will benefit from becoming more well-rounded with time. I expect third-round pick Tim Williams to find a defined role on the defense as a rookie, and I am not sure I can say the same about Bowser.
CJ: The biggest first-year impact is going to be Williams. I do think Pees keeps it simple with him this year and, much like Kyle mentioned with Correa, I think the team avoids that sort of situation. Williams is going to slide into Elvis Dumervil's former role and be asked to get after the quarterback. Watching his film is something. It's remarkable how fast he gets off the ball. He looks like Doom in his early days and it's a treat to watch.
I'm going the opposite of Kyle and saying that Humphrey is the biggest disappointment. I think he's going to have a career path much like Jimmy Smith. Keep in mind he only turns 21 in July. I think he plays behind Brandon Carr and Smith (with Tavon Young as the starting slot CB), and much like Smith, I think he blossoms later than expected. He's got some great athleticism, length and aggressiveness, but I foresee it taking some time to put it all together. That being said, his upside is through the roof. I see him as a more athletic (and hopefully healthier) Smith, which is an all-pro potential.
KC: I agree with Cole that Humphrey could have a Smith-like career path; however, even while underdeveloped, I will be surprised if he is unable to unseat a player such as Carr by midseason at the latest.
M: What is your overall draft grade for the team?
KC: I give this draft a solid B+. I grade drafts on talent added, not needs that were filled. I view Humphrey as the best cover corner in this draft class, and Williams as one of the best pure pass rushers in the class. The latter has some off-field issues to steer clear from, which is never a guarantee for prospects with checkered pasts. Finding a potential rookie starter on the third day of the draft in Nico Siragusa was a shrewd move. I expect the Ravens to get three quality starters down the road out of this class, which more than warrants a B+ grade.
CJ: I have a hard time grading the draft. I can't get my head wrapped around the strategy in terms of the approach to the offseason. If I'm grading just the draft and the individual players I'm going with an A-. The reality is Ozzie got some great players with some great value. Guys like Chris Wormley and Williams were phenomenal picks in the 3rd round. Even Siragusa and Jermaine Eluemunor were fantastic value picks. However, when you take into account the lack of offensive players after spending free agent dollars on defense I give the draft a C+. I don't dislike the players, but I do dislike the approach.
Here's hoping Breshad Perriman and Maxx Williams (if healthy) can make some BIG steps.
KC: There is no "right" method to drafting, so it is refreshing to see a differing opinion by Cole on how the Ravens should have approached the draft. My only note would be: what NFL team has found annual success when drafting for need? I'm not sure there is a case of a team doing so.
It's going to be an interesting training camp this year. The WR group is going to need to take some big strides and the Ravens are going to have to figure out their offensive line issues to solidify the offensive unit. The additions to the defense are sure giving high expectations and it could end up being an exciting group to watch.