Print this article
Another Friday in the wide world of social media, and another droll round of #FBF (Flashback Friday's for you old farts).
While I do thoroughly enjoy seeing random, decade-old acquaintances from high school posting a group shot of friends rocking duck-faces and chucking up deuces, with the post saying something like "Hahaha #takemeback #FBF #runonhashtagsarestupid?"
I'd rather see something more enjoyable for my Flashback Friday. Maybe something that doesn't have my eyes rolling so far into the back of my head that I'm worried they'll get stuck.
I guess since we're all about the Ravens at Russell Street Report, logic would have it that we're flashing back to those college days and rookie years to laugh hysterically at our favorite Ravens stars before they were stars.
Joe Flacco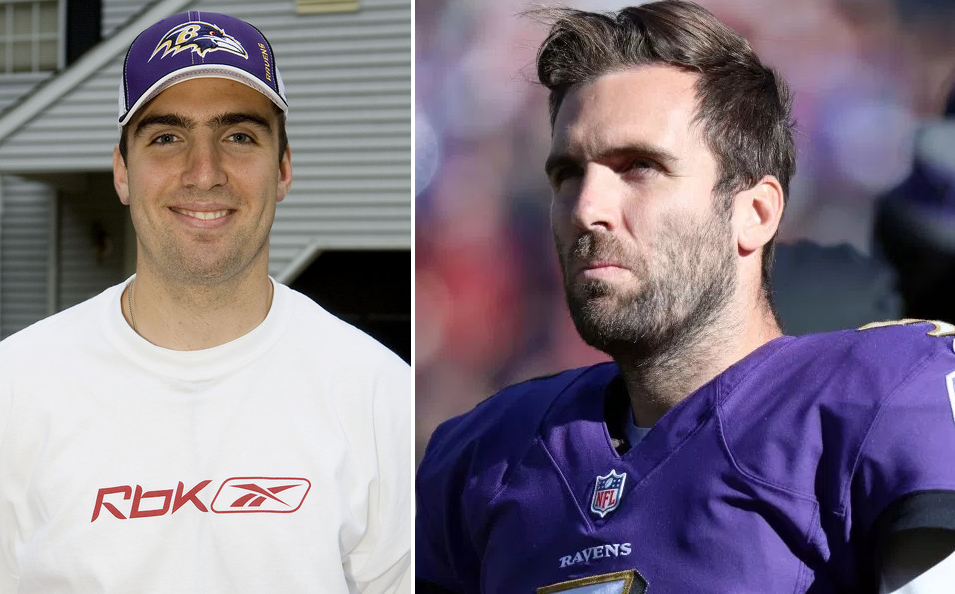 Joey, my man… I think the last time you smiled was post-draft during this picture on the left.
Indeed, our fearless leader of the offense has come a looooong way from being compared to Bert from Sesame Street, to being voted most attractive player in the NFL. 
Danny Woodhead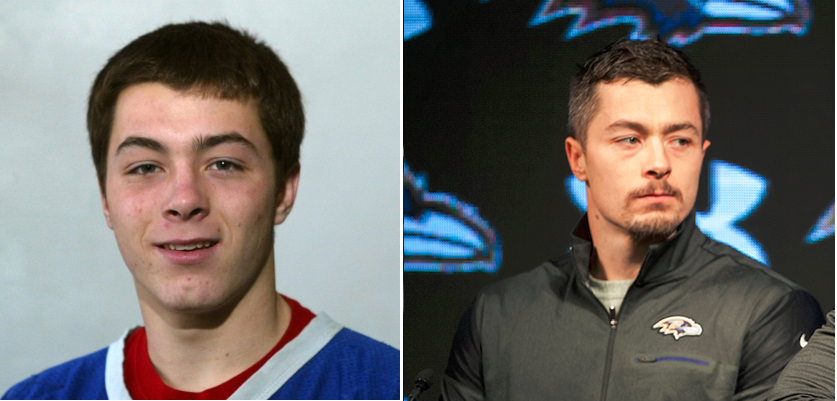 FUN FACT: Danny Woodhead hasn't grown an inch from this first picture to the last (that's straight fake news, I have no idea).
At least he can grow facial hair finally at age 32.
Sort of.
Terrell Suggs
Ummmm… how are these 2 pictures 14 years apart?
The man ages like fine wine. In the sense that the bottle still looks exactly the same in 2003 (left) as it does in 2017 (right).
Watch out Flacco. Sizzle is coming for that 2018 NFL's Most Attractive Man Award…
Eric Weddle
Rumor has it, Weddle started with that fancy soul patch coming out of Utah; however once he signed his rookie deal with the Chargers, his beard took on a mind of it's own and has been attempting to take over his body. By Weddle's age 35 season (I'm projecting, deal with it), it's expected that he will be 95% covered by his beard.
In all seriousness, that beard grows with a quickness. In fact, I'm calling it now: this is Weddle in 20 years…
Marshal Yanda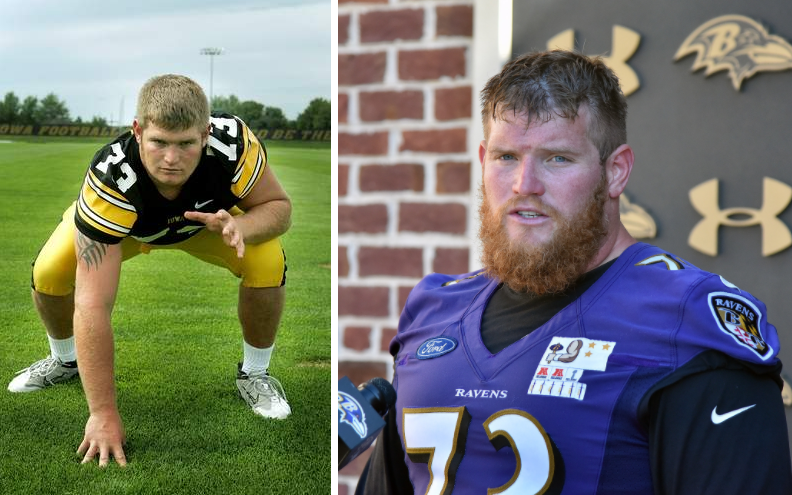 Like Weddle, Yanda embraces his age with a show of some serious facial hair.That is some bonafide baby face in his college days compared to his lumberjack-ish visage in recent years.
Serious question though- do Weddle and Yanda share beard secrets? What about beard oil? Do they carry on conversations about growing facial hair right outside of Danny Woodhead's locker, much to his dismay?
Side note: Yanda in his Iowa uniform looks sickly Steeler-esque and I can't bear to look at it for long without wanting to do a spit-take.
Michael Campanaro
Guys, I found a gif of Camp from his college days…
See, now that's funny! 
Why is that funny?
Because if you follow Camp on Twitter (@MikeCamp_12) you'd know he has an unhealthy obsession with Lebron James. Like Swim Fan unhealthy. Like Gloria (Isla Fisher) in Wedding Crashers when she tells Jeremy (Vince Vaughn) that he can't hide, "'cause I'd find you" level of unhealthy.
We're here for you Mikey. It's okay if the Cavs get swept by the Dubs.
BUT JORDAN IS STILL THE GOAT!!
John Harbaugh
I mean… other than a few grey hairs… Harbs takes care of himself.
Then again, a few better decisions with the timeout usage and some 2-min drill management would likely have helped keep some color in those grey hairs. But hey, who am I to judge?
Oh, right. A fan. A livid fan when we burn a timeout 2 minutes into the second half on a first down, immediately following a TV timeout.
Attaboy Johnny!
Ozzie Newsome
Man, Ozzie is just a mustache away from from the look during his playing days!
…and hopefully still has the moves from those playing days because we could really use another Tight End right about now…