Challenging Harbaugh's Challenges
Print this article
During the years of the John Harbaugh era in Baltimore, fans have had voiced their concerns about certain aspects of his coaching: The two-minute drill under Harbaugh has been lackluster (regardless of Offensive Coordinator); injuries have been racking up in the preseason at an alarming rate; command of the locker room has been questioned. Just to name a few.
But one concern that I can vividly remember being shouted from the rooftops of M&T Bank Stadium (figuratively speaking, since there is literally no roof)?
Misuse of the Challenge Flag.
Whether it be challenging a play that is clearly in favor of the opposition (leading to a burned timeout), or not challenging a play that should have been ruled in favor of the Ravens, John Harbaugh's shortcomings in this area have been a focal point of frustration in Baltimore.
But are the gripes valid?
Is Harbaugh truly inept when it comes to challenging plays?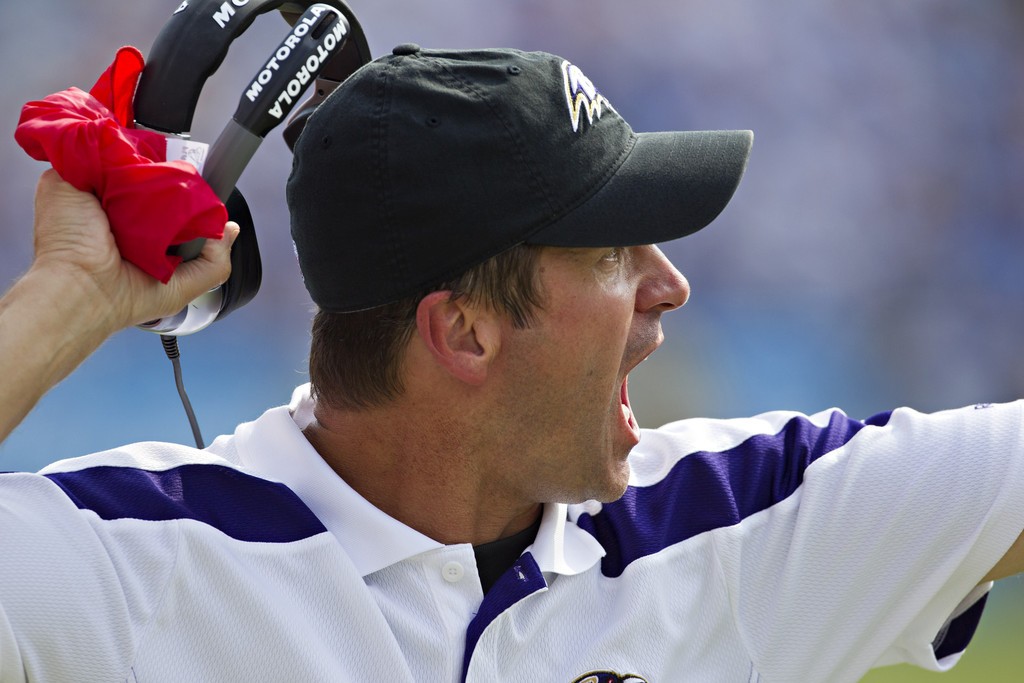 While quantifying the 'should've been challenged' plays requires a bit of guess work, we can surely assess Harbaugh's challenges over the tenure of his career by comparing his frequency and success rate to that of his fellow coaches, to see how he stacks up.
While the gripe has been much more widespread of late, it turns out John Harbaugh used to be much better with his red flag chucking skills, as evidenced by Harbaugh's yearly win percentages during his tenure in Baltimore as the Ravens head coach (below).
In terms of percentages, the success rates in his most recent 3 seasons ('14-'16) are among his bottom-4 seasons, while 2010 was hands down his worst, when he won a single challenge in 9 attempts (1 of 8 in 2014).
While Harbaugh's recent years show a general slump, looking at 2016 as a standalone versus the field of 31 other NFL coaches may give us a better indication as to how he truly stacks up.
In 2016, John Harbaugh chucked out the red challenge flag only 5 times, winning 2 of those. Turns out, John was pretty daggum close to average.
A tick below the average on won challenges, but still much better than I had expected for a success rate of the average NFL coach last season.
For comparative purposes, the least challenges went to Jeff Fisher who never challenged a single play in 14 weeks as the LA Rams coach (not surprising since he's been mailing it in for years), while the most challenges went to Eagles coach Doug Pederson with 10 (perhaps a rookie coach out to prove himself?).
The highest success rate went to the Bills; that is, Bill Belichick with a whopping 1 for 1, and Houston's Bill O'Brien who went 4 for 4 on challenges.
While 2016 as a standalone may skew Harbaugh's position among the coaching ranks to look a bit more favorable, a comparison of the most recent 3 year stretch (2014-16) may be a better indicator as to his success with the challenge flag.
Harbaugh included, here's a look at the top-10 coaches who have maintained Head Coach status with the same organization since 2014.
Gross, John.
If you had originally told me that John Harbaugh is only 4% worse at challenges than the illustrious and heavily decorated Bill Belichick? I would be elated… except BB only challenged SIX TIMES IN THREE YEARS.
Perhaps there's something to be said by those in tin foil hats about Patriot-favoritism by NFL officials, allowing calls to go in New England's favor enough that Belichick need not challenge a daggum thing… sure. Perhaps. Or it could simply be solid game management, accepting the calls (unless egregious) and moving forward with the game plan instead of halting play every time something appears ticky-tacky.
You'll also notice that Pete Carroll, Bruce Arian and John Harbaugh are the only coaches with 20+ challenges in the 3 year stretch- all 3 sit below 40% success rate.
Also, Marvin Lewis more than doubles Harbaugh's success rate.
(good thing Harbaugh more than doubles Marvin Lewis' playoff wins)
So what does it all mean?
2016 paints John Harbaugh in a positive light for challenges as he trends in the right direction, while the past 3 years cumulatively look a bit discouraging. Perhaps the anomaly of 2014 skewed John down a bit, but overall it looks bleak with his win percentage.
One trend worth mentioning that could be encouraging for 2017- in the past 3 seasons, Harbaugh has only challenged 8, 8, and 5 times, respectively. In comparison, he had challenged 10+ times in 4 of his first 6 seasons.
Taking a quick look back to that 3 year stretch, those coaches with the highest win % tend to be those with the least challenged plays.
In essence, the coaches who only challenge if they are absolutely sure of the potential to overturn the call have the best success (Belichick anomaly aside, of course, but his success is shown with the rings). With Harbaugh steadily decreasing his challenges, and simply accepting the officials call- barring a major slip up by the zebras- he'll be saving timeouts that he can hopefully use in that two minute drill at the end of each half.
Now if we can only get him to fix that aspect of this team…