Print this article
A quick, stream of thought (non-X's & O's) and overreaction of the Ravens utter domination of the inferior team from the inferior beltway at the inferior end of the BW Parkway.
…there's a reason the B comes before W in BW Parkway, just sayin'…
Let's start with the elephant in the room: John Harbaugh's glasses.
For the first time ever, John Harbaugh went with glasses on the sidelines, and I applaud the move. They weren't hipster, thick rimmed glasses that have you thinking 'are they even real?' They were legit, dad glasses. They demanded respect, but also said 'hey pal, I'm sorry she said you have cooties, let's go get some ice cream.' 
They were the kind of glasses that John would slide down over his nose and peer over the top when he overheard a player saying something he didn't like. The kind of glasses that Harbs would breathe on, then wipe the lenses on the bottom of his shirt while doling out punishments in a calm and collected manner.
Total power move.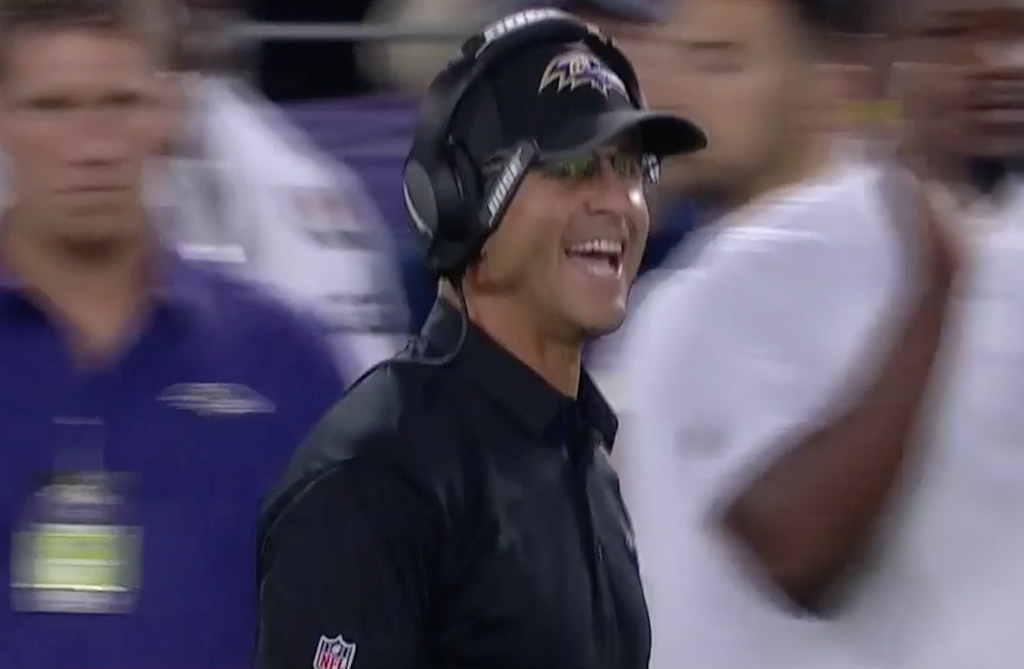 On the field, some power moves were being made as well, mostly by future DPOY Brent Urban who went from kid to man to cyborg to demigod, all in a matter of 2 years. Taking Urban's first half of the first preseason game and projecting it onto 16 regular season games, he's likely to force 128 fumbles in 2017, which might break the record. JJ Watt is going to be asking Urban for an autograph by the end of the season. Rumor has it Brent Urban has actually looked into replacing his other arm with a bionic arm as well. Go-go-gadget style, just set both arms to 'destroy' and grind his way into the backfield all day long.
We'll need Urban's triple-digit strips this season to counter-balance Ryan Mallett's wet-noodle arm if Flacco hasn't found that Steelers fan by Week 1. You know, the one who has a needle in the back of a Joe voodoo doll somewhere out in the boonies, where he twists it deeper daily and laughs that obnoxious snortle-ish laugh that nobody can tolerate.
I also picture said Steelers fan to have a hair pattern to match Morgan Freeman's beard with a very Adam Terry-red hue. But that's erroneous, I suppose (unless it's accurate, then I'm a savant of sorts).
Truthfully… I'm not worried about Mallett, because Josh Woodrum is going to surpass Mallett on the depth chart by next week.
Did you see Woodrum's TD pass to future All-Pro wideout Tim White? I mean, yeah it was under-thrown… and he kinda just heaved it out there… but that's exactly what Flacco has been doing with his deep balls since he came back from the ACL tear. So Woodrum becomes the perfect backup for a seamless transition on offense!
Much better than Ryan Mallett, who looked… just… awful.
For me, Ryan Mallett is just like a crab mallet, only spelled differently. He's just there. The mallet never gets any use. Probably could do without the mallet. And in the rare occurrence the mallet does get picked up for use, people side-eye the owner, shake their heads, and question their ability.
And yet… the mallet is still around.
Poetic, really.
Back to the receiving end of Josh Woodrum's TD pass- Tim White.
Ozzie Newsome owes Tim White a major thank you, as he has solved the longtime Ravens riddle- why can't Ozzie draft a good wide receiver?
ANSWER: DON'T DRAFT ONE, SIGN A UDFA & THEY SHALL SUCCEED
Tim White was showing flashes all over the place last night. His great adjustment on the short-armed touchdown from Woodrum was golf clap/slow head nod combo worthy. His play in the return game must have Tim White atop the depth chart, if only because he managed not to muff or fumble the ball.
Instant improvement from the 2016 Ravens.
One more bright shiny spot from last night: Justin 'mother' Tucker.
The one-time Longhorn and current golden leg of Baltimore nailed a FG from 59 that, given height crossing the uprights and projecting out, would have been good had he kicked it from the 40.
On the far side of the field.
At the Skins stadium in Landover.
(Yes Landover, not Washington like their name suggests, because that would be foolish for a team to play in the state/district/city they're named after. Right, Santa Clara 49ers & Foxboro Patriots?).
J-Tuck is going to be drafted high this year in fantasy leagues. I mean, not by me because I'm not an idiot and I know kickers go final 2 rounds, but he'll be a mid-round pick by that guy in your fantasy league who drafts like 75% Ravens and refuses to draft any Steelers because, I don't know, maybe he hates money and just wants to give it away (if this describes you, DM me for my address)?
All in all, solid game. Next week, I expect to see more of the same against Smokin' Jay and the Fins.
TIMEOUT… the last 2 teams linked to Colin Kaepernick are the Ravens and Fins. How great would it be for Kap to buy front row tickets directly behind both benches, then switch back and forth each quarter? Maybe even get a hat for both teams to wear behind the opposing sideline to blow up social media? Then make a cardboard sign that says 'will work for food?' just to be obnoxious?
Oh, how I missed you NFL…