Print this article
From hot-handed rookies to lackluster stars, Week One of the NFL season surely didn't leave us wanting for water cooler chatter this week!
The biggest story of Week One remains the Super Bowl champion New England Patriots getting shellacked in their own house by the Kansas City Chiefs, thanks in large part to rookie RB Kareem Hunt going nuts for 236 total yards and 3 TD's.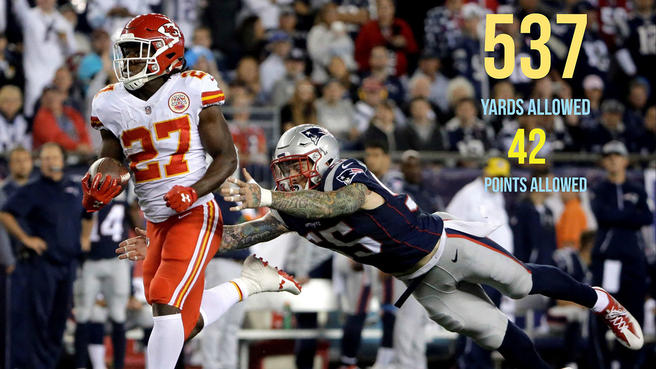 A few other noteworthy moments from around the NFL in Week One:
-Rookies Kenny Golloday (DET), Dalvin Cook (MIN), Leonard Fournette (JAC) & Cooper Kupp (LAR) all put up stellar Week One performances.
–Matt Ryan, Drew Brees, Eli Manning and Russell Wilson threw a combined 2 TD's.
-Colts QB Scott Tolzien somehow played an entire game, while the Texans swapped signal callers at halftime.
-The lowly Browns nearly beat the Steelers, while the lowlier Bears almost took down the NFC Champion Falcons.
On a side note, I'll assume we all saw the exchange between head coach Sean Payton and RB Adrian Peterson, yes?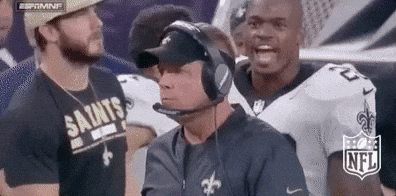 Hey AP- Payton brought the Saints a Lombardi. Where's yours?
Yea, that's what I thought. Better hit the switch on that holier-than-thou attitude (see what I did there?).
---
Last Week: Ravens 20, Bengals 0
Let us once more bask in the glory of the road shutout victory, Ravens fans! And for those who (shamefully) missed the game, here's all you need to know:
–Andy Dalton thought it was a playoff game. Threw 4 picks and coughed up a fumble.
–Terrell Suggs thought he was 22 again. Recorded two sacks, forced a fumble, and camped out in Cincy's backfield.
–Marvin Lewis was actually questioned at halftime about bringing in AJ McCarron. His mouth said no, but his eyes said 'Dalton's gonna get me fired.'
-The Ravens defense backed up the talk of being a 'special unit' and carried that swagger we missed so much.
–Jeremy Maclin scored his first TD as a Raven and now is expected to do so every single game this year. Sometimes twice.
To say it was a drubbing may be a bit much, but it was surely a well-rounded victory that has Baltimore starting to feel that swagger once again, and ready to erupt come Sunday's home opener.
---
This Week: Browns @ Ravens, Sunday 9/17 @ 1pm
Baltimore truly could not have asked for a better opponent for their home opener.
The Cleveland Browns head to town on the heels of an 18-21 loss to the Pittsburgh Steelers. While the scoreboard indicated a close game, the stats show a bit more disparity. Rookie QB DeShone Kizer did manage to sneak into the endzone for his first career NFL TD, but also took 7 sacks on the day which, yea, not good. The Browns defense only allowed 14 points against Pittsburgh, but along the way Antonio Brown racked up 180+ yards, and Big Ben only took a single sack.
(refrains from juvenile joke)
Oh, and the Browns also allowed a blocked punt for a TD.
Gross.
As for the Ravens, as previously noted, their defense appears to be firing on all cylinders after manhandling the Bengals O-Line, keeping AJ Green in check, and accepting gifts from Andy Dalton.
The Ravens offense, on the other hand- cover your ears if you're not a fan of criticism– didn't wow anybody. They succeeded in running the ball and the clock, but in limited pass attempts Joe Flacco looked less than ideal. He never attempted anything deep, and nearly threw a trio of interceptions on 3 consecutive passes in the second half.
Prediction: The two teams play to a 3-3 draw in the first half, only to see the Ravens let loose on both sides of the ball in the second half. DeShone Kizer is sacked 5 more times and throws 3 picks on the day, as the Browns only accrue 250 yards of total offense.
The Ravens provide a more balanced offense in the first 3 quarters (run the clock in the 4th), with Flacco shaking off the rust to hit 250 yards and a pair of touchdowns, while staying under 25 pass attempts. Buck Allen, Jeremy Maclin and Nick Boyle all hit pay dirt.
Justin Tucker seals the Browns fate with a pair of 4th quarter field goals.
Ball game.
BAL-27
CLE-10
---
The Rest of the Slate
This week's lineup features some absolutely lopsided matchups (Seahawks @ 49ers, Jets @ Raiders), but a few sneaky good match-ups as well. Here's where your attention should be turned this week.
Texans @ Bengals, Thursday 9/14 @ 8:25pm- Two awful Week One performances come together for the first of many lackluster TNF match-ups (again). Is color rush still a thing for TNF? Does anybody even care? I'm honestly just watching for all of the Ravens highlights and praise from Week One.
Cowboys @ Broncos, Sunday 9/17 @ 4:25pm- As of this writing, Zeke Elliott is expected to play, but honestly? Who the hell knows. This legal battle is exhausting, especially for fantasy owners of Zeke. On the Denver side, there's no way in hell Trevor Semian wins 2 in a row, despite WR Demaryius Thomas comparing Semian to "a mix between Brady & Rodgers" which is… I can't even, with that garbage take.
Packers @ Falcons, Sunday 9/17 @ 8:30pm- A rematch of last year's NFC Championship game. I watched this from a bar in Tampa with a bunch of sad Pack fans and cocky Falcons fans. Turns out Packers fans got the last laugh as they won't live in '28-3' infamy. Expect A-a-ron to exact his revenge on Matt Ryan and the Falcons who barely scraped by the awful Bears last week.
---
Rank 'Em!
It's the Browns this week, and there's so many ways we could take the rankings. Best Browns QB's can't fill a top-5. Worst draft picks by the Browns would be like ranking biggest piles of crap in the elephant exhibit at the zoo, so we'll steer clear there. We could always do the Top-5 paper bagged Browns fans, but there's all so close!
Instead we'll just do a broad overview of the Browns head-shakers…
Top-5 Worst Things About The Browns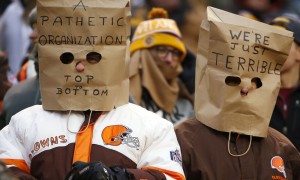 5- Named after another team's owner- Paul Brown named them, then sold the team, then started their in-state rival Bengals… so they're named after the Bengals owner? Cool bro!
4- Mascot is an Elf- … or a dog… no an elf. Wait, what does an Elf have to do with 'Browns?' And what does a dog have to do with an Elf or a Brown? Technically shouldn't their logo just be a frowning emoji face with a tear in it's eye? Maybe a Clown?
3- Live to hate Art Modell– I imagine Cleveland Plain Dealer's Tony Grossi has an apartment. And that apartment has a wall that is just plastered with pictures of Art Modell with devil faces drawn on them. Even Taylor Swift thinks Grossi has attachment issues.
2- What's a quarterback?- Fun fact: The Ravens have drafted less players from Alabama than the Browns have quarterbacks since '99. Who do you think has a higher success rate? Even DeShone Kizer was probably pissed when his name was called… oh, and thanks for handing Josh Woodrum back!
1- Eternal Failure- It's almost not fun anymore. Any other team comes to Baltimore and upon the Ravens victory I enjoy a nice hazing on the way down the ramps at the stadium. But when we beat the Browns? I kinda just… I feel bad. I wanna hug them and tell them it'll be okay… then I remember how hysterically awful they are and I enjoy the 2 free wins each season!