Which Rookie Will Make Biggest Impact?
Print this article
Some rookies on the Ravens roster will have a better opportunity to be able to contribute than others at first, but which of those will leave the biggest mark on a franchise that desperately needs a standout player?
I'll rank each player based on who I feel have the best and lowest odds to contribute this year. I'll separate it into offense and defense to keep things fair.
Offense
1. Jordan Lasley, WR, UCLA: I know what you're thinking. Before you scroll all the way down to the comment section to tell me how I don't know football and start to list the other rookies who you think should be in this spot, let me explain.
Yes, it is commonly known that Jordan Lasley made some boneheaded decisions in college in the form of two arrests and a suspension, but look at the talent. This is the type of player the Ravens have always been hesitant to take a flyer on, but as this was GM Ozzie Newsome's last draft, and he wanted to take a chance. Lasley amassed 69 receptions for 1,264 yards and 9 touchdowns while missing three games in 2017. He looks like an NFL wide receiver, as well, as he is able to run crisp routes with decent speed and has good hands. Mark my words – he'll be a pleasant surprise.
photo: Baltimore Ravens
2. Hayden Hurst, TE, South Carolina: For some reason, people are enamored with the 25-year-old failed baseball prospect out of South Carolina.
I just don't see it. Sure, the guy has speed and hands, but do you know who else had speed, hands, and was drafted by the Ravens early? Maxx Williams was taken by the Ravens in the 2nd round of the 2015 draft and has been labeled a bust by many fans and writers.
Hurst has a more polished skill set, and although I don't think he will be an absolute game changer, it's possible he garners a lot of targets, due to Joe Flacco's tendency to throw short to the tight end.
3. Orlando Brown Jr., OT, Oklahoma: Bold prediction alert: "Zeus Jr." will be the Ravens' starting right tackle by the time the preseason starts. Based on his tape, Brown Jr. looks like one of the best prospects at his position in the last several years. His combine performance, though, makes me worry to no end. I believe with the training he's undergoing from now until training camp, the dominance we all saw in his college career will start to make an appearance on the professional gridiron.
[Related: Filmstudy – Grading Orlando Brown Jr. vs. Ohio State]
4. Jaleel Scott, WR, New Mexico State: Another fresh wideout takes up a spot on the list, this one the big-bodied Jaleel Scott. Scott, who stands at 6'5", could give the Ravens a moldable possession receiver who resembles Michael Crabtree. Crabtree, 30, can teach Scott the nuances of the position and give the Ravens a real option down the road, and maybe in the red zone this year.
5. Lamar Jackson, QB, Louisville: Yeah I know, Joe Flacco is the starter, but the Ravens' brass specifically stated that they plan on using Jackson in some capacity this year. The placement of this pick is based purely on how much he is used and if Flacco gets hurt, which isn't out of the realm of possibility.
Whatever happens, Jackson being used will put butts in seats.
Honorable mentions: TE Mark Andrews, OT Greg Senat, C Bradley Bozeman
Defense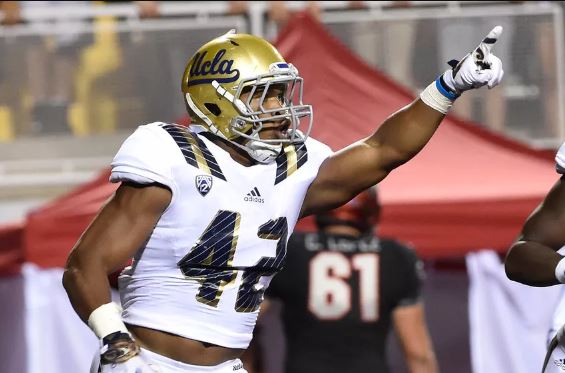 1. Kenny Young, ILB, UCLA: In last article, I suggested that Kenny Young could nab the second linebacker job in training camp. It's pretty apparent that the Ravens wanted to address this in the draft and Young was the best at the position in the fourth. Young was second-team all-Pac-12 his senior year and was extremely effective running sideline to sideline. He put together a solid stat line with over 100 tackles, 8.5 of which ended in the opponent's backfield. With the Ravens struggling at pass coverage over the middle, the injection of youth and speed that Young represents is definitely needed.
2. DeShon Elliott, S, Texas: In watching Elliott's film from his senior year, it's hard not to love his game. On the surface, he looks like a typical thumping strong safety, but he has the ability to move laterally and put himself in a position to succeed when the ball is in the air. He is incredibly aware and handles the tip drill better than most safeties out there. He bears an uncanny resemblance to Seattle Seahawks safety Kam Chancellor, albeit less bulky. The Ravens need more attitude and playmaking ability on defense and this could be the guy to deliver.
3. Anthony Averett, CB, Alabama: I like Averett. He has speed to burn, he is sticky in coverage, and is able to match receivers' routes exceptionally. That said, I don't think he will see the field all that much, due to the incredible amount of depth the Ravens have at defensive back. Tavon Young and Jimmy Smith are returning from injury, and there are also returning starters Brandon Carr and Marlon Humphrey. Averett excelled at special teams coverage in college, so he most likely will be relegated to those duties. While he builds his career with the special teams unit, he will most likely be fighting with Maurice Canady and 2017 preseason hero Jaylen Hill, who hardly saw any snaps last season.
Honorable mention: DE Zach Seiler