TRIGGERED: AJ GREEN DOESN'T OWN RAVENS!
Print this article
Typically, I'm a fairly even keeled guy …
Alright, that's a blatant lie. I'm a ticking timebomb, and if you say something stupid, I will find a way to prove you wrong at the drop of a hat. 
This brings me to my most recent trigger, brought to you courtesy of Joe Goonberry … er, Goodberry, of The Athletic in Cincy. Check the tweet.
AJ Green has torched the Ravens so many times pic.twitter.com/7ZEarQDBRW

— Goodberry (@JoeGoodberry) September 12, 2018
I get that 'ol Joe was just looking for a rise out of Ravens fans. And sure, there's some evidence to support this (it's not like these plays didn't happen), but guess what?
He's messing with the wrong city, the wrong team and the wrong triggered blogger.
So in light of Goodberry's tweet, I'm going to return the favor and 'torch' Joey- also known as a burn- and help the rest of Cincy realize that Green's success versus Baltimore is thanks to other factors that we're choosing to ignore, apparently. 
*cracks knuckles*
*quietly mumbles to self "LFG"*
Instead of cherry picking a few great plays to prove a point, let's take a look at Green's career versus Baltimore to date: Per Pro Football Reference, in AJ Green's career versus Baltimore (10 games) he has 48 receptions on 94 targets, for 817 yards and 6 TD's. 
Cool story bro, and it makes for some super high totals compared to the 30 other teams he's faced!
But hey, that's what happens when you look at silly things like 'totals' instead of 'per game' stats, despite realizing that Green has only played (3) teams 10+ times: Pittsburgh (13), Cleveland (13), and Baltimore (10). Beyond that, Green has seen the Broncos (6) times, the Bills (5) and the rest of the league 4 or less times in his career.
And you wonder why totals versus Baltimore are on the high end …
Perhaps a 'per game' breakdown will clarify?
If you were to look at AJ Green versus each team, while using an average per game approach, you'd see that against Baltimore, those averages are far from 'torching' numbers. Out of the 31 teams he's faced, here's where Green's stats rank versus the Ravens:
17.2 YPR (10th)
51.1 Catch % (26th)
81.7 YPG (15th)
4.8 RPG (21st)
0.6 TDPG (14th)
So let's take a quick second to break this down.
The 'glaring' totals versus Baltimore that make you think Green owns the Ravens is nothing more than a bloated number thanks to being AFC North rivals. In fact, not only are the Ravens not atrocious versus Green, but in a grand total of zero categories do the Ravens rank inside the top-10 for Green, and for a few (catch percentage and receptions per game) they're actually in the bottom third.
#TORCHED
Alas, there will still be some doubt. There will be Bunguls fans shouting "yea but you can't use those percentages when he only plays them teams once! WHO DEY!"
*Sidebar: 'Who dey' is the dumbest catch phrase of any NFL team, and by direct comparison, you make Yinzers feel like they're actually smarter than their 5th Grade diploma on the fridge shows*
So let's appease those Bunghole fans, and take a look at AJ Green's game log versus Baltimore over the years to see if we can find any anomalies or clues as to why the Bengal fanbase seems to think he 'owns' Baltimore.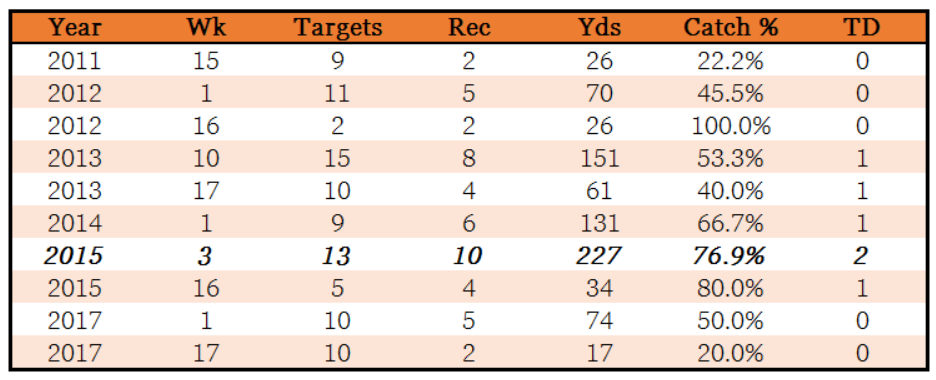 Yea. I see it. The glaring (bold) game that will always stick out like a sore thumb versus Baltimore. And yes, Green does have (3) games of a 100+ yards versus the Ravens.
BUT. This doesn't tell the whole story of how Green came out with such inflated numbers. 
Actually, to call them 'inflated' isn't exactly accurate. Those (3) games over 100 receiving yards in 10 games versus Baltimore? That a drop in the bucket considering he's had (32) career games over 100 receiving yards. In comparison, he's faced Cleveland and Pittsburgh 13 times each, and has put up 100+ yard games on them (4) times each, so thrice versus Baltimore isn't exactly a standout stat, right?
As for the 227-yard game versus Baltimore back in 2015? Do you remember that game?
Of course you don't, because you've buried that painful day in your memory, but let me refresh you real quick: 14-17 game going into the 4th, back and forth scoring, and the Ravens let Green score twice (yes- they let him) in the 4th to lose 28-24. You'd think Jimmy Smith shadowed Green all game, but thanks to our best buddy Dean Pees? Not the case. In fact, Jimmy was only responsible for Green's 7 yard touchdown in the 4th quarter, as he wasn't in coverage for the 80 yard catch/run/stiff arm/stumble/score in the previous drive (we'll touch on that in a moment).
And now for some Dumb Luck talk (the moment has arrived)!
Remember 2013 when Andy Dalton threw a jump ball into the endzone that Green caught for a TD?
JAMES IHEDIGBO DECIDED TO TIP IT UP TO HIM INSTEAD OF KNOCKING IT TO THE GROUND.
Remember 2014 when AJ Green bobble/tipped that pass en route to a touchdown to end the game?
HE WAS LINED UP AGAINST CHYKIE BROWN WHO FELL DOWN, THEN BEAT DARIAN STEWART.
Remember 2015 when Green caught that 80 yard touchdown pass in the 4th quarter en route to his big game?
HE WAS LINED UP ON KENDRICK LEWIS, THEN BEAT WILL HILL AND JIMMY SMITH (WHO WAS NOT COVERING GREEN).
3 touchdowns right there- 1 dumbass mistake by Ihedigbo, and 2 matchups on Chykie Brown and Kendrick Lewis. 
But by all means … #TORCHED
Can you even imagine how much better the Ravens could've kept AJ Green in check if they had a defensive coordinator that actually understood the concept of putting your best corner on their best receiver, and to shadow him for an entire game? Good thing Dean Pees is in Tennessee, and we've got Wink to shore that up in Baltimore… but let me make this point loud and clear: 
Dean Pees was the Ravens Defensive Coordinator for AJ Green's entire career, sans a single game in 2011. 
If you have to wonder 'why' the Ravens got burned so many times? There's your answer right there.
In short my fellow Flock Fans, AJ Green versus the Ravens? He's good versus the Ravens … but not great. He's lucky as hell versus Baltimore … but not phenomenal.
And when he goes up against an actual CB1 in Marlon Humphrey tonight because he doesn't have Dean Pees on our sidelines handing him cupcake matchups?
AJ Green will learn what it feels like to live in a world of mediocrity once again.