Evolving Dynamic: Flacco and Jackson
Print this article
There was a joke circulating on the airwaves and online about Joe Flacco trying to get Lamar Jackson "killed" when he left the rookie vulnerable with a high pass against the Broncos.
Of course, Flacco was not trying to get Jackson injured. It was simply a busted play and Flacco was just getting rid of the ball.
Still, we are entering Week 6 of the NFL season, and with the exception of a few first downs, the Ravens have not shown any real high-impact plays when Flacco and Jackson are on the field at the same time.
Sometimes, Jackson lines up at wide receiver. Other times, Flacco assumes that role when the rookie goes under center.  
Flacco is not exactly enamored with the strategy and has even caught some heat at home.
"My wife gave me crap the one day and told me I needed to look more interested out there," Flacco said. "But I'm just trying to stay out of it. I'm not comfortable out there. I haven't been out there in a very long time, so I don't need to try to get too creative. I mess around in practice a little bit, but that's about it."
So, there are questions over whether the Ravens should just scrap the concept.
Ravens coach John Harbaugh was asked earlier this week whether it was a wasted play when Flacco and Jackson are on the field at the same time. One local media member said the Ravens were basically playing 10 on 11 when offensive coordinator Marty Mornhinweg implements that strategy.
Harbaugh dismissed that notion. He is confident the strategy will eventually play huge dividends 
"They have to put a guy out there. So, is it 11-on-10?" Harbaugh asked. " I mean, there's a guy lining up out there who's holding Joe. If they actually did put 11-on-10, put all 11 inside, Joe would be out there by himself, and we'd throw it to him. They do have a guy out there. Now, he plays him halfway – he plays about four yards inside of him and kind of keeps his eye in there and then pursues from there. They are respecting him to some degree. They have to; he's a player on the field.
"Then when you have Lamar at quarterback, who's also functioning – in the case of the couple plays the last couple weeks – where he's running a wildcat deal, you actually have an extra blocker inside. It kind of evens up the score a little bit. You say 'the method to the madness,' I think that's a good way to say it. We want players to be out there to cause problems and create some plays. I think there's other things we can do, and I'm looking forward to seeing what we're able to pull off with it."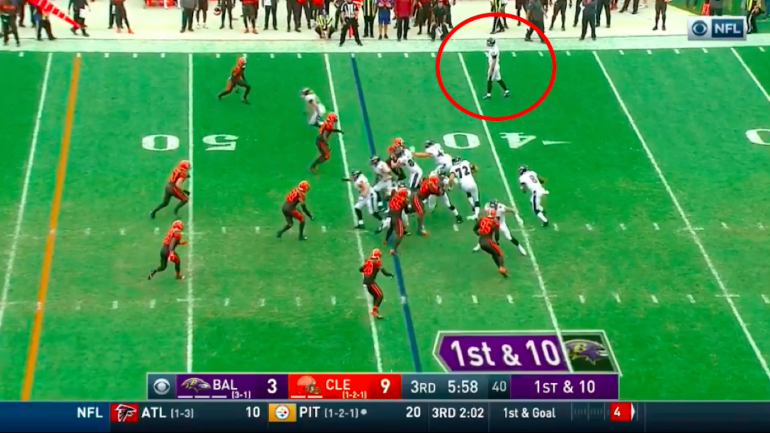 Flacco doesn't exactly have a long history of catching footballs. Over his 11-year career, he has two receptions, which includes a a 43-yard grab against Oakland in 2008 when he was a rookie.
He is not motivated to boost those numbers. When asked of there is any scenario this year he'll have a chance to catch the ball, he responded: "I sure hope not. Hey – if it needs to be done, it needs to be done. But like I said, I sure hope I don't have to do that."
Jackson was drafted in the first round to eventually take over the starting role at quarterback. However, will he be ready in 2019 or do the Ravens stay with Flacco for at least another season, despite his high salary-cap figure?
The answer to that question will become clearer in the coming weeks. Flacco's future could hinge on a playoff run. Jackson must also continue to develop if he wants to lead the offense in the short-term.
Apparently, we will still have an opportunity to see them evolve on the field at the same time.