Ravens Look for Redemption
Print this article
With another shot to win and get in, the Ravens welcome the rejuvenated Cleveland Browns to town in Week 17. Fans are nervous about a repeat of last New Year's Eve, but this year's Ravens team promises things will be different. Will they? Only time will tell.
Here are all the stats, notes, quotes, and more to get you ready for this epic Ravens-Browns matchup. Crab Bag!
KNOW THY ENEMY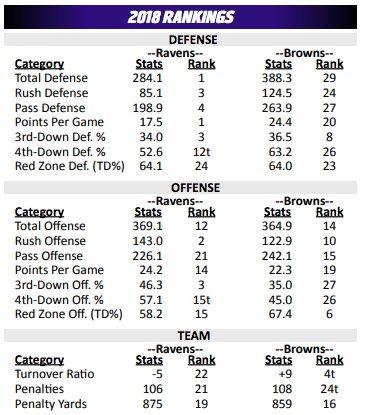 SERIES HISTORY
QUOTES OF THE WEEK
NFL.com's Herbie Teope on the Baltimore Ravens:
"The Ravens pose all kinds of problems for opponents and possess a style of football that's a throwback when compared to the high-flying offenses around the league. With a punishing ground game, a rookie signal-caller coming into his own and a suffocating defense, look out, NFL."
QB Lamar Jackson on the Ravens' 22-10 victory at the Chargers in Week 16:
"We can play with anyone. That was a great team. We can fight, and everyone sees it now."
Sports Illustrated's Gary Gramling on Baltimore's defense:
"The Ravens don't give you many opportunities to beat them deep. They've now given up just nine passing plays of 25-plus yards over the past eight games, including zero [at the Chargers]. When they do give up big plays, it tends to be a quarterback making a superhuman play late in the down (think the Jameis Winston play, or basically everything Patrick Mahomes did two weeks ago). Baltimore is so instinctive, so prepared, so fast and so fundamental that it feels like opposing offenses are playing in three feet of water. Sustained drives seem virtually impossible. It's a mix of young talent with a core of veteran leaders up the middle: C.J. Mosley at linebacker and free agent steals Eric Weddle and Tony Jefferson at the safety spots."
CB Brandon Carr on the Ravens' defense stepping up to close out the Week 16 win at Los Angeles:
"This showed who we are. We've been talking about getting turnovers the whole season. Now we're getting them. The icing on the cake is taking the football. We've played a lot of these high-caliber teams, and we haven't finished the game out. [The Chargers win] was taking the game into our own hands."
Browns QB Baker Mayfield on Ravens TE Mark Andrews, one of his best friends from Oklahoma:
"Obviously, he's a very big dude. He's 6-5, I think he's about 260, but he can run. It's the size plus the talent, which normally you don't get that mixture, so he's blessed with that. And then, I think his football I.Q. is something people didn't realize until you sit down and talk with him. He's a guy that realizes what you want to accomplish on offense, and then when you mix that with how talented he is, that's a dangerous duo."
SPOTLIGHT: OZZIE NEWSOME
Ozzie Newsome's legacy is unlike any the game of football has produced. Known throughout all of sports as a premier leader, Newsome is a Hall of Fame player, the architect of Baltimore's Super Bowl XXXV and Super Bowl XLVII championship teams and an elite personnel evaluator who became the NFL's first African American GM in 2002. Here's what the football world has said about Newsome throughout his legendary career, further proving that "The Wizard" will forever remain in a class of his own:
HOF GM Bill Polian:
"If Ozzie wasn't already in the Hall of Fame as a tight end, they would be putting him in as a general manager."
Former Ravens HC Brian Billick:
"The genius of his ability to absorb all the information is second to none. I always equate it to watching him look at the draft boards is like watching Russell Crowe [playing Nobel Laureate in economics John Nash] in the movie 'A Beautiful Mind,' in that scene where the math just kind of comes off the board for him. That's Ozzie with all those names and statistics. Of course, he has a great eye for talent, too, but his ability to orchestrate that process, to gain that information, is unmatched."
Ravens HC John Harbaugh:
"He makes you your best self. You can have a good day, and he makes you be better. You can have a bad day, and he still brings out the best in you. He's a mentor, he's a friend, confidant – all those things. You can go seek advice and talk to him about becoming a better coach or a better evaluator. It's just been an amazing 11 years, and I'm looking forward to the next however many years we both walk on this Earth."
ESPN's Chris Mortensen:
"There's a saying within the Ravens that goes, 'In Ozzie We Trust.' The reason for that is his track record is tremendous. He has a philosophy, he stays true to it, and they're not going to deviate from that."
Former Giants GM Jerry Reese:
"Really, Ozzie is an ambassador for the NFL, period. I think about three 'Cs' when I think about Ozzie: classy, consistency and championships. That's what I think about. We're all chasing Ozzie Newsome, man. He doesn't talk about it, but go in his office, he's got skins on the wall. He doesn't have to talk about it. His resume says it all for him."
Hall of Fame T Jonathan Ogden:
"Ozzie is synonymous with the Ravens. You can't mention the Baltimore Ravens without Ozzie Newsome coming up relatively quickly in the conversation."
USA Today's Jarrett Bell:
"[His] stand-up accountability reflects why Newsome is one of the league's most revered front office figures, a man whose authority within the Ravens' building has been bolstered by the close relationships he has developed over the years."
Ravens Assistant GM Eric DeCosta:
"He said to me one time that his strengths are my weaknesses, and my strengths are his weaknesses. So, you know what? We're a family, we want to win, and we're competitive people. We believe in what we do, we want to be good, and we want to build a team that [fans] are proud of. I've got probably the best GM in the history of football. At least one of the Top 5, here right now, and I hope he always stays."
Longtime NFL Coach Gary Kubiak:
"Ozzie is the most impressive man I've ever been around in pro football, and I've been around some good ones. To watch him work, to watch him work in the draft, to watch him handle the football team and to watch him work with John [Harbaugh], I can't say enough."
New England HC Bill Belichick:
"I probably learned more from him than he learned from me. He's a very astute, sometimes quiet kind of guy, but the wheels are always turning; he's taking a lot in. When he speaks, you listen because you respect him, and you know that he's just not saying things to hear himself talk. He's saying them because he's given it a lot of thought, and he has a very important observation or opinion to share. He's had a great career. I can't think of many people that did what he did as a player and then in his current position and all the other things along the way."
HEY, YOU LOOK FAMILIAR! ~ Key Connections
Ravens GM/EVP and Hall of Fame TE Ozzie Newsome played 13 seasons in Cleveland. After his playing career, he then held positions as a scout, assistant to the head coach/ offense/pro personnel, and director of pro personnel before moving to Baltimore as VP of player personnel in 1996.
Baltimore special teams coordinator/associate head coach Jerry Rosburg was the ST coordinator for the Browns from 2001-06, while Ravens defensive line coach Joe Cullen held the same title in Cleveland for one season (2013).
The Ravens' staff is comprised of many who were invited to join the franchise when it moved from Cleveland: SVP of football administration Pat Moriarty, EVP of public & community relations Kevin Byrne, VP of football video operations Jon Dubé, SVP of operations Bob Eller and VP of IT Bill Jankowski.
Ravens senior personnel assistant George Kokinis was the Browns' GM in 2009. Kokinis began his career with Cleveland as an operations intern (1991) and then as a scout (1992-95).
Baltimore director of pro personnel Vincent Newsome played two seasons (1991-92) for the Browns before becoming a special assignment scout from 1993-95.
Baltimore secondary coach Chris Hewitt was a Browns intern in 2001 through the NFL's Minority Coaching Fellowship.
Browns senior offensive assistant Al Saunders served the same role for the Ravens from 2009-10.
Ravens east area scout Bobby Vega spent 2005-18 with the Browns' scouting department, starting as a scouting assistant and working his way up to director.
Ravens QB Robert Griffin III played for the Browns during the 2016 season. Baltimore WR Willie Snead IV was signed by Cleveland in 2014 as a rookie free agent.
WR Breshad Perriman was selected by Baltimore in the first round of the 2015 draft. Browns QB Tyrod Taylor was drafted by the Ravens in the sixth round in 2011 and spent four years with the team. DT Carl Davis was a third-round pick in 2015 and played for the team through the 2018 training camp. DL Trevon Coley spent the 2016 training camp with Baltimore.
HOW DO THEY TAILGATE?
WHO CARES?! After 15 games of looking around the league at how all these wannabes tailgate, let's bring it home and look at how the best in the business – Baltimore Ravens tailgaters – do it!
I'm gonna throw it back even further…Baltimore, get up!
Here's to several more editions of The Crab Bag this season!