The Ravens Best Quarterback
Print this article
The end to an NFL season can be abrupt for teams that earned their way into the postseason. Hopes can crash down quickly. Dreams of a Super Bowl title vanish in thin air. Expectations evaporate.
That's just the way it is. It's the opportunity cost of competing in a playoff game.
Attention immediately turns towards the next season for fans who want their team to build upon the positive steps taken in the one that just ended. And that's true here in Baltimore.
For the players, it's more difficult. These men who have bonded on so many levels since OTA's back in May, will never be one again. Attrition in the NFL is big. A 25% turnover in personnel is not uncommon. Of the 74 men who comprise the 53-man squad, practice squad and injured players, 18 or more are likely to go.
Theirs are not 9-5 jobs. It goes much deeper than that but even so, think about seeing 25% of your co-workers gone, all at once. They clean out their desks and they are no longer colleagues. It's significant. Now think of those players, cleaning out their lockers after reality bites when just 24 hours prior, hope soared.
Given the separation anxiety felt by players and fans alike, the end to this season may be the most painful in the Ravens 23-year existence. The best quarterback to ever suit up for the Ravens is about to ride off into the sunset, never to don the purple and black again.
Joe Flacco was many things to Baltimore and of course to his team. He was durable, dependable and tough. He embodied the qualities that are trademark characteristics of the citizens who comprise the town he represented.
Flacco was at the controls of the offense from Day 1 of his rookie season. The Ravens went to the postseason during his first five seasons, each season winning at least one playoff game. In 2011 he nearly propelled his team into Super Bowl 46. The following season on the heels of an epic postseason romp Flacco delivered in Super Bowl 47 and was the game's MVP. He cashed in on his accomplishments, with a then record NFL contract.
It was then that Flacco's journey as the Ravens quarterback began to experience some bumpy roads.
Perhaps intoxicated by Flacco's 2012 playoff prowess, the Ravens expected him to do more of the same going forward. But the enormity of Joe's contract prevented the team from providing him with the same depth of complementary players and consequently, the Ravens morphed into a mediocre team, going (42-41) with Joe as their starter.
Like in most walks of life when results fall short of expectations, frustration creeps in and when that happens in the NFL the first person on the receiving end of pointed fingers is usually the franchise quarterback. Fair or not, the criticisms come with the territory. Flacco knew it. He readily accepted blame even when it wasn't all on him. Maybe even he recognized that the results didn't measure up to his abundant physical gifts.
And for me, someone who covered Joe's entire career in Baltimore, that was the biggest rub. Those who read my column regularly often thought that I was too hard on Joe but that's only because I understood what he was capable of when dialed in – when fully committed. I don't think that he always was.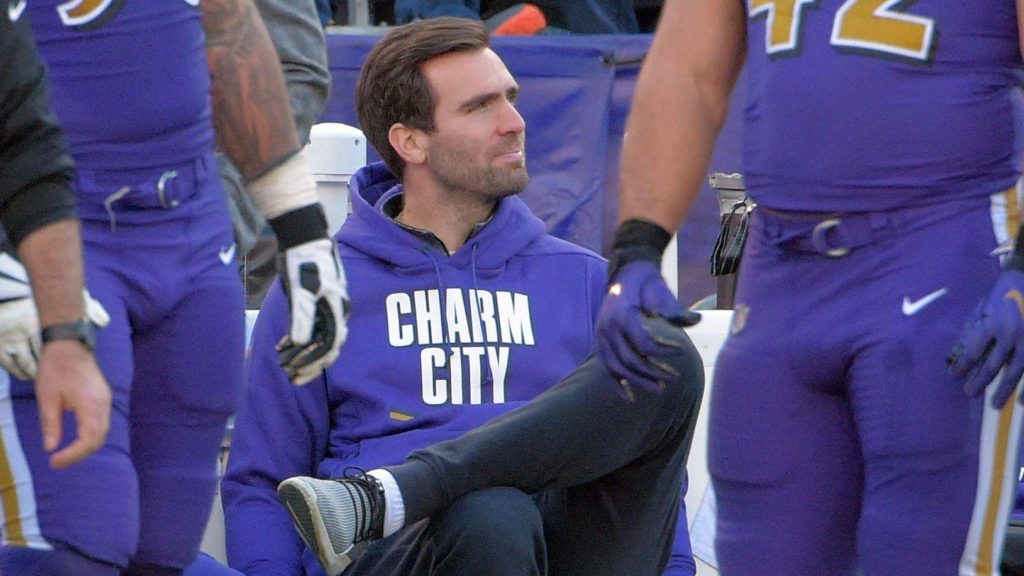 That said, when I look back upon Joe's tenure in Charm City, the Flacco Era, I will smile. When the Ravens made him their first-round pick in 2008 I remember watching him at OTA's and at training camp thinking, "Man, that guy can spin it!" I grew excited for the future of the franchise.
Had someone told me then, during the summer of 2008, that 11 seasons later the Ravens would go to the playoffs seven times, win 10 playoff games, participate in 3 AFC Championship games and win a Super Bowl, I'd say sign me up every day of the week and twice on Sundays. And going forward with Lamar Jackson, we can all hope for the same, yet nothing in the NFL is promised.
Thanks for everything Joe.
Thanks for some unforgettable moments – the comeback in New England in 2011 that fell just short.
Thanks for the Mile High Miracle. And of course, thanks for that second Lombardi.
As a body of work, yours was pretty special.
And as Ray Lewis once said, "Joe, you played your ass off!"
I'm happy that I was here to experience it and I'm really glad you came along.