TBT: Reliving the 2012 AFC Championship
Print this article
Wednesday night was a rather restless one for me and by 3:30 AM I was up and noodling around on my computer. I landed on NFL Game Pass and decided to watch the 2012 AFC Championship Game, featuring a rematch from the previous season's AFCCG between the Ravens and Patriots.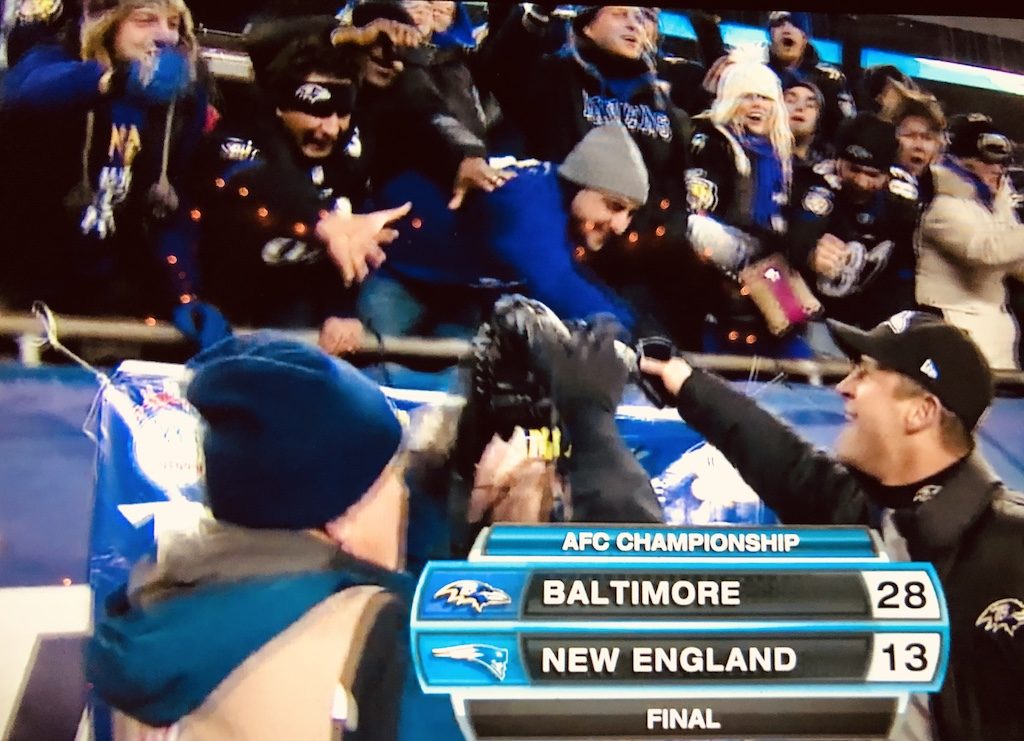 It's funny how time has a way of erasing from memory, some of that game's bad and ugly given the glorious outcome. It's also the first time I've watched the game in its entirety – this time, fully relaxed given knowledge of the outcome. You pick up on some things that you missed the first time while under the influence of a fan's emotional journey.
So, while I watched, I jotted down a few notes…
• Early on Brandon Lloyd was getting open regularly and had 4 first half catches. He finished the game with 7 grabs for 70 yards.
• Aaron Hernandez was prominent, particularly in Rob Gronkowski's absence. He had 9 catches for 83 yards while Wes Welker led the way, hauling in 8 Tom Brady passes for 117 yards and a score. But he did have a huge drop that could have changed the game's outcome. Up 10-7 at the 11:00 mark of the second quarter the Patriots were first-and-10 at the Ravens 37. On third-and-7 from the Ravens 34, Welker dropped a perfectly placed pass from Brady inside the Ravens 25 with room to run. The Patriots opted to punt.
• Dannell Ellerbe's all-out hustle play to force Frank Gore out at the Ravens 7-yard line with less than 3 minutes to play in Super Bowl 47 is so understated. Without that play, the 49ers might be 6-0 during Super Bowl play. Ellerbe was also very active in this game. He had 5 tackles, 1 QB hit and an interception off of a Pernell McPhee tip.
• The Ravens offensive line was arguably the best the Ravens have ever fielded during the Flacco years. From left to right: Bryant McKinnie–Kelechi Osemele–Matt Birk–Marshal Yanda–Michael Oher.
• Chykie Brown – I forgot how much playing time he had in the game (44 of 83 snaps). And I was reminded of how bad he was. The Ravens other corners were Cary Williams, Jimmy Smith and Corey Graham. Graham had 11 tackles, never a good thing for a corner. Williams, always a demonstrative guy, had an exchange with Paul Kruger following a deflected pass that bounced into Kruger's arms – and clanked off. Williams apparently gave Kruger a hard time about the drop to which Kruger responded: "STFU", in full color.
• Statistically the Patriots had the upper hand in several categories and they dominated play in the first quarter, albeit not the scoreboard. It was 3-0 Patriots after one quarter. The Patriots had 428 total net yards to the Ravens 356 but the big swing…TURNOVERS. The Ravens won that battle 3-0. Joe Flacco had a passer rating of 106.2 to Brady's 62.3.
• Aqib Talib marked Anquan Boldin but pulled a hamstring at the 5:15 mark of the first quarter following a successfully defended play on third down. He never returned to the and it factored into the game's outcome. Boldin led Ravens receivers with 5 catches for 60 yards and 2 TD's.
• Rookie Bernard Pierce played well. He had 60 yards from scrimmage on 10 touches.
• Uncharacteristically, Tom Brady messed up an opportunity to advance the Patriots lead just before the half, to 17-7 with some poor clock management in the waning seconds of the second quarter. New England was forced to settle for a field goal. They would not score again the rest of the way. That season the Patriots averaged 34.8 points per game. Their No. 1 scoring offense posted 557 points in 2012.
• The Ravens receivers struggled to get separation. Phil Simms correctly pointed out that OC Jim Caldwell did little to help. The Ravens didn't use motion, rubs or stacks to try and free up their receivers.
• When the Ravens took the lead for good in the third quarter, Flacco drilled a dart into the hands of Dennis Pitta. The play took place immediately following a vicious helmet-to-helmet hit by Jerod Mayo on Pitta. Credit Pitta for bouncing back just seconds later for the score. #Tough
While watching the game live, I remember feeling that the Ravens were celebrating a little too early during the fourth quarter. After all, Tom Brady was still on the other sideline. But after watching it again, the Patriots had no chance and I'm sure the ghosts of Lee Evans and Billy Cundiff from one year prior scarred me a bit, leaving me with unjustified anxiety.
By 5 AM I was content and went back to bed for a peaceful 2 hours of sleep.
Thank you, NFL Game Pass.