FRANCHISE MODE: Ravens Offseason
Print this article
We're close to kicking off maybe my favorite time of the year – NFL free agency. In anticipation of my Christmas, I've decided to go full on Madden franchise mode and take the reigns of the Ravens from offseason start to finish.
My goals in this exercise:
To finally find the Ravens viable weapons at the skill positions;
To Upgrade the talent level of the offensive line;
To attempt to keep the defense at near 2018 levels while gaining a little more athleticism; and
I want to do this all without sacrificing a ton of cap space in 2020 and beyond.
Before we go any further, let's recap what's happened thus far…
— Ravens trade QB Joe Flacco to the Denver for a 2019 4th round pick, saving 10.5 million in 2019.
— Ravens release WR Michael Crabtree, saving 4.667 million in 2019.
— Ravens extend the contract of CB Tavon Young, raising his 2019 cap number by 1.5 million.
— Ravens release S Eric Weddle, saving 7.5 million in 2019.
— Ravens re-sign TE Nick Boyle (cap numbers TBD).
And the roster as it stands…
Exclusive Rights Free Agents
RB Gus Edwards
OT Steven Moore
RB De'Lance Turner
Decision: Tender them all
Reasoning: The most any of these players could make is 645K…you'd pretty much have to suck not be tendered at that level.
Restricted Free Agents
Decision: 2nd round tender ($3.095 million)
Reasoning: Duh
Decision: 2nd round tender ($3.095 million)
Reasoning: See above
Decision: Non-tender, re-sign to a 1-year, minimum contract ($805K)
Reasoning: He played well enough last preseason and training camp to warrant a spot on the roster.
Players with Contract Concerns
CB Brandon Carr
Decision: Exercise 2019 option
Reasoning: Has played well throughout his Ravens tenure and added slot competence to his resume.
Decision: Retain
Reasoning: No cap savings to be had here. With roster uncertainty, there's a chance he's the green dot player for the defense in 2019
P Sam Koch
Decision: Retain
Reasoning: One of the league's highest-paid punters, Koch has very good average yards per punt, but a middling net punt average and number of punts inside the 20. Late-round competition could be added, but the job is likely his in 2019.
WR Willie Snead
Decision: Retain
Reasoning: Incentives raised his 2019 cap number to $7.2 million, a bit on the high side for a player of his ilk, but Snead was reliable in 2018 and the current WR corps is super thin.
Decision: Retain
Reasoning: Still a force against the run. No cap savings here until 2021.
Decision: Retain
Reasoning: It's Marshal "F'ing" Yanda
After these moves, a Cap update: ~ $29.947 Million in cap space.
Unrestricted Free Agents
I'll start with the Ravens guys first…
LB C.J. Mosley
Decision: Let him walk
Reasoning: I fully understand his tangible and intangible values as a player. I just can't get on board with paying ANY defender $10+ million a season if they don't excel against the pass. With the trio of Patrick Onwuasor, Kenny Young and Bam Bradley I'd feel comfortable with the team's ability to platoon the position.
WR John Brown
Decision: Let him walk
Reasoning: I love John Brown as a talent, but the free agent market is super thin at receiver and teams are well aware of his impact in Baltimore pre-Lamar Jackson. This will be Brown's best and maybe only chance to cash in and I'll believe he'll do so. I'm not comfortable being the one to do it on a run-first team with a still developing QB.
LB Za'Darius Smith
Decision: Let walk
Reasoning: This one hurts, guys. The free agent edge class crumbled above Smith as the franchise tags started to get handed out and it sounds like he could get top-of-the-market money. Though I love his inside/outside rushing ability, I just can't go to that level.
Decision: Ravens agree to a two-year $10 million contract. 2019 cap number: 3.937 million
Reasoning: I value his leadership and presence versus the run. Retaining him became more important with the loss of Za'Darius Smith.
DL Brent Urban
Decision: Let Him Walk
Reasoning: Urban is heading into his age 28 season and is probably also facing his one and only time to cash in after having a strong and healthy 2018. It's no guarantee he will but I lean towards him getting a contract I'm not comfortable matching. I have Chris Wormley waiting in the wings and Willie Henry returning from injury.
QB Robert Griffin III
Decision: Ravens agree to a 2-year 4-million-dollar contract. 2019 cap number: 1.737 million
Reasoning: RG3 returned to the NFL with noticeably better footwork and anticipation as a thrower. He also really took to being a mentor and still has enough wheels to keep the scheme the same if Lamar Jackson should miss time.
TE Maxx Williams
Decision: Let Walk
Reasoning: With Boyle in the fold, this becomes a no-brainer.
RB Buck Allen
Decision: Let Walk
Reasoning: Solid overall back but we can get someone cheaper with more upside in the draft.
Decision: We'll keep in touch
Reasoning: We value Montgomery's pass protection and his pass-catching ability. We'd like to add to this position in the draft but if that doesn't work out and he's still available, we'll check back in.
Now let's venture out into the market…
Free Agent Acquisitions
Decision: Ravens agree to 5-year $47.5 million contract. 2019 cap number: $9.535M

Reasoning: In order to "build the bully" we need to upgrade the interior offensive line. Morse is a great fit as we look to impose our will in the trenches even more in 2019.
Decision: Ravens agree to 3-year $30 million-dollar contract. 2019 cap number $8.67M

Reasoning: Houston will ultimately be released and will be an effective replacement for Za'Darius Smith, but we need to sign him to a deal that we can get out of in two years if need be. He also won't count towards the compensatory pick total, which we know is a huge focus around here.
You may have noticed a glaring omission from the players with contract concerns. That was strategically done. As the free agent cornerback class thins out, not everyone will find their match. After signing these two big-money deals I need to find some savings…
CB Jimmy Smith
Decision: Ravens trade CB Jimmy Smith to the Oakland Raiders for a 6th Round pick in the 2019 Draft
Reasoning: $16.175 million is just too high a cap number for the team to stomach with the depth and talent they have at the position, but Smith is still a quality corner when healthy. Ravens save $9.5 million in 2019 with the move.
Cap update: approximately 13.772 million in cap space
And now we move along to April…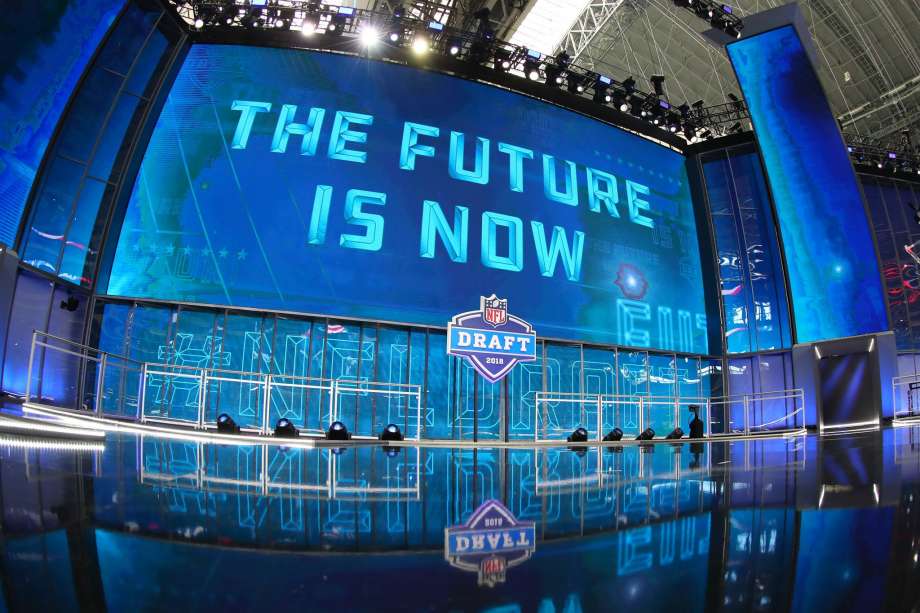 The NFL Draft
The team enters draft weekend with the following picks…
1st round-22nd overall
3rd round-85th overall
3rd round-102 overall
4th round-113 overall (From Den)
4th round-113 overall
4th round-123rd overall
5th round-160th overall
6th round-191st overall (From Ten)
6th round-193rd overall
6th round-196th overall (From Oak)
The Ravens are on the clock at with the 22nd overall pick and elect to trade down.
Details: The Ravens trade the 22nd overall pick to the Los Angeles Rams for picks 31, 94 and 133.
Reasoning: The Rams lost edge Dante Fowler in free agency and didn't have the cash to replace him in free agency. They wanted to get ahead of the edge-needy teams in the 20's and make sure they got a legit 1st round pass rusher. I viewed this as a great opportunity to grab some extra draft capital.
— The Ravens are on the clock with the 31st overall pick.
Decision: Ravens select S Nasir Adderley, Delaware
Reasoning: BPA and need matched up well here as we get our rangy plug-and-play centerfielder.
— The Arizona Cardinals are on the clock with the 65th overall pick and announce a trade.
Details: The Ravens have acquired the 65th pick in exchange for picks 85 and 102.
Reasoning: The Cardinals have more needs than anybody in football, so they look to accumulate picks here. I've got my eye on a playmaker and decided not to chance it by waiting until 85th overall.
— The Ravens are on the clock with the 65th overall pick
Decision: Ravens select WR JJ Arcega-Whiteside, Stanford
Reasoning: Pre-pro day I could've seen JJAW having a chance of falling to 85 but I believe he'll surprise people with his testing. He's a day a Day 1 starting boundary receiver with better small receiver traits than you think.
— The Ravens are now on the clock with the 94th overall pick
Decision: Ravens select RB David Montgomery, Iowa State
Reasoning: The best value for a three-down back in this draft, Montgomery is a forceful runner with great feet and solid receiving skills. I coveted a back whose presence on the field doesn't give a hint on whether we're calling pass or run.
— The New England Patriots are on the clock with the 101st overall pick and announce a trade.
Details: The Ravens have acquired the 101st and the 205th picks in exchange for picks 123, 133 and 191.
Reasoning: New England is always in pick-collection mode. I've got another playmaker in mind.
— The Ravens are now on the clock with the 101st overall pick
Decision: Ravens select WR Andy Isabella, Umass
Reasoning: I'm taking another shot at finally finding playmakers at WR. Isabella is a field-stretcher with real ability in the open field. He can play inside or out but if I decide to make a splash in 2020 to bookend Arcega-Whiteside, we can use Isabella primarily in the slot.
— The Ravens are now on the clock with the 113th overall pick
Decision: G Nate Davis, UNC Charlotte
Reasoning: Davis is one of the real sleepers in this class. He played RT in college but I'm drafting him to play left guard. He's a physical people mover with surprising agility. He could be a day 1 starter.
— The Ravens are now on the clock with the 160th overall pick
Decision: RB Bryce Love, Stanford
Reasoning: Another RB you ask? I love the current advantage of not paying at RB and the way to keep that going is by hitting in the middle rounds. Kenneth Dixon is a free agent after the year, and Gus Edwards is a valuable piece but won't impact things on 3rd down. Love should be an explosive breather back in the NFL with the chance for more. I'm committed to finding playmakers and despite his injury concerns, this is an easy gamble.
— The Ravens are now on the clock with the 193rd overall pick
Decision: LB Joe Giles Harris, Duke
Reasoning: I get insurance at ILB here with maybe the best fit to play a traditional 3-4 inside backer in this draft. While everybody will be looking for 4.4 forty-yard dash guys I get a really solid football player who's physical, smart and is athletic enough to handle his own in short zones and lighter coverage responsibilities.
— The Ravens are now on the clock with the 196th overall pick
Decision: DL Michael Dogbe, Temple
Reasoning: Dogbe has disruptive potential as an interior rusher with some tools that we can develop into at least a rotational guy in our front.
— The Ravens are now on the clock with the 205th overall pick
Decision: WR/RB Olamide Zaccheaus, Virginia
Reasoning: Take enough shots and something is bound to stick right? Zaccheaus is an interesting hybrid-schemed touch player with a chance to play some slot in the NFL. He may not make the roster initially but he's the type of open-field player I want in the pipeline.
Post-Draft Moves
Ravens trade Alex Lewis to the Houston Texans for a conditional 2020 6th round pick
Reasoning: Lewis is in his walk year and due to proven performance escalators, his 2019 salary jumps to $2.025M. That's not a ton of money, but with cheaper guys on longer deals in the fold why not get some value? The Texans need to take every flier they can on the O-Line.
Summertime signings (Don't count towards the compensatory pick formula)
Ravens sign WR Rishard Matthews to a 1-year deal veteran minimum deal with incentives
Reasoning: Taking a flier here on veteran insurance at the receiver position. Matthews played well for the Titans pre-2018 but asked for a release, almost retired, signed with the Jets then got hurt. He'll be looking to build his value and if he returns to form, he could be an effective bridge if need be. If not, we can release him without penalty.
Ravens sign LB Preston Brown to a veteran minimum 1-year deal
Reasoning: Same as above, just at a different position. Brown probably won't have a robust market due to his style of play and coming off a season where the Bengals defense was awful but he could still be a useful two-down thumper if the young guys should falter in that regard.
Conclusion
This very challenging but very fun. The thing that stands out the most is that while the Ravens have more flexibility than they've had in some time, that financial freedom hasn't quite hit yet, even if numbers  thrown out on twitter numbers tell you otherwise.
Overall, I feel like the team got more versatile and athletic on at the skill positions. I think the team got bigger and more talented at Center and Left Guard and should be able to impose their will in games, even against talented fronts. Defensively there is potential for slippage but if some of the young depth can take another step it may not be as noticeable. My biggest worry is the interior pass rush with no Za'Darius Smith or Urban. I wanted to trade for Michael Bennett but after all the moves I made it would put the team too close to the cap. Willie Henry's return and the development of Zach Sieler would be critical for this hypothetical roster.
I couldn't have even attempted this exercise without the great work of our cap guru, Brian McFarland and all the great writers here at RSR. I'd like to thank all of them for being great resources and sounding boards.
I'm looking forward to hearing all your thoughts, good bad or indifferent.