Top 5 Playoff Games of the Flacco Era
Print this article
Many things were said during Joe Flacco's career as a Baltimore Raven. You can say whatever you want about his talent level or his contract, but Joe's history and experience in the postseason are undeniable. In his 11 seasons as a Raven, the team made the playoffs six times, winning at least one playoff game in each of those seasons, and in total had a 10-5 record in the postseason.
As someone who was a big fan of Joe's (but is fully on board with the Lamar Jackson era), I thought I'd go through my top five Flacco playoff games. 
A few things: 
I am only looking at Flacco's performances and the defense will be mostly ignored
The Ravens did not necessarily have to win the game
This list is purely my opinion
With all of this in mind, let's get into it.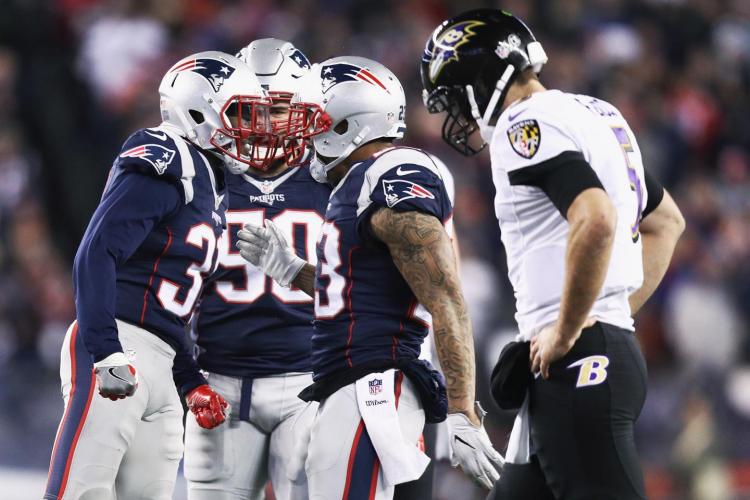 5. 2014 Divisional game vs. Patriots
The last playoff game of Flacco's career as a Raven. The words I said to myself and that I still say to this day about this game are "we had them." Joe helped the Ravens get two 14-point leads, and the defense managed to blow them both.
Flacco was great in this game. The main reason this game makes the list is this: You could make a case that Joe outplayed Tom Brady. Brady threw for more yards, but Flacco threw for more touchdowns and had a better QBR. If  Rashaan Melvin didn't bite so hard on the Julian Edelman touchdown, the Ravens might've kept the lead. Joe managed to put up two double-digit leads on a Bill Belichick defense, while the Patriots had to resort to trickery to win this football game.
It might've been the last playoff game for Joe in purple – one that he lost – but it was one hell of a fight.
4. 2011 AFC Championship vs. Patriots
This game. No, I didn't put this game on the list to talk about the two men that shall not be named. I hate this game so much, but I need to talk about it anyway.
Unlike the divisional game in 2015, it is without question that Joe outplayed Brady in this game. Other than the interception he threw, Joe was smart, effective and knew when to sling the ball downfield. Joe threw the ball 36 times for 306 yards for 8.5 YPA while throwing to seven different targets, with Anquan Boldin leading the way with six catches for 101 yards.
Brady, meanwhile, had the same amount of passing attempts and completions but threw for 67 fewer yards for 6.5 YPA.
Flacco outplayed the greatest quarterback of all time in his old building. Even though we all know the final result of this game wasn't what we wanted, the fact remains that this performance was one of Joe's best in the playoffs.
3. 2012 AFC Championship vs. Patriots
Finally, a game that the Ravens actually won. This single game made every playoff loss of the previous four years worth it. After the gut punch that was the ending of the AFC championship a season earlier, we were treated to watching our Baltimore Ravens absolutely dominate the New England Patriots in the second half of this game.
If this wasn't a list dedicated to Joe's performances, I would be gushing about how the defense played in this game.
Joe had three touchdowns, no picks, 240 yards and a QBR of 78.7. Brady, meanwhile, had a touchdown with two picks, and a QBR of 49.5. All three of Joe's touchdowns came in the second half, while not throwing a single interception. To go into the defending AFC champs' house and do what Flacco did is no small feat.
Two of those touchdowns that Joe threw were balls thrown to Anquan Boldin in a spot where only he could make the catch.
Joe Flacco put the Baltimore Ravens in their second super bowl in franchise history.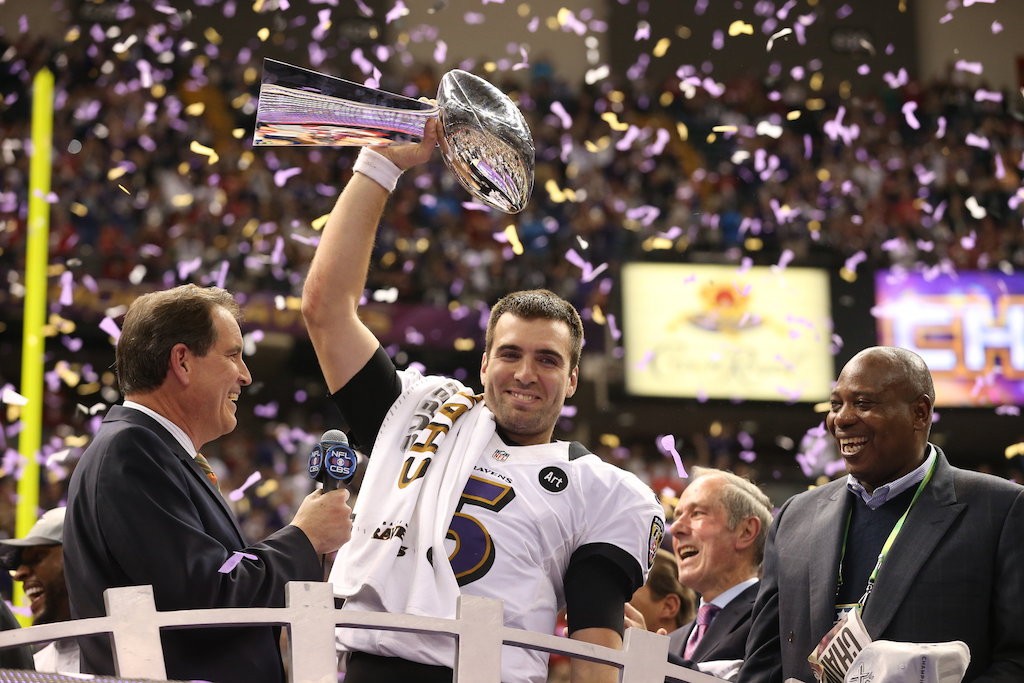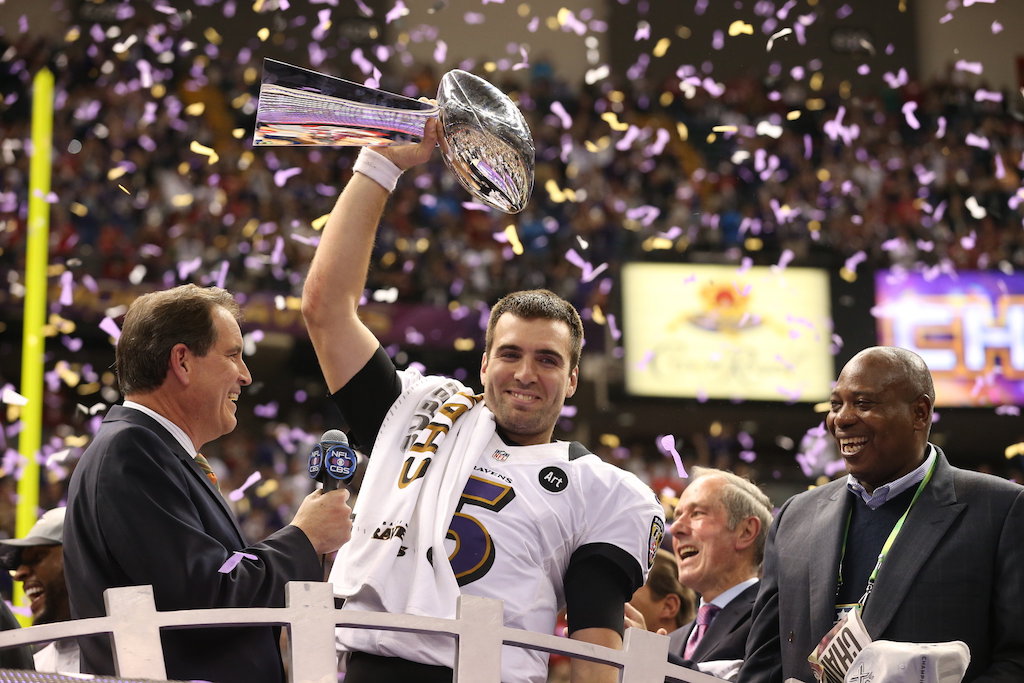 2. Super Bowl XLVII vs. 49ers
One of the best and most stressful nights of my life takes the number two spot on this list. A lot of you would probably put this at one, but stay tuned.
The game that immortalized Joe Flacco as a Raven and as a football player: the night the lights went out.
The stat line speaks for itself: three touchdowns, 66% completion, no picks, 287 yards, 8.7 YPA and a 87.7 QBR. Throw in a Super Bowl MVP as well. I cannot stress enough how important the lack of interceptions was for this game and for this playoff run as a whole.
The only turnover of the game for the Ravens (not counting a failed fake field goal), was a fumble by Ray Rice. I maintain to this day: had the lights not gone out, this game would've been a romp.
In my opinion, the only game that tops this one in terms of Flacco playoff performances, was…
1. 2012 Divisional game vs. Broncos
The Mile-High Miracle is a game I look back on with great fondness. Every possible factor was against the Ravens. The Ravens hand fairly easily handled rookie Andrew Luck and the Indianapolis Colts in the Wild Card Round, but a much more familiar foe in different colors awaited the Baltimore Ravens. Peyton Manning at the time was 9-2 in his career against the Ravens, which included nine straight wins including a 34-17 just a month before this game. That game was also played in Baltimore. This game would be played in Denver.
The last time the Ravens played Peyton Manning in the playoffs was the 2010 divisional game. Manning was still a Colt, and would lead the Colts to a 20-3 victory and of course would go to the Super Bowl to face the New Orleans Saints. The Manning of this season was enjoying a Comeback Player of the Year season, and had a better defense than what he had three years prior. The Denver Broncos were favored by nine to win this football game.
With all of this against him, Joe Flacco went into Denver and outplayed the Baltimore Ravens' boogeyman.
Once again, Flacco did not throw an interception in this game. Peyton threw two. Flacco threw for 331 yards. Peyton threw for 290 yards. Any stat you can think of in this game had Flacco ahead of Manning. That's all there is to it. That's the main reason this game is at one instead of the super bowl. Flacco by far outplayed Manning (as opposed to having only a slightly better game than Colin Kaepernick two weeks later).
At the end of the day, you don't have to look very far to see great performances in the former Raven's playoff performances. I guess we'll see if we've seen the last of Joe Flacco in the postseason.