Explaining my Ravens Nicknames
Print this article
We have a few days before the first preseason game of the 2019 Ravens season, and while everybody is writing about training camp, and what's going on on the practice field, I've decided (at the request of a few readers) to write about something much more frivolous. 
Have any of you ever wondered about the nicknames I throw out? Or wondered how the player got said nickname? Then this is the blog for you! 
Normally there's always some kind of analysis in my articles, whether I'm being snarky, or being an actual 'football guy' but today, you'll get an entirely different kind of player analysis. I'll be covering both current and former players. Try to remember that not all of these names are insulting. Some are just… what they are.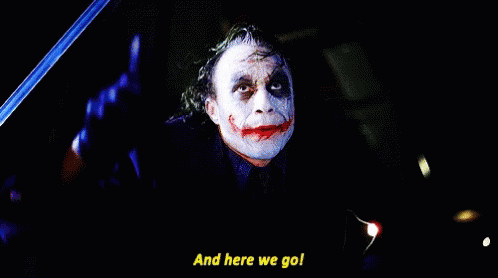 Breshad Perriman, a.k.a. Ghost

Everybody knows the Breshad Perriman story. Questionable hands, hyper-athletic, and ran so fast that he left his hairline at the combine. Went on to be (over)drafted by Baltimore, and while the hope was that he could become a No. 1 wideout, that never came to fruition, as he was out his entire rookie year, put up WR3 numbers in year two, and then was responsible for more interception yards than reception yards in year three. Soon after, he was cut, and somehow scored a touchdown against the Ravens in 2018.
He got the name early in his career, by my lizard brain following this exact thought process: he either runs so fast you can't see him, or you don't see him on the field at all. The ball goes right through his hands. Now, what can you not see, that also has objects pass right through them?
Yeah, you get it.
Jermaine Eluemanor, a.k.a. Aluminum
This one is a bit less convoluted. The first year or so that 'London' or 'Uncle Phil' was on the team, he was regulated to practice squad or second-string. The reasoning is simple. He was soft, and would crumple under pressure. Much like aluminum. Add in the fact that his name was initially difficult to pronounce, and we arrive at Aluminum.
Bonus story: Apparently, Jermaine doesn't have time for criticism on Twitter, and he ended up blocking a few members of the Ravens Flock. 
*Heath Ledger joker voice*
Well.. I didn't like that. I didn't like that.. one.. bit. So when I told him 'if you blocked in the game like you block on Twitter, maybe you wouldn't be a backup' he promptly… yeah. Blocked me.
Marquise Brown, a.k.a. Fetus
This particular name was apparently an instant classic, as I got very little hate about it, and a good amount of laughter, the first time it came out of my mouth/fingers. 
We can all agree that Marquise is a tiny, tiny human. The picture of him standing next to Lamar Jackson (not a big guy) is absolutely hilarious. So on draft night, when I referred to him as being the size of a fetus, the name stuck instantly. This is one of the ones that I don't mean to be disrespectful. People find it amusing, and therefore I'm proud of it.
Bradley Bozeman, a.k.a. Booze
There's no real origin story for this name, unfortunately. It happened by accident. I was having a discussion about the potential for him to rise to the starting center spot, and instead of saying 'Bozeman' it came out 'Boozeman.' Blame the absolutely phenomenal game known as Days Gone for this one. I had just finished up about 80 hours of that one, and Booze being one of the side characters, it was an easy slip.
Plus, let's be honest. He looks like a guy that could knock a few back with you at a seedy bar outside the city.
Mark Andrews, a.k.a. Mandrews
Mark's name originated after the 2018 season (obviously, it was his rookie season). I had said over and over again (before the season) that people should temper their expectations on Hayden Hurst and Andrews, because rookie tight ends typically struggle.
Mark saw that, and promptly pooped all over my theory, becoming the rookie to break the mold. Mould? Or is that the Irish in me speaking? Eh, whatever. I have an editor for that sort of thing. (Ed note: "Mold" is the answer, but Chibs throws in random U's all the time anyway, so why stop now?)
He was a man among boys, when it came to the rookie tight end class – hell, even most of the veterans wound up trying to catch up to him, especially in passer rating when targeted, where Mandrews led every tight end. Travis Kelce was a decent distance behind him in that category. 
And so, Mandrews was born. 
Justin Tucker, AKA AutomaTuck
Imagine a world where people are trying to take the nickname of Greg Zuerlein (Legatron, a play on Megatron, the first of two Transformers references) and apply it to Justin Tucker.
Well, that's what was happening a couple years back. Everywhere you'd look 'Legatron from 55' or 'Justin Tucker, the new Legatron.' Sometimes, you people just aren't creative. Then there's me. When I first began using 'AutomaTuck' people would correct me, over and over. It was a simple, but beautiful play on words. For some reason, nobody liked it. But, then, when the Ravens' social media team started using it, it became gospel. This is a shameless self-plug, and I really don't care. AutomaTuck? That was me. 
You're welcome.
The Rest
There are certainly others, though not nearly as imaginative. AC34, my cutdown name for Alex Collins, the one-year wonder. OBJr, which is literally just to piss off Odell fans. Call him 'The real OBJ' and watch them have a seizure (especially now that the fake OBJ is in the AFC North). Lockdown, also known as Marlon Humphrey, derived from my Transformers nerdism. Hurst the Worst, given to James after he rolled up on Joe Flacco what seems like many moons ago.
One can not omit the 'Harboys.' This isn't a player. This is that group of fans that think John Harbaugh can do no wrong, even though he's proven time and again that, in fact, he can. Or the 'Lamarsexuals', which I used more last year, and for good reason.
Finally, a point I would like to touch on. I know a lot of you are fans of Gus Edwards. I also know a lot of you (Ravens staff included) have taken to calling him 'Gus the Bus.' Let's face facts though, folks. That nickname is overplayed. It's been used by another – a rival even. Can we be more imaginative? Can we give Gus a name he deserves (assuming he doesn't fall into irrelevance in 2019)? 'The Gus Bus' just seems so… bleh. We can do better. We will do better. Stay tuned.
Just think, guys. The next article you read from me won't be this drivel. It'll be about actual football. Well.. preseason, anyway.