Ravens Will Dominate Dolphins
Print this article
Why the Ravens Will Win – Week 1
Listen.
I know, as well as you do, that this Sunday in Miami is nothing more than the 5th Preseason game for the Ravens.
I also know the focus of my 'Why The Ravens Will Win' blog is always taking a proverbial shat on the opponent, and when the opponent is this incompetent? It almost feels cheap to take pot shots.
Almost.
It's easy enough for me to simply point out that the Dolphins are the equivalent of a JV high school team whose 60 year-old coach is playing QB, since nobody else can. It's also easy to look at the Fins roster – a literal "Who's Who" of "Who?" and "Who?" – and see how easy it should be for the Ravens to fricassee the Flippers under the South Florida sun. I can also casually point out that Stephen Ross is the real Miami vice, as he continues to choke away the years of a few bright stars on this roster as if he were Ndamukong Suh and guys like Xavien Howard and Charles Harris were Ryan Mallet.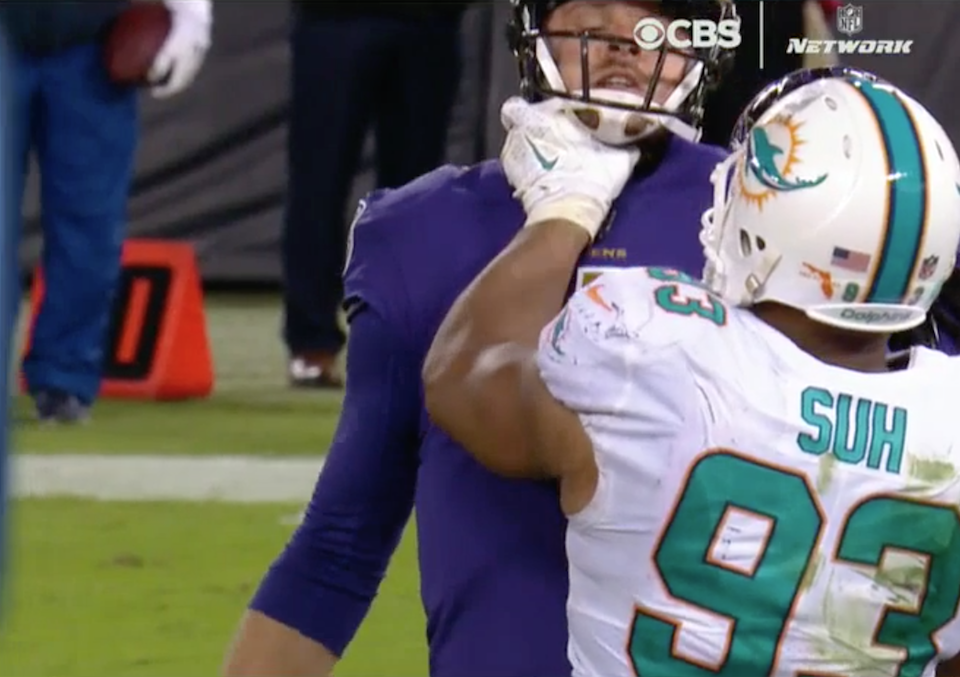 Yea. Like that.
But for now, let's just pretend we have an actual football game to discuss because if I stop here? I'm dead in the water at 200 words, which is no bueno (that's Spanish for 'Josh Rosen').
I'm going to start by giving the Dolphins the only ammunition they believe they have against the Ravens – the BS narrative about the heat and humidity in Miami. Because hey! It's going to be a 115-degree 'real feel' game day with relative humidity! And that's just leaps and bounds above the 105 to 110 degree heat index days the Ravens enjoyed during the month of August in Owings Mills! Oh, and let's not forget the fact that the Ravens are wearing purple jerseys, which is an obvious ploy by the Dolphins to make them sweat more – well done, Brian Flores, by picking white for your squad…
Can we all just accept that the weather is a bogus narrative and actually discuss the players on the field? 
Because this is where it gets fun.
Imagine being the Dolphins back during the NFL Draft and saying "Hey! Let's trade for Josh Rosen and he can be our future franchise QB!" so you give up a Day 2 pick to the desperate Cardinals (whom the Ravens will feast on next week), and you acquire your future face of the franchise…
For like a month. 
And then the Fins decide "Nah, F it! Let's start Ryan Fitzpatrick instead!" 
Odd enough to trade for a QB then bench him, but it's clear they're looking to tank… until you hear they brought in Jadeveon Clowney to try and push a trade for him, and then you question your first thought… are they trying to tank while adding a high-dollar, high-talent player at the same time?
Clowney scoffs at Miami (as do we all) so the Fins response?
Screw it, let's trade with Houston anyway, except we'll give them literally the most talented player on our roster in LT Laremy Tunsil, while failing to grasp that finding a franchise LT is impossible, but hey! Draft picks baby woooo! And we all know they're so great in Miami at picking the coveted QB like the time they drafted Ryan Tannehill, or the time they drafted Pat White, or Chad Henne, or John Beck, or… I quit when I got to 1999. You get the point.
In four months' time, the Dolphins have gone from build to tank to build to tank and that's some kind of special ineptitude. 
I think the final call here is that the Fins are in the tank (literally).
As far as the players the Ravens will face? Basically a few bright spots amongst a flaming bag of dog crap. Take the Fins Offensive Line for instance – in 2018 they were ranked the 32nd OL… and that was with Laremy Tunsil. Now they have two guys projected to start that have been with the team exactly one week after roster cut downs and I gotta tell ya… Matt Judon, Pernell McPhee and hell, even Tyus Bowser should be licking their chops. 
When I get to say 'Tyus Bowser is licking his chops' you know your line has issues. 
Of course fans like to point to veteran, journeyman, and beard connoisseur, Ryan FitzMagic, being 4-2 against Baltimore, as if those previous teams were duplicates of this suicide squad in Miami. If anything, ol' Fitz should be terrified, possibly pulling a hammy at game start to avoid taking the field behind a line of revolving doors facing a top tier Ravens defense. And even in the few rare instances that Fizty gets enough time to chuck the ball (perhaps the Ravens rush two just to screw with him), who is he throwing to? The Fins traded away Kenny Stills for drama reasons, leaving them with Albert Wilson, Jakeem Grant, Allen Hurns coming off a snapped ankle, rookie douche bag Preston Williams (if you don't know, Google him), and let's not forget TE Mike Gesicki, who takes the crown for biggest turd in the 2018 TE draft class punch bowl (imagine knowing a Fins 'analyst' saying Gesicki is a HOF caliber player and the best draft pick he's witnessed by Miami).
Fitz is gonna need a helluva lot of that Magic with the scrub squad against the Ravens stout secondary.
Then there's the run game for Miami… I guess? Kenyan Drake is not back yet, and Kalen Ballage is just a warm body filling an empty void (much like the 50-60 Dolphins fans you'll see in attendance Sunday).
As for the Ravens offense versus the Dolphin D?
It'll be the biggest storm the Florida east coast has seen in 2019 (too soon?).
The Fins have a few pass rushers capable of not totally pissing their pants, and a few solid corners. But this is Lamar Jackson's homecoming dance and he is getting lucky (figuratively) all over this field come Sunday. He'll scamper for 80 on only six rushing attempts, he'll complete 67% of his 25 pass attempts for another 250 yards and the future MVP (per DeAngelo Tyson on Good Morning Football) will open the season with a 330 total yards, 3 TD, 0 turnover performance. 
You be thinking 'I wonder who Lamar's go-to receiver will be in this game?' and it's pretty obvious that Miles Boykin is going to eat all damn day, snatching balls out of midair and doing his best prime Dez Bryant impression. Put 100+ and a score on the kid!
The Baltimore running game as a whole, however, will be the talk of the town. Mark Ingram, Gus Edwards and Justice Hill going for another 180 yards and two scores. 
Do math. That's five touchdowns for the Ravens, and we'll throw in a Tucker field goal for good measure. 
And by Q3, that'll be all she wrote. Josh Rosen will be brought in as Ryan Fitpatrick goes off on the stretcher, and this game will have shades of the Ravens 2018 season opener against the Buffalo Bills.
Baltimore 38
Miami 7
5th Preseason game in the books, and the Ravens come back home for their 6th and final preseason game against the Cardinals.