Ravens (2-0) @ Chiefs (2-0)
Print this article
All the stats, notes, quotes, and more you need to get ready for the heavyweight tilt at Arrowhead in Week 3!
KNOW THY ENEMY
SERIES HISTORY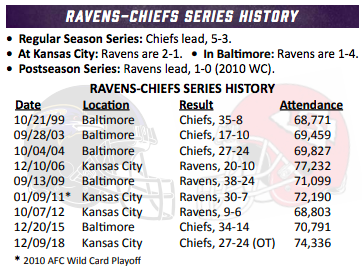 QUOTES OF THE WEEK
John Harbaugh On Opposing Defenses Game-Planning QB Lamar Jackson:
"It's just going to be a real conundrum for them. It's going to be a real challenge for them to figure that out. They're going to have to figure it out for themselves. But this league has a lot of smart people and a lot of great players. As Lamar [Jackson] well knows, they'll be chasing our scheme. We'll play one of the best teams in the league [on Sunday] in Kansas City. The stadium will be rocking; it'll be deafening. We're going to have to be a much better football team than we have been last week or this week. That's just the way the league works. This is a smart league, and you have to respect what people can do."
RB Mark Ingram II on the Ravens' Offense:
"Lamar [Jackson] is a real quarterback. People can say what they want, but he can sit back there and drop dimes. He's going to continue to improve and continue to get better. We have lots of playmakers on the outside – receivers, tight ends. You see fullbacks catching it. You see backs catching it out of the backfield. That's what we want: a versatile offense and an explosive offense, many moving parts contributing."
KEY CONNECTIONS
Baltimore head coach John Harbaugh served on Kansas City head coach Andy Reid's coaching staff in Philadelphia. Harbaugh functioned as the special teams coordinator (1999-2006) and secondary coach (2007) for Reid. From 2000-05, the Eagles' special teams units finished in the Top 10 in five of those seasons in The Dallas Morning News' special teams rankings.
Several other Ravens also coached with Reid on his Eagles' staff: assistant head coach/pass coordinator/wide receivers coach David Culley (wide receivers coach, 1999-2010; senior offensive assistant/wide receivers coach, 2011-12), quarterbacks coach James Urban (assistant to the head coach, 2004-06; offensive quality control, 2007-08; quarterbacks coach, 2009-10) and assistant special teams coach Randy Brown (kicking coach, 2004-05).
Culley also worked with Reid in Kansas City from 2013-16 as the Chiefs' assistant head coach/WRs coach. In 2015, then-rookie WR Tyreek Hill notched 61 catches for 593 yards and a team-high 6 TDs, en route to KC's 12-4 record and AFC West title.
Ravens director of football research Scott Cohen also worked for the Eagles during Reid's time as the head coach, serving as Philadelphia's director of pro personnel from 2001-07.
Baltimore offensive line coach Joe D'Alessandris served as the Chiefs' assistant offensive line coach 2008-09. In the 2009 campaign, G Brian Waters earned his first Pro Bowl nod, and RB Jamaal Charles collected his first 1,000-yard rushing season.
Ravens CB Brandon Carr was originally selected by Kansas City in the fifth round of the 2008 NFL Draft. In four seasons with the Chiefs, he recorded 236 tackles, 65 PD, 8 INTs and a FF. In 2011, he established a career-high and team-leading 4 INTs as part of the Chiefs' sixth-ranked passing defense (201.3 ypg). He also posted a league-leading 25 PD in 2010.
Chiefs OL Greg Senat was originally selected by the Ravens in the sixth round of the 2018 NFL Draft. He spent the 2018 season on IR and then was waived by Baltimore on 9/14/19.
Ravens tight ends coach Bobby Engram played his final NFL season for the Chiefs in 2009.
KC defensive coordinator Steve Spagnuolo spent two seasons on the Ravens' coaching staff, first as a senior defensive assistant in 2013 and then as asst. head coach/secondary coach in 2014.
Ravens DT Brandon Williams is a Kirkwood, MO, native and played collegiately at Missouri Southern State.
Chiefs CB Kendall Fuller (Baltimore) and LB Dorian O'Daniel (Olney) both prepped at Our Lady of Good Counsel (Olney, MD) HS. As seniors, Fuller was named Maryland's Gatorade Player of the Year, and O'Daniel was awarded first-team All-State and AllConference honors as a running back.
KC run game coordinator/D-line coach Brendan Daly worked as a graduate assistant at the University of Maryland in 2000.
Baltimore VP of public relations Chad Steele attended Leavenworth (KS) HS as a junior and senior while his family was stationed at Fort Leavenworth Military Base. … Chiefs VP of communications Ted Crews is a native of Columbia, MD.
NUMBERS OF THE WEEK