Week 3 wasn't for me, but it kinda was because DFS helped cure my Baltimore blues just enough to not make me miserable all day…
Here's to hoping Week 4 brings elation both in Baltimore and in my DraftKings account!
Around The League
Honestly, it's been relatively quiet this week. Nothing new from Antonio Brown, no suspensions, no crazy season-ending injuries, no real drama to talk about. So I'm going to use a technique my kids taught me and make mountains out of molehills…
— Kyle Allen is a thing: So Cam Newton, long time Panthers signal caller, is hurt (again) and replaced by Kyle Allen. Not 3rd round rookie Will Grier (overdrafted), but 2nd year sophomore QB Kyle Allen. What exactly did he do? I don't know, like 4 touchdown passes in a win? And if you add his starting performance last year in Week 17 , he's 39 of 57 (68.4%) for 527 yards, 6 touchdowns and zero picks. CAM'S REIGN IS OVER.
— J-Lo and Shakira Super Bowl halftime show: Listen… I could've called this. Major Miami sporting events always embrace culture, and this is a match made in heaven. If you're truly perturbed by this, then I don't know what to tell you. Put on your marketing caps for a second: as a football fan, the NFL already has your viewership. They don't care to pander to your musical needs, they're trying to grab a new audience that doesn't care about football. This is that, and don't ever expect to see anything outside of the realm of pop or country ever again. SUPER BOWL HALFTIME SHOWS ARE CANCELLED. 
— DraftKings partners with the NFL. This is kind of a big deal but also not a big deal, but we'll pretend it is a big deal. It matters from the sense that the NFL dubbed DK as their official online betting partner but it really doesn't change anything for you and I, or the other millions of degenerates that have been playing DFS for years now. But I guess this can be somehow incorporated into the gameday experience so perhaps that'll be fun? (side note- hit me up on DK – AdamBMore – for 1v1 this weekend so I can take your soul and cash).
LAST WEEK: Mahomes – many points Ravens – less points
I think Wink speaks for all of us here in regards to last Sunday's soul-crushing loss to the Chiefs:
"I lost 4 pounds this week because I watched it 3 times and threw up all 3 times."
While the score was much closer than the play indicated for the better part of the game, the Ravens ineptitude on both sides of the ball, coaching decisions, and officiating all played a major factor in this loss. 
While Wink may have suffered through this game again multiple times, I won't be recapping beyond this to save you from the same passionate puking he experienced. Let's just say the game happened, it sucked, and it's over. 
Moving on to Cleveland…
THIS WEEK: Brownies @ Baltimore (-6.5)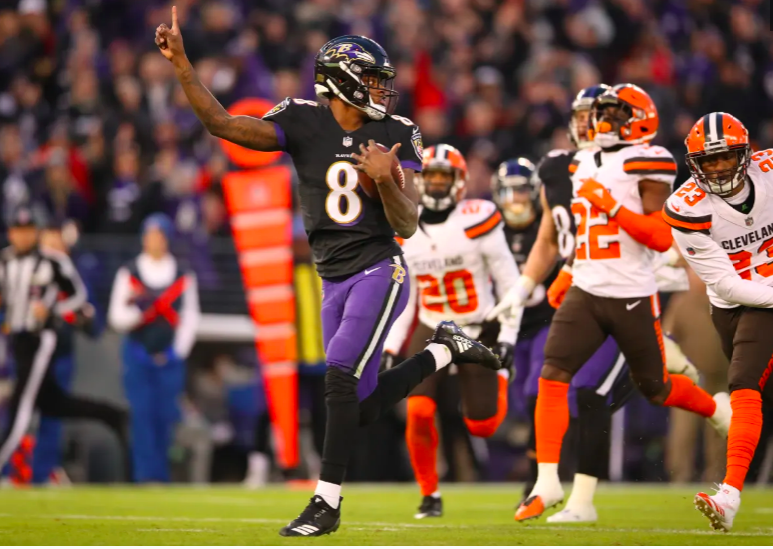 I've got lots of feelings about this game. Some good, some nervous, but mostly high hopes for our Ravens returning home. 
For the Browns, not much has gone right this season. The 2019 Paper Champs have started their season 1-2, with an injury depleted secondary as part of a defense that's getting dismantled despite their star-studded D-Line, and the offense has been more talk than talent thus far. Baker Mayfield has put up pedestrian numbers despite the addition of Odell Beckham Jr. to a group with Jarvis Landry and Nick Chubb, who was expected to have a big sophomore campaign after a great showing in his rookie year. 
So far?
The offense is 24th in yards per game, 18th in passing yards per game, 25th in rushing yards per game, and 27th in points per game. Defensively, the Browns are 10th in total yards per game, 10th in passing yards per game, 14th in rushing yards per game, and 16th in points per game allowed. 
Given the talent infusion joining a team on the rise? This is all fairly lackluster results for Cleveland…
For the Ravens
So what's going to give on Sunday? Will the Ravens use their motivation after a bad loss to the Chiefs, coupled with the bulletin board material from every major sporting news outlet crowning the Browns, and come out pissed? Will the Browns suddenly show up after 3 weeks of ineptitude?
Prediction: I think the Ravens show up pissed off and hungry, foot on the throttle and never letting off. Not only have they been stuck listening to all of the sports world giving the Browns undying praise for months on end, but since last Sunday, those voices grew louder suggesting the Ravens can only beat bad teams after the Chiefs took them down. 
The Browns may have more stars, but the Ravens have the home cooking, the fire and passion, and a team that will give the Browns all they can handle come Sunday. 
Offensively, the Ravens will make heavy use of the short passing game and motions to get Lamar Jackson into an early rhythm and keep the Browns defensive line off-balance and chasing all day long. Look for another big day from Hollywood Brown (7/112/1) and a Justice Hill emergence game in the pass attack (4 receptions for 64 yards). Come second half, we'll see a ton of Mark Ingram pounding away as he finds paydirt again for his 6th touchdown in 4 games a Raven (he had 6 in 12 games with the Saints last season). 
On defense, the Browns will have some success in the pass game, but it won't be Beckham, as Marlon Humphrey is on the shadow and shuts him down all day. Instead, Landry will be Baker's go-to and do some damage with 100+ and a score. 
Fret not – because that's the worst of it, Ravens fans. Expect Baker to be heavily pressured and sacked 4 times (Judon x2, Tony Jefferson, Ferguson's first NFL sack) and throw a pair of picks (Hump, Peanut), while Chubb is held under 50 yards on the day. 
The Ravens open the scoring gap in the second half early, and never look back. 
Oh, and two more 2-point attempts makes the score wonky as hell. 
Baltimore: 29
Cleveland: 17
Rest of the Slate
If you're like me, you stayed up last night to watch the best Thursday Night Football game I've seen in ages. Here's to hoping the rest of these games follow suit (sans the gut-wrenching injuries):
Pats (-7) @ Bills. Sun 1pm
I'm going to find this one during commercial breaks of the Ravens game and pray that Buffalo actually gives New England a run for their money. The Bills should present the best defense the Pats have faced by a mile (and honestly, the best O). Still taking New England, but I'd like to see them come back down to earth.
Seahawks (-5.5) @ Cardinals. Sun 4:05pm
I'm making this one into a drinking game where you have to drink every time the broadcast team compares Kyler Murray to Russell Wilson. Expect to be hammered by halftime.
Bengals @ Yinz (-4). Mon 8:15pm
I'm pumped for the AFC North Cellar Dweller matchup, especially considering these are the Ravens' next 2 opponents. Here's to hoping for a tie because nothing screams Pittsburgh and Cincy more than a good ol' "kiss your sister" event…
Rank Em!
It's Brownies week in Baltimore, and I hate their mascot. Not the dog one – the elf one. So I figured now's a great time for this week's Rank 'Em…
Bottom 5 NFL Mascots

5. Pat the Patriot. It literally just looks like a drunken guy from Bahstan wearing a hat and Gronk jersey. This isn't even a mascot… oh, and HE WEARS UGGS.
4.Who Dey the Tiger. If Tony the Tiger ate Skyline chili, this Bengals mascot is the result. Sad. 
3. Steely McBeam. Why does he have jaundice? If they really wanted him to embody the Pittsburgh persona, he'd have a pot belly sticking out of an overstretched tee shirt, shaved head, goatee, a gold chain of medium thickness, and some cheap ass shades on. Oh, and don't forget they'd have to make a wife mascot to be on his hip at all times (that's not even a joke – it's commonplace in Steel Town).
2. Jaxson DeVille. The Jaguars name is fearful. The DUUUUVVAALLL is pretty sweet too. I'm enamored with their touchdown song being Bro Hymn by Pennywise. Then there's the mascot who basically looks like a drunk man inside a costume he stole from an off-brand Disney On Ice production. 
1. Brownie the Elf. You can't seriously think this dorky adolescent Keebler knock off is a legit mascot, can you? After all, Brownie's ineptitude in the mascot game is why the Browns added a second mascot in the Dog/Dawg/Puppy just to make people forget the original Elf on the Shelf was their mascot. 
Honorable mention: the Boltface guy from the Chargers that looks like Jack Nicholson, the Broncos mascot that I'm pretty sure used John Elways face for the horse, the Chiefs mascot that wears women's pants from the Dress Barn.