AFC North NFL's Worst Division?
Print this article
It's been a couple of weeks since I've written one of these, and I know I've missed some good stuff, but I'll try to make up for it here. Ladies and gentlemen, welcome to the Chicken Box – a collection of NFL-related thoughts and opinions based on happenings around the league. Let's get into it.
The Factory of Sadness continues to churn out hilarity.
Yes, I'm aware that the Cleveland Browns stomped a mudhole in the Baltimore Ravens. I'm also aware that I'm a Ravens 'guy'. But this isn't a Ravens-centric article, and I will never stop doing my best to get under the skin of the GPODAWUND. Even if I fail at that, one thing that absolutely should get under their skin is their horrific start to the season. The hype surrounding this team was obnoxious before the season started, and while many of us said 'they're the same old Browns until they show they aren't', I take great pleasure in the fact that they are in fact the same old Browns thus far.
Baker Mayfield is, statistically, one of the worst starting quarterbacks in the league. Odell Beckham, Jr. has attempted more passes (two) this season, than he has caught touchdowns (one) – he's getting frustrated, per Baker, Baker, Interception Maker. That should lead to his diva attitude making another appearance soon. Let's hope there aren't any kicking nets around. Jarvis Landry is saying publicly that they aren't as good as they thought they would be. Freddie needs to get back in the kitchen and cook up some better plays, because man this team is tough (hilarious) to watch.
If this team ends at .500 or below, it will be one of the more amusing things to happen in the 2019 NFL season.
Are the San Francisco 49ers good?
They're 4-0, so a quick glance would say that the team is good.
Look at who they've played – Buccaneers (2-3), Bengals (0-5), Steelers (1-4), and Browns (2-3) – and you start to question it. They'll get their first real-ish test this week, against the Los Angeles Rams, who have lost their last two games, and have struggled mightily in the secondary. If 'Jimmy G' can't take care of a Ram defense that allowed a year-high 55 points to the heckin' Buccaneers, then the first month of football for the Niners has been a farce. Now, on the other side of the ball, if the 9ers go into the Rams' house and dismantle the McVaunted (not sure if that joke plays, but we're gonna roll with it since I woke up far too early for a Saturday) offense, that will say a lot of about the chances for them to be a threat later in the season.  
Imagine a world where the 49ers are in the playoffs. The NFL is weird.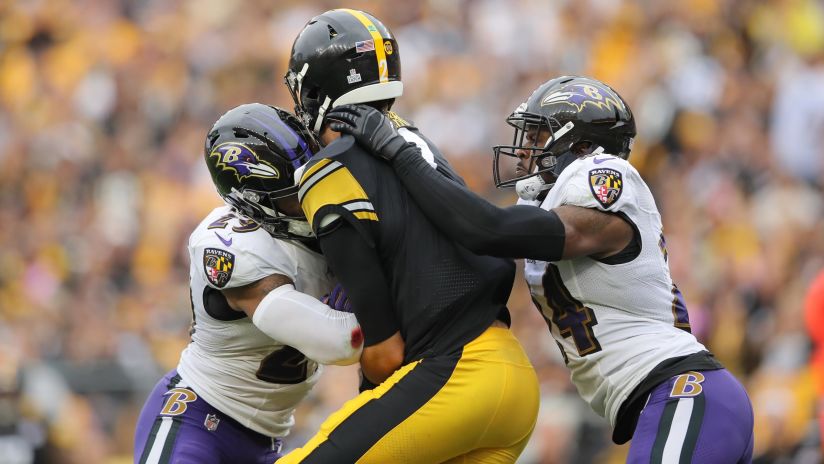 Earl Thomas will appeal his $21,000 fine.
I think it's the right move. I touched on this hit soon after it happened, in my last Good, Bad, and Ugly article, but I think that it's important to reiterate to all the readers that may not be Ravens fans – this wasn't an intentionally dirty hit. Brandon Carr had Mason Rudolph locked in from the back, which changed his trajectory, causing ET3 to hit him in a different spot than he had originally intended. The Earl isn't that kind of guy, regardless of what salty Steelers fans wanted to say at the time.
Earlier this week, it was announced that Thomas would be fined $21,000 for the hit, although he wasn't ejected (a late flag did come in once they saw how badly Rudolph was hurt). Immediately following that, was the announcement that Thomas would appeal the fine.
He didn't mean to knock Rudolph out. That much is clear. It's a violent game, albeit much softer than it used to be. Stuff happens. Fining somebody for something that was unintentional is an absolute joke.
'But the fines help them realize they can't play that way!!'
Do they?
Look at what Matt Judon said about his penalties, etc: 'I'm not going to change how I play.' 
The fine doesn't do anything except make the NFL that much more laughable.
The idea that Patrick Mahomes has come back down to earth is a joke.
The Alien has thrown for 636 yards in his last two games (Win against the Lions, loss against the Colts). While he's only thrown one touchdown in that time, he's also thrown zero picks on 81 attempts (actually hasn't thrown a pick all year). So why are we hearing the rumblings that he's coming back down to earth? Aliens generally avoid earth. 
Is it because he's averaging just over 56% through the last two games, against middling pass defenses? Is it because he's only thrown one touchdown, versus the ten he threw in the previous three games? All of a sudden a quarterback is regressing because the running game is scoring points, after that same quarterback got them in position to score? 
Look, kids. I'm not a fan of how Mahomes has started crying for flags. I'm not a fan of his nails-on-a-chalkboard voice. I'm not a fan of how he can pull a victory out at the last second with a backyard football pass without looking (wait, I am actually a fan of that one). But saying that he's regressing based on a two-game stretch is an absolute joke. The guy is the best quarterback in the NFL, and anybody who says he isn't is either a fan of a division rival, or just plain wrong. 
The AFC North is the worst division in football.
It felt weird typing that out. A normally proud, defensively-strong division, where three teams have gone to the playoffs at the same time, more than once, is now… weak. The strongest team might win the division at 8-8. They've become the AFC South of old. 
They're led by the 3-2 Ravens, who (ready to get weird?) have the 3rd overall offense in the league. They also have the 21st ranked defense. Yes. You read that right. Known for their defensive prowess, and shoddy offenses, the Baltimore Ravens have done a complete one-eighty.
In second place (still weird)? The Browns, at 2-3. Ranked 22nd offensively, and 18th defensively, with a bunch of star power (on paper), they've managed to beat the winless Jets, and a Ravens team that is more up-and-down than an elevator.
In third place, the one-win Steelers. 'Best 1-4 team in the NFL!', Steelers fans will tell you. They're down to their 3rd-string quarterback, a guy named Delvin Hodges. Who's his backup? Paxton Lynch. Yeah. That's what kind of shape the mighty, mighty Steelers are. I absolutely love it.
Then there's the North's own XFL team, the Cincinnati Bengals, who have come close to a couple of wins, but haven't been able to close out. Which means the Ravens probably lose to them tomorrow, even without their starting left tackle, backup tackle, best wide receiver, second best wide receiver, and no Carlos Dunlap. A winless Bengals team coming to Baltimore sounds like the perfect time for a shit-the-bed game.
So, if my math is correct, and it rarely is, the AFC North has a combined six wins. For comparison, the AFC East has two winless teams, and the division still has ten wins. I'm not a 'division pride' guy normally, but this is just embarrassing. 
Well, that's it for me, folks. Not my best work, not my worst. Remember to follow all the guys at Russell Street Report, and you can find me on the Twitters, @ChibsRSR (subject to change very soon).