The Jury is In – Lamar Can Throw
Print this article
Don't you hate having to wait until Monday night to see your favorite team take the field? It feels like forever, especially after another dominant victory the week before. Don't fret though. I'm here to take up a solid five to ten minutes of the time you spend waiting for Monday Night Football, with another edition of The Chicken Box.
Let's begin.
Antonio Brown is definitely (not) going back to the Patriots.
We all know the Antonio Brown saga up to this point. He's technically a free agent wideout, a man without a job. So when he penned an apology to Robert Kraft and the New England Patriots, we all thought the same thing.
'Oh, heck. They're gonna re-sign him.'
When Mohammed Sanu went down with an ankle injury and was expected to miss some time, the thought became even more solidified in our heads. When just about every Patriots player 'liked' the apology, it seemed like a foregone conclusion.
Then the football gods smiled upon us, and the reports came out that the Evil Empire would not, in fact, be signing the troubled star wide receiver. 
The Patriots have shown some chinks in that sparkling armor of theirs, and the last thing we need is them to have another competent receiving threat. (Competent in football terms, because I'm sure we can all agree that outside of football, AB is as incompetent as it gets.)
I'm interested to see which of the other 31 teams, if any, end up taking a risk on him.
The 'Lamar can't throw' narrative has to die.
I mean really. At this point, if you're still doubting the electric quarterback of the Baltimore Ravens, there's probably nothing he can do to change your mind because you'll forever be a detractor, but the kid is for real. Call it scheme, call it support from a great running game, call it what you will – he's the one completing the passes. He's the one running the offense. He's the one breaking ankles. The signal-caller is completing 66.3% of his passes, he's fourth in the NFL in passer rating, and he's the leader of the highest-scoring offense in football. We've seen him handle 'one of the best defenses of all time', we've seen him come back from an ugly first quarter to absolutely rout a red-hot Texans team, and we've seen him take absolutely no credit for his team's success.
There's not much more you can ask for from a 22-year-old, second-year quarterback. 
Take a knee on the tired narrative. You know why you're still harping on it. We know why you're still harping on it.
Let it go, Elsa.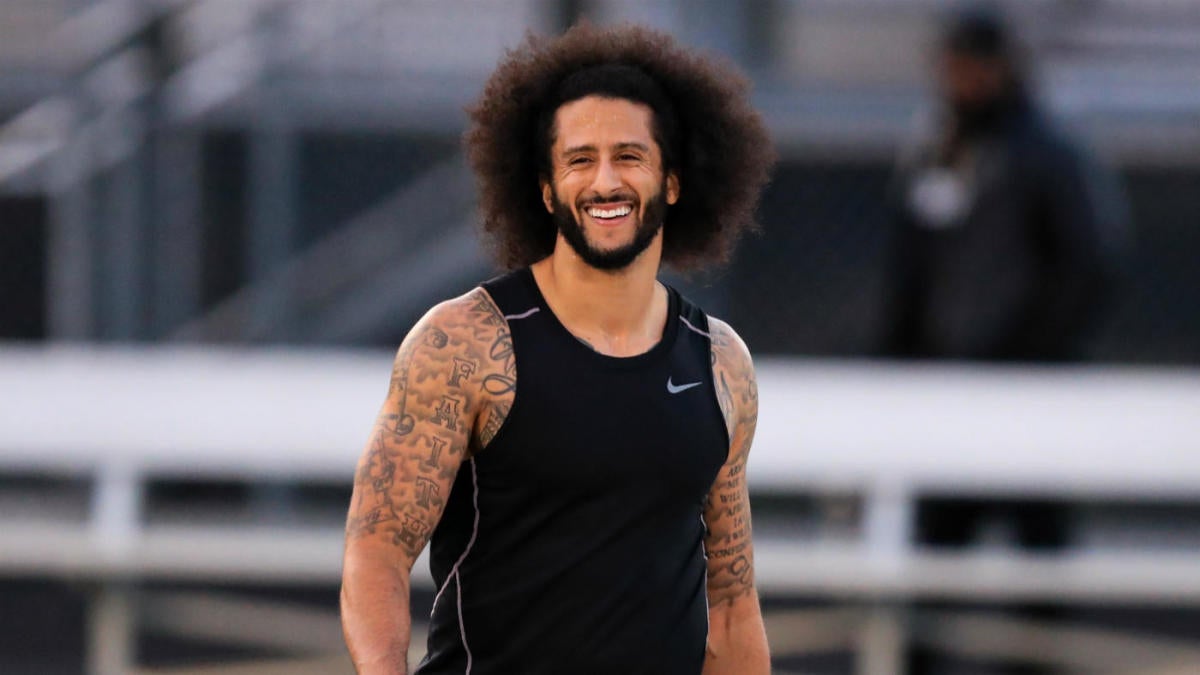 Could we see Colin Kaepernick back in the NFL?
I mean, Elon Musk is selling a truck that looks like it belongs in Tron, so I guess anything is possible. As we all know, Kaep held his own workout a week or two (time is a foreign concept these days) ago. Since then, his attorney has come out and said that two teams are interested in potentially signing the ex-NFL quarterback.
One team had a quarterback with a 'very poor showing on Sunday,' and the other has been beset by multiple injuries.
So essentially he's describing half of the league. I know about as much as you people about whether teams are actually interested, but there's a very good point to be raised:
He's gotta be better than Mitchell Trubisky, right?
I don't like it when politics infringe on my sports. I don't care what your opinion is on the matter, and I don't care what the players' opinions are on politics. I watch sports as an escape from the real world. It's entertainment. It's also my side job (clearly).
From an entertainment standpoint, I believe that, if Kaep is in shape, and if he has retained some of his ability from a decade ago (obvious exaggeration) that he would be fun to watch – in the right scheme. Regardless of whether he was throwing against air, he was playing with ex-players and a current defensive back as his receivers. 
He should be given a shot, if for no other reason than to (hopefully) shut him up (it won't).
In Closing:
That's it for me today, folks. As we head into another weekend of NFL football, it's important to remember that this season of ours goes quickly, so you should enjoy it while you can. Especially people that aren't fans of the Baltimore Ravens, because your season will probably end before ours.
Have a day, folks.