Ravens Bottom-10 of the Decade
Print this article
Everybody in Baltimore is riding high at 14-2 today, looking ahead to a weekend without Ravens football as we watch our potential opponents for the Divisional duke it out in the Wild Card Round.
What a great time to be a Ravens fan!
But the truth of the matter is that it hasn't always been so glamorous, and with this decade coming to an end, I figured now would be a great time to look back at the top-10 painful moments of the Ravens in this last decade (2010-2019). As Leon Brown once said:
"Sometimes you have to experience the bad, so that you can learn to appreciate the good things that enter your life."
I think it's safe to say this: these 2019 Ravens are truly a good thing that's entered our life, so let's just quickly rehash some of the more painful moments of the decade that, through some twisted and convoluted means of fate, have resulted in the state of the Ravens today.
It might sting a bit as we go through this list, but it's going to make tomorrow's Top-10 that much better, I promise!
*Results based on fan voting on the Twitters*
10. Suggs To Arizona (2019)
This may not make most Bottom-10 lists because it's not a result on the field, but Terrell Suggs leaving in Free Agency earlier this year, and effectively crushing fan hopes that Sizzle would be a Raven for life, was devastating. The longtime Raven felt it was time to let the young kids take over, and that it was time to return to his home in Arizona. Surely voluntarily leaving Baltimore didn't crush his legacy with the Ravens, but tarnished it for sure knowing the team wanted him back and he declined. 
Sizzle didn't make through an entire season in Arizona before being released, telling teams he wouldn't show up if claimed on waivers because he wanted to be back in Baltimore, only to end up with Kansas City – perhaps the Ravens' biggest hurdle on their way to Miami.
9. Flacco ACL Tear (2015)
This could be higher on other lists, depending on how you feel about Joe Flacco, but from a completely objective position, I think it's fair to say the longtime Ravens signal caller watched his career take a total 180 the moment James Hurst backed into his leg, creating a chain of events that would end in a torn ACL for Joe Cool.
Whether it was playing more skittishly, dealing with a mechanics issue, or whatever folks want to speculate, Flacco never truly seemed to be the same quarterback that he was prior to the injury. Take this singular stat into consideration: in Flacco's first eight seasons, he had 22 Game Winning Drives in 122 starts (18% of GP), but after his ACL tear, he's had just two GWD over 49 starts (4%). 
While it's hard to imagine what the future would've held for the Ravens and Flacco, I think it's safe to say we never saw a 100% Flacco again in Baltimore.
8. Orr's Early Retirement (2017)
When the Ravens hit on yet another undrafted free agent, fans were elated. The rise of linebacker Zach Orr from relative obscurity was a thing of beauty. The Ravens had found themselves another diamond in the rough, and Orr appeared primed for a long career to come in Baltimore. 
That is, until doctors discovered that he had a congenital spine condition. 
The discovery was made after Orr's third year in the NFL – all three in Baltimore – and doctors warned him that continued play could result in paralysis or even death. While Ravens fans were upset at the loss of their starting linebacker, the realization that Orr could've literally lost his life on the field sent shock through the fan base in Baltimore and beyond.
Today, Orr remains with the team as a coaching analyst in the Analytics Department, because our Ravens take care of their own!
7. Early Draft Busts (2010-2016)
We didn't call this 'first-round busts' simply because there were multiple times that the Ravens traded back to Round 2 before making their first pick, as well as second rounders that should've panned out in some capacity as well… all of which blew up in their faces. Here's a list that I wish was shorter:
Sergio Kindle (2010 – Round 2 Pick 43): Fell down steps, cracked his skull, never did much of anything.
Terrence Cody (2010 – R2P57): 'Mount Cody' was just a clog in the toilet at the middle of the D-Line. Eventually arrested for owning an alligator.
Courtney Upshaw (2012 – R2P35): Not bad. Not good. Not here long. 
Matt Elam (2013 – R1P32): B.U.S.T.
Arthur Brown (2013 – R2P56): Remember when people dubbed him 'Ray Lewis' replacement?' I'm still laughing about that…
Timmy Jernigan (2014 – R2P48): Oft injured and traded away before his rookie deal expired.
Breshad Perriman (2015 – R1P26): Also oft injured, and it only took him until 2019 to have productive games… on his 3rd team.
Maxx Williams (2015 – R2P55): Maxx was just kinda there. You always forgot about him. So did the quarterbacks and the OC, apparently.
Kamalei Correa (2016 – R2P42): More 'WOOF' than Buzz's Girlfriend (sorry, still stuck in a Home Alone loop).
It's been better in recent years, including a Tyus Bowser total turnaround. But from 2010 through 2016 Round 1/2 picks were scary as hell in Baltimore.
6. AB's Reach Out TD (2016)
Christmas Day 2016. Heinz Field. The Ravens had taken a 27-24 lead with just 85 seconds left in the game. Naturally – because we've seen this show before – the "they left too much time on the clock!" crowd grew louder as Ravens fans watched the Steelers march down the field on eight straight completions by Ben Roethlisberger, culminating in an Antonio Brown touchdown with nine seconds left in the game. 
Nine. Seconds.
But it wasn't just the touchdown that stung – it was how AB scored. 
Ben hit Brown at the one-yard line, where he was met by a trio of Ravens defenders – Eric Weddle, C.J. Mosley, and Jerraud Powers (but he was just kinda hanging out on the ground after getting beat). Despite having Mosley and Weddle draped all over him, Brown managed to reach out with the ball to cross the goal line for the touchdown, effectively ruining Christmas and the Ravens' playoff hopes all at once. 
5. Pitta's Hip (2013, 2014, 2017)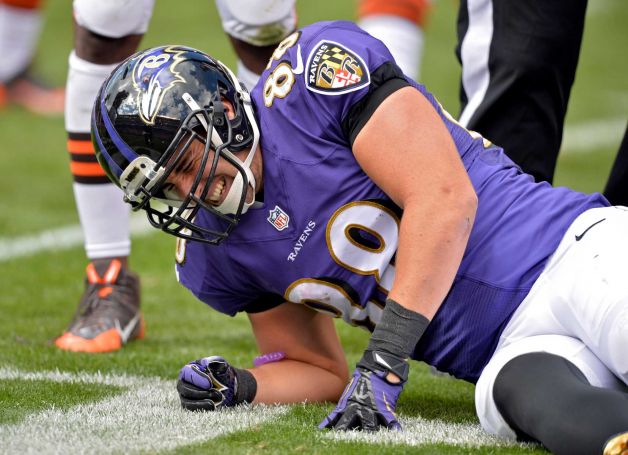 Dennis Pitta was a fan favorite in Baltimore for a long time, and rightfully so, as he was Joe Flacco's longtime favorite target, and honestly just an all around great guy. Unfortunately, injuries derailed the Tight End's career in pretty rapid fashion. Pitta suffered a hip fracture dislocation in 2013, then another dislocation (untouched) in 2014, and a third in OTAs during 2017. Pitta did have a solid year in 2016 between hip dislocations (86 rec/121 targets/729 yards/2 TD) but the Ravens couldn't risk continuing to pay Pitta to sit on the trainers table, and cut him in the 2017 offseason, while accruing a big chunk of dead money. 
Like Orr, Pitta was a case of 'what could've been' for the Ravens, especially in a time when pass catchers were hard to come by in Baltimore…
4. Blowing Multiple 14-Pt Leads in Foxboro (2015)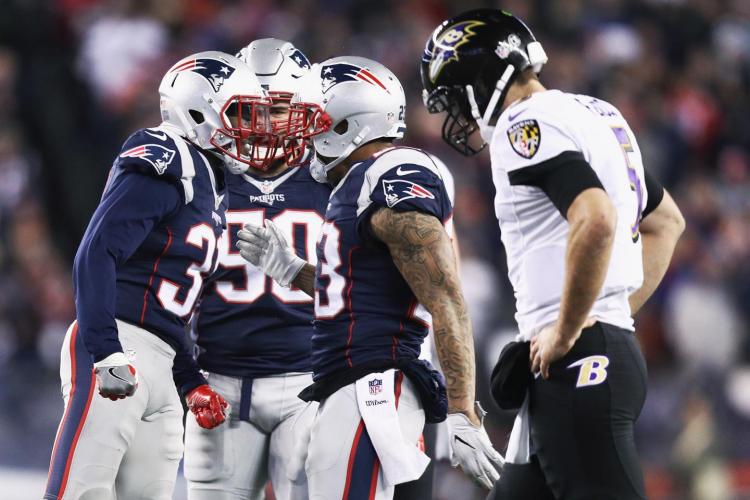 As the Ravens took on the Pats in Foxboro (seems like a theme on this list) in the AFC Divisional Round of the playoffs, Baltimore opted to shock the world and came out swinging via a pair of Flacco touchdown passes (Kamar Aiken, Steve Smith Sr.) on the team's first two drives, and carried a 14-0 lead early on…
…only to allow New England to score on their next two possessions, and knot it up at 14-14.
But it's okay! Because two more Flacco touchdown passes to Justin Forsett and Owen Daniels put Baltimore back up 14 once again early in the 3rd quarter! Surely, they wouldn't relinquish the lead this time…
…except they did. Quickly. 28-28 to start the 4th quarter. 
But it's okay because Justin Tucker put up the go-ahead field goal in the 4th and the Ravens led 31-28!
… until Tom Brady hit Brandon LaFell for a touchdown and the Ravens had blown multiple 14-point leads, and three leads overall in this playoff game. The Patriots scored touchdowns on three of their final five drives, while the Ravens' final five drives included a pair of picks, a three & out, a stalled drive inside the Patriots' 10-yard line that resulted in a field goal, and a failed heave by Flacco to end the game, and the Ravens season. 
3. Rice's Elevator Fiasco (2014)
I'm simply calling this a 'fiasco' because it wasn't just the punch that was the embarrassment of this whole ordeal…
In short, Ray Rice punched his girlfriend at a casino in Atlantic City then drug her lifeless body out of the elevator into the hallway and dropped her there. The security tape was released and the Ravens PR team handled the event in such a way that made even the biggest Ravens fan cringe (remember "Janae regrets her role?").
The best thing the franchise did as an attempt to rebound from standing by Rice and actively making an effort to brush it under the rug was the free jersey swap at the stadium, and installing a 'no tolerance' policy for any future personnel, be it via draft or free agency. 
Still, Rice became the poster child for the NFL's domestic violence policy, was effectively blacklisted from the NFL, and the Ravens franchise took years to wipe away that stigma from both the player, and their handling of the incident. To this day, Ravens fans get as many cheap Ray Rice jokes from opposing fans as they do cheap Ray Lewis jokes. None of which are actually funny.
2. Dalton to Boyd on 4th and 12 (2017)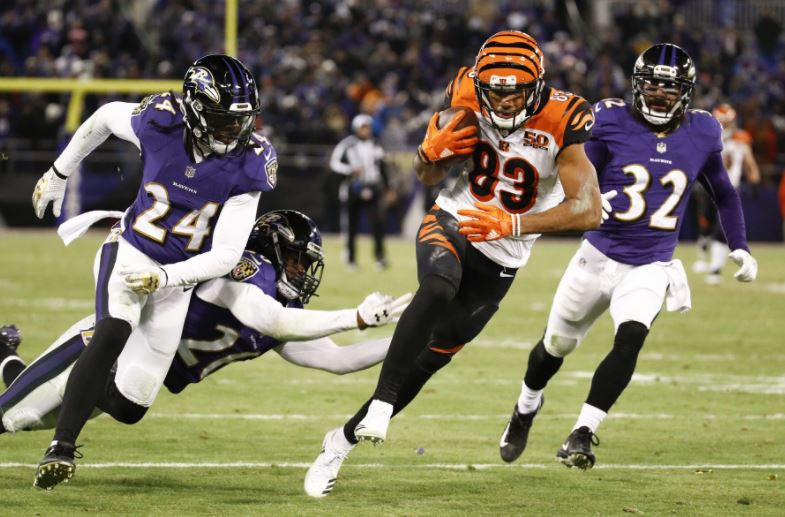 We all remember this one, and some drink heavily every time it crosses their mind, so I do apologize in advance:
It was Week 17 of the 2017 regular season, and the Ravens (9-6) were taking on the Bengals (6-9) in Baltimore, with the Ravens in a 'win and in' position. The Ravens had already dismantled the Bengals 20-0 in Week 1, and were clearly the better team, so naturally the expectation was to take the W, and the Wild Card berth.
With the Ravens up 27-24, Cincy was down to their last drive with under a minute to go, and needed a field goal to tie. After a Chuck Clark stop of Tyler Kroft, the Ravens had the Bengals pinned near midfield in a 4th and 12 situation.
Perfect. What could go wrong?
Everything, apparently.
Andy Dalton found Tyler Boyd for the touchdown to go ahead 31-27, while killing the Ravens playoff aspirations all in one single pass.
Many of us still blame Maurice Canady for the busted coverage. I am among those many. 
1. Evans/Cundiff (2012)
I feel like this is the no-brainer lowest of lows for Ravens fans over the past decade… even if I'm the rare person that doesn't hate Billy Cundiff. 
I hate to bring it back on the rewind but we must… January 22, 2012 and the Ravens are in Foxboro to take on the Patriots in the AFC Championship Game. Much to the surprise of many pundits around the NFL, Baltimore has not only held their own throughout the game, but managed to carry a 20-16 lead into the 4th quarter in a place where a road opponent hardly finds themselves winning, let alone this late in the game…
Then it all fell apart. 
The Pats began their next drive with a big Gronk reception, but Cary Williams picked off Brady on his next pass… of course that pick was negated because Terrell Suggs had jumped offsides before the snap, so the drive carries on for the Pats.
Brady sprinkles some passes in with a few running plays, until they find themselves in a goal line stand against the Ravens. Brady dives in for six on the 2nd down attempt, only to have a replay review overturn the touchdown and the Ravens have life!
Third and goal attempt by Benjarvus Green-Ellis and he's stonewalled by Ray Lewis and the RAVENS HAVE MORE LIFE!
And then…
Despite 11+ minutes left in the game, Bill Belichick opted not to take the easy points as he went for it on 4th down…
Brady dive. Touchdown. 
With the Ravens now trailing, they need a 4th quarter game-winning drive, and Joe Flacco gave it his all to make that happen, as he drove Baltimore down the field inside the two-minute warning. Lots of picking on Julian Edelman in coverage (yes, you read that correctly), but Flacco finds himself an open Lee Evans in the corner of the end zone who makes the catch… opts not to make an effort to squeeze the ball… and gets stripped by a practice squad corner in Sterling Moore.
DAGGER.
It's fine though because it's only 3rd down, and Flacco scrambles out of the pocket where he tries to force a pass to Pitta instead of a dump off to Rice for the first (he had a timeout to burn), with the incompletion leading to a Cundiff field goal attempt of 32 yards. Mind you Cundiff was a 16/16 in the 4th quarter over the last two seasons at this point, & 19/20 in FGA under 40 yards for Baltimore coming into this kick.
The Ravens looked a bit hurried, and still had said timeout, but inexplicably didn't use it.
Shank. Like not even close. I'm almost positive the officials laughed when they saw how hard he hooked it left. Lord knows the entirety of Gillette Stadium was laughing their assess off at the Ravens, who fell to the Pats in embarrassing fashion…
Baltimore fell silent for weeks. 
The biggest heartbreak in Ravens history. 
…
I know Flockers…this is tough stuff. But to appreciate the good, you have to go through the bad. We've been through it (most of us have, anyway. And to those who have recently jumped on the bandwagon thanks to Lamar, welcome! And you're welcome for the lesson in what you missed!)
Never forget that as painful as these moments were, what we have now in Baltimore is truly special, and we should cherish it that much more!
And fret not – a Top-10 Highlights of the Decade is coming your way tomorrow to end 2019 on a high note!