Print this article
Round 1 of the Ravens 2020 Draft is in the books. If you missed the post-draft interviews, here are some highlights from the panel interview with Eric DeCosta, John Harbaugh and Joe Hortiz and then later, with the newest Raven, Patrick Queen.
**********
I'm curious with a guy LB Patrick Queen who just didn't have the amount of tape of someone like LB Kenneth Murray – how much do you weigh that? The tape that you have is good, but there isn't a ton of it. What's the balance there in trying to evaluate? (Pete Gilbert)
Eric DeCosta: "You base it on your experience, and you base it on your eyes, and you base on what you see. We watched him in really big games against great opponents. We saw him play Georgia. We saw him play against Alabama. We saw him play against Oklahoma. We saw him play against Clemson. Those are some of the very best teams in college football, and he was one of the very best guys on the field in those games. So, I think that as you gain experience as a scout and as an evaluator, you get better at your job. And you're looking for specific things, and when you see it, you know you saw it. And that kind of makes your decision easy.
So, I think with Patrick [Queen], there are a lot of different qualities about him that really jump off the tape, and you see a guy like that, and it was kind of a no-brainer for us. I think that somebody said it was a need pick, and I think sometimes when you say 'a need pick,' there's an implication maybe that you reached a little bit or took him a little bit higher than you would have, except for the fact that it was a need. And I think in this case, what was great about Patrick is not only was he a need – meaning we need an inside linebacker – but he was also very much the very best player on the board at that time for us. And so, when that happens, I think it's a great win for the organization and hopefully for our fans, as well."
Was it a situation with Oklahoma LB Kenneth Murray and LB Patrick Queen, was it's just that you love them both and you would have been happy to get either one of them? (Jeff Zrebiec)
Joe Hortiz: "I'd say that's a pretty fair assessment. I actually personally watched both of those guys back-to-back, I think it was in January. You get excited watching one, and then you throw the film in on the other one, and you're just as excited. They are both really just extremely athletic, fast, competitive guys. Like John [Harbaugh] had mentioned and Eric [DeCosta] had mentioned, they show up. You don't have to look for them; they show you where they're at. I think both those guys are that way, and I think they are both going to be playmakers and play the same way when they get into the NFL. They have really good motors, and they are really athletic, and they play like they love football. So yes, it was a challenge in evaluating both of those guys, but you knew if you had the chance to get either one, you're going get a good football player."
I kind of have to ask the low-hanging fruit question: What was Ozzie Newsome's reaction when you guys were talking about finally taking an LSU player? (Jeff Zrebiec)
DeCosta: "Well you know, he kept saying something, but we muted him. (laughter) Then, he kept waving his hands, and then the video went out. That's the thing with technology sometimes – it can be manipulated. I think it was the Russians (laughter). I don't really know, but it happened, and we just took the pick in."
Patrick Queen Q&A Highlights
How do you think you'll fit in the Ravens defense? And are you excited to be a part of a team that's so aggressive on that side of the ball? (Todd Karpovich)
"I feel like I'm going to bring everything to the table that their defense is known for – the passion, the aggression, total dominance as a defensive linebacker. There's no one piece to my game; I'm bringing it all. So, I'm just ready to get there and turn it up."
You had to kind of fight for your starting job the last two years at LSU. How did you do that and what do you think that says about you as a competitor? (Childs Walker)
"So, two years, going into this year, I sat behind Devin White and just learned from him. I got a few starts my sophomore year at the end of the season, and then coming into this year I started right away. Just a lot of prayers, a lot of patience and self-determination to get back on the field, but every opportunity I got I took full advantage of and tried to make the best of my opportunity."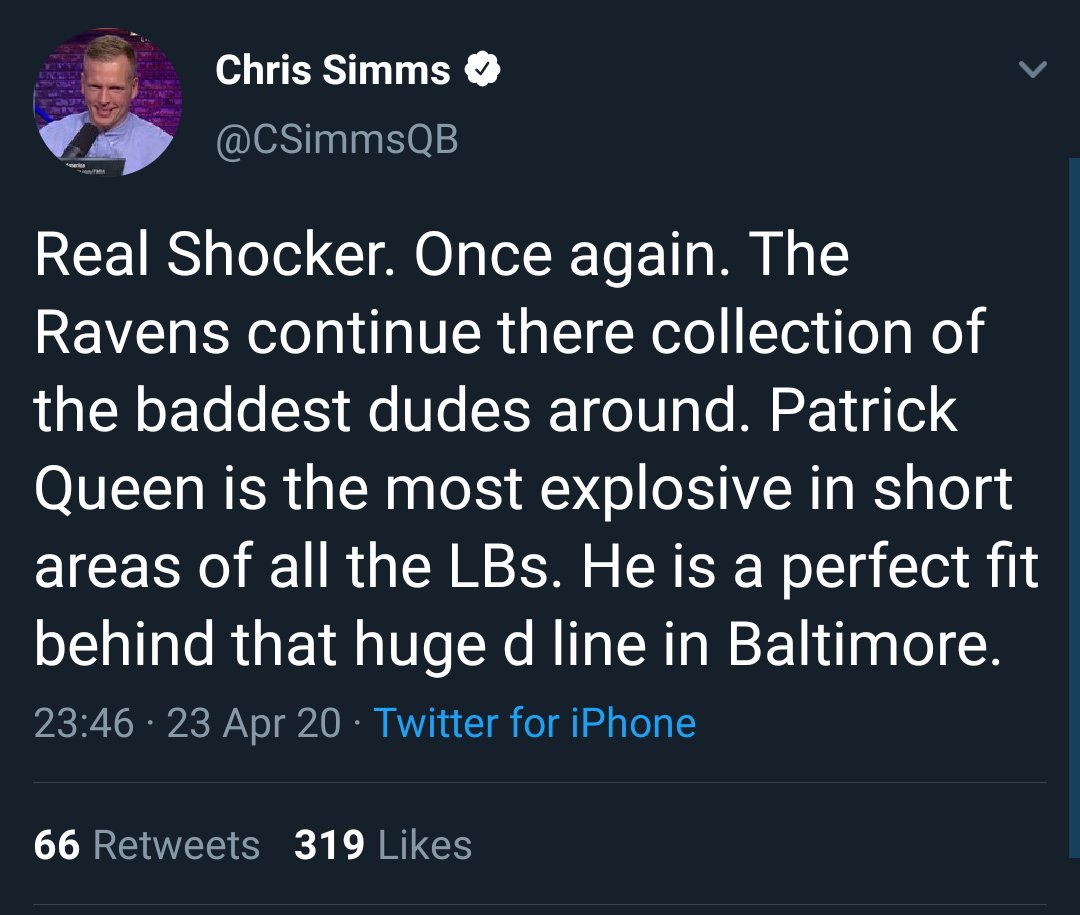 What do you know about the Ravens? Obviously, they have historically great defenses, but we all know what they did last year on offense. What do you think of the team you're joining? (Shawn Stepner)
"It's a brotherhood over there. You've seen it from past teams with Ed Reed, Ray Lewis, all those types of guys. There's just so much passion and brotherhood. That's the biggest reason I wanted to join them."
People knocked Ray Lewis and he didn't go until pick No. 26 because he was "undersized." There were some people talking about that with you. How much does that put a chip on your shoulder? (Ryan Mink)
"I'm not going to lie to you man, I'm so tired of hearing that. I heard it all the way through college. It didn't matter. I played perfectly fine. Coming into the league, I'm going to be strong, I'm going to be fast, and I'm going to be smart and just try to bring that mentality I had in college into the NFL and turn it up a lot more. I feel like I haven't even reached my full potential yet, so the sky is the limit. I'm just trying to push forward."
Was there a part during the pre-draft process where you got the sense that Baltimore was invested in looking at your body of work and going the extra mile to figure out if you were right for Baltimore? (Jonas Shaffer)
"I felt like it was always right. They asked me the size question in the interview, and just knowing from previous linebackers, they had a few undersized linebackers. It's just something I think they don't care about as long as what the tape shows, and I feel like my tape was probably some of the best out there. They believe in me and I believe in them."