Ravens Free Agent Preview
Print this article
There have been a lot of recent articles about the Ravens' fifteen (15) Unrestricted Free Agents (UFA) and two (2) Restricted Free Agents (RFA) and the prospects of their return. At Russell Street Report, we've decided to pool our resources – and our different areas of expertise – to provide a different treatment of the Ravens' pending free agents.
FREE AGENTS
LB Chris Board (RFA):
2020 Key Stats:  16 games (2 starts); 31 tackles, 2.5 sacks; 25% of Defensive snaps, 79% of ST snaps.
Analysis:
Dev Panchwagh: Board is one of the team's best special teams performers, but last season, he also carved out a niche as a sub package linebacker who can cover tight ends and play a specialized role. Board was able to handle coverage assignments early in the season, impressively against tight ends one-on-one. Board gained the coaching staff's confidence as the season progressed and played meaningful snaps over rookie LB Malik Harrison when L.J. Fort was out with an injury. Board has always been better as a package based LB who can play in space. He has enough athleticism to handle himself well in short area coverage. He has real value for Wink as a rotational LB he trusts.
2020 Contract: Final year of 3-year, $1.804M deal signed as a UDFA; counted $751,334 on 2020 Cap.
Cap Implications (Brian McFarland):  If 2021 was a normal Cap year – and the Ravens had $50M in Cap space as anticipated – the Ravens could likely splurge a little and tender Board with the low RFA tender of $2.133M.  However, since that's not the case, the Ravens are unlikely to use an RFA tender on Board.  Instead, as they have with other Special Team-centric players like Board, they will likely re-sign Board to a 2- or 3-year deal with a small bonus.  In the alternative, Board may opt for just a 1-year deal in an effort to test the Free Agent market in 2022, when normal Cap growth hopefully returns.
Tony's Take (Tony Lombardi):
Board was a safety at North Dakota State and when placed in challenging coverage situations like the one below, he's been up to the task. There have been a few times when he appeared to be lost in assignments but he has athleticism that regularly impresses the coaching staff. Harbaugh speaks of him glowingly. He hasn't been tendered but I think he'll remain a Raven with a cap friendly 2-year deal.
LB Tyus Bowser (UFA):
2020 Key Stats:  16 games (2 starts); 34 tackles, 2 sacks, 3 INTs, 5 PDs; 51% of Defensive snaps.
2019 Key Stats:  16 games (0 starts); 24 tackles, 5 sacks, 0 INTs, 2 PDs; 40% of Defensive snaps.
Analysis:
Dev Panchwagh: Bowser had his best season as a pro — and now he follows a long line of Ravens backers set to cash in. The SAM LB showed off his full arsenal of traits in coverage, as a pass rusher, and playing the run on early downs. Bowser registered fewer sacks last season but he had 14 QB hits throughout the year as a part-time player. His impact-per-snap is what really stands out. What would happen if he was a full-time player logging anywhere in the 40-50 range? I believe you'd see an uptick of production across the board. Bowser looks like a player who's figured it out and he fits as a chess piece in Wink's scheme. When you combine his raw athleticism with heightened instincts, it's a deadly combination.
2020 Contract: Final year of 4-year, $5.576M rookie deal; counted $1.774M on 2020 Cap.
Cap Implications:  The valuations for Bowser are all over the place right now, ranging from $5M to $10M per year.  Unless someone sees him as the next Za'Darius Smith and blows the market away, Bowser is likely to be hurt by the lower Cap, as will a lot of the "middle class" of free agent.  Bowser will likely opt for a shorter term deal, perhaps even a 1-year deal, so as to not get himself locked into a below market deal.
Tony's Take:
Bowser is a late bloomer. The complexities of Wink Martindale's defense may have slowed him down for a few seasons. He's been asked to be many things and the processing of it all seemingly slowed him down a bit, disabling his full innate skill set and athleticism. In 2020 we caught a peek of his capability. In 2021 he'll be unleashed and fortunately for the Ravens, the buyer's market will suppress his value and keep him in Baltimore.
WR Dez Bryant (UFA):
2020 Key Stats:  6 games (0 starts); 6 receptions, 47 yards, 2 TDs; 13% of Offensive snaps (per game).
Analysis:
Dev Panchwagh: Bryant's run with the Ravens was unceremonious. You could argue he could have been used more often. When he was on the field, he flashed some of his legacy skills — power-forward ability to post up defensive backs, physical ability to gain yards after contact. Still, Bryant wasn't someone defenses had to account for. The fact that he ate into snaps amongst the other WRs wasn't worth it either. He was a standup teammate but beyond that, Bryant won't be missed.
2020 Contract: 1-yr., $1.05M deal; counted $376,941 on 2020 Cap (8 weeks on roster + 2 weeks on Practice Squad).
Cap Implications:  It doesn't sound like Bryant wants to return to Baltimore, but I find it hard to believe he's going to find a lot of suitors on the open market either. I'm not sure the Ravens would be very interest either, so either way, a reunion appears unlikely.
Tony's Take:
This tweet says it all…
I will speak on my personal experience…I was in a position where everything was already established.. I took advantage of getting myself right.. I realized quick Baltimore wasn't the place for me…no bad blood that's their way of doing things so you gotta respect it.. https://t.co/lfhb2npoTV

— Dez Bryant (@DezBryant) February 23, 2021
LS Morgan Cox (UFA):
2020 Key Stats:  15 games (all ST "starts").
Analysis:
Dev Panchwagh: Cox is a long-standing member of the Wolf Pack and there is no denying his snapping prowess. Last season was no different. He's been a pillar for the team for a long time, so transitioning to a new snapper is a scary proposition. However, from a money standpoint, it makes sense.
2020 Contract: Final year of 5-year, $5.6M deal; counted $1.24M on 2020 Cap.
Cap Implications:  The Ravens have announced that they are moving on from Cox, though the Cap savings probably isn't that substantial. Cox is unlikely to get a deal for much more than the minimum, since teams aren't going to be spending precious Cap space on a Long Snapper, even one as good as Cox.
Tony's Take:
Throughout the 2020 season the name Nick Moore appeared on the practice squad protected list. Obviously the Ravens see something in Moore that they'd like to put to work, so much so that they are willing to break up The Wolfpack. Cox was a key component of "the operation" consisting of Cox, Justin Tucker and Sam Koch. Unfortunately for Cox as well as his tenured predecessors like Matt Katula and Joe Maese, when a younger, less expensive player comes along who can do the job equally as well, you're going to get bumped. Best wishes to the Super Bowl 47 Champ.
RB Gus Edwards (RFA):
2020 Key Stats:  16 games (6 starts); 144 carries, 723 yards (5.0 ypc), 6 TDs; 9 receptions, 129 yards (14.3 ypr), 0 TDs; 34% of Offensive snaps.
2019 Key Stats:  16 games (1 start); 133 carries, 711 yards (5.3 ypc), 2 TDs; 7 receptions, 45 yards (6.4 ypr), 0 TDs; 36% of Offensive snaps.
Analysis:
Dev Panchwagh: For his entire career, Edwards has been somewhat overlooked and underappreciated. But his production and overall dominance is undeniable. He's one of the best inside runners in the team's history. He's an anvil in-between the tackles who punishes defenders to gain positive yards. However, Edwards has also proven that he can be a big-play back as well, averaging over 5.0 YPC and hitting some impressive breakaway runs in the open field. He seems to be the perfect foil to rookie J.K. Dobbins. The two look like a lighting and thunder combo similar to Ray Rice and Willis McGahee years ago. Edwards is an easy candidate to consider for a reasonable extension. With Mark Ingram's release, it's his show as the power runner this season.
2020 Contract: Played on 1-year ERFA tender deal; counted $750K on 2020 Cap.
Cap Implications:  As an UDFA, using the low RFA tender on Edwards would not bring any draft pick compensation and would only allow the Ravens to match an offer sheet.  As such, it seems like a slam dunk that Edwards will receive the 2nd Round RFA tender, worth $3.384M.
Tony's Take:
This bus route will remain intact and the bet here is that eventually the Ravens will get a 2 or 3-year deal done that lightens the load on the cap a bit.
DT Justin Ellis (UFA):
2020 Key Stats:  13 games (3 starts); 17 tackles; 34% of Defensive snaps.
Analysis:
Dev Panchwagh: Ellis was thrust into the starting lineup when NT Brandon Williams went down with an injury and the results weren't ideal. Ellis was manhandled in matchups against the Titans and Patriots during the season. However, Ellis has mostly been a reliable contributor for the DL rotation and the coaching staff clearly values him. As the primary backup to Williams, Ellis is a valuable cog for the 3-4 scheme the team runs. Ideally, Ellis remains in a bridge backup role as the team grooms a younger replacement.
2020 Contract: 1-year, $1.047M Veteran Salary Benefit deal; counted $887,500 on 2020 Cap.
Cap Implications:  Ellis returned to the Ravens in 2020 on a 1-year deal after being picked up midway through the 2019 season.  Recently he signed a new 1-year deal worth $1.2M with $400K guaranteed.
Tony's Take:
Ellis is no more than a rotational player to support the run defense. The $400K in guarantees looks like an insurance policy to me. If the Ravens can get better at the position for a fair price, they will. The guarantees just give them some peace of mind that they'll have a player they can live with for a reasonable figure. But it wouldn't shock me if Ellis is a former Raven come September.
OL DJ Fluker (UFA):
2020 Key Stats:  16 games (8 starts); 52% of Offensive snaps.
Analysis:
Dev Panchwagh: The Fluker era ended in Baltimore with the veteran lineman losing his starting job at right guard. Fluker was brought in to add veteran stability and potentially settle the line with the departure of future Hall of Famer Marshall Yanda. It seemed like he couldn't handle the pull and engage role expected from RGs in Greg Roman's run scheme, and he also struggled in pass pro situations. At this point in his career, Fluker isn't the most nimble player — not that he ever was. Fluker is at his best when he gets to mash in man blocking scenarios. The Ravens run combinations. Ultimately, he's a better reserve than he is a starter.
Matt Wise:
2020 Contract:  1-year, $1.075M Veteran Salary Benefit deal; counted $775K on 2020 Cap.
Cap Implications:  Fluker was brought in last year to at least compete for the RG spot and be the swing tackle.  He did not perform particularly well at either Guard or RT.  Given the depth on the interior OL, a return seems unlikely.  Fluker will likely get no more than another VSB offer.
Tony's Take:
It was rather strange how the Ravens handled Fluker in 2020. I can't recall the team using a regular rotation at right tackle within the same game like they did last season. Maybe it had to do with Fluker's performance that day. Maybe it had to do with matchup disadvantages they hoped to avoid. Whatever the case, the Ravens probably weren't enamored with the former Seahawk. With the organization's attention to improving the offensive line, if Fluker returns, it means that the effort to beef up Lamar Jackson's offensive front didn't go as planned. Fluker is nothing more than an average backup.
LB Matthew Judon (UFA):
2020 Key Stats:  14 games (13 starts); 50 tackles, 6 sacks, 21 QB hits; 53% of Defensive snaps.
2019 Key Stats:  16 games (16 starts); 54 tackles, 9.5 sacks, 4 FFs, 33 QB hits; 81% of Defensive snaps; Pro-Bowl.
2018 Key Stats:  16 games, 8 starts; 44 total tackles, 7 sacks, 0 FFs, 20 QB hits; 65% of Defensive snaps.
Analysis:
Dev: Matt Judon had a bit of a comedown effort from the Pro Bowl season he put together the year prior. Part of that had to do with playing fewer snaps overall. It seemed like the coaches made a concentrated effort to keep him fresh while also rotating Bowser and juggling snaps for Ngakoue. Judon remained the team's most consistent rusher from my vantage point. However, his pass-rush win rate (a metric that helps to determine how often defenders win against opposing blockers) dipped below the win-rate in 2019. All in all, Judon continued to take advantage of free rush opportunities, and this season in particular, he was set up by ends Calais Campbell and Derek Wolfe. Judon's game goes beyond rushing the QB though. He still had tremendous value in coverage and made timely stops behind the line in short-yardage conversion situations. Judon is a good player — however, does he deserve to be paid like a great one? My vote would be no.
2020 Contract: Played on 1-year Franchise Tag tender deal; counted $16.808M on 2020 Cap.
Implications:  Tagging Judon for a second time in 2021 would mean a franchise tag tender of $20.170M (an increase of 120% over last year's salary).  That seems unlikely.  It will be interesting to see what kind of offers Judon receives.  The reduced Cap may mean he end up taking less than he would have hoped or perhaps settling for a 1-year deal with the hopes of hitting free agency again in 2022.
Tony's Take:
Judon's versatility is an attractive feature, particularly in a Martindale defense. But his ego and his seemingly inflated sense of self-importance will motivate him to chase the biggest contract he can land and that won't be in the Land of Pleasant Living. Judon is a nice player to have but not for the price tag he'll likely command. His maturity issues were also on full display given the way he treated a Ravens beat reporter on social media. Right player, wrong price, wrong attitude. Thanks for the memories.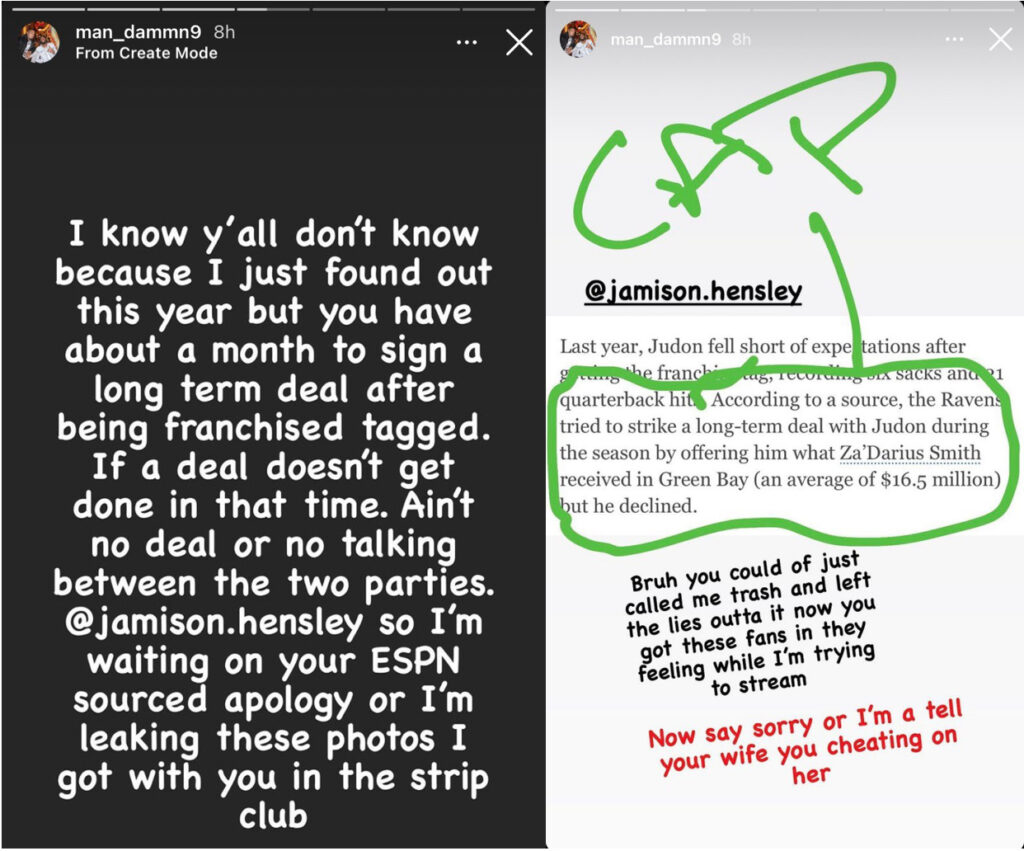 DB Anthony Levine (UFA):
2020 Key Stats:  16 games (1 start); 7 tackles, 0 sacks, 0 INTs, 0 PDs; 3% of Defensive snaps, 68 % of ST snaps.
2019 Key Stats:  16 games (0 starts); 14 tackles, 0 sacks; 0 INTs, 0 PDs; 17% of Defensive snaps, 71% of ST snaps.
Analysis:
Dev: Levine remains one of the last links to the 2012 Super Bowl team. He's been a fixture in the locker room and a core special teams ace. The tough part is Levine's been phased out of the team's dime package — a role he performed well prior to Wink taking over as defensive coordinator. Without a dedicated dimeback type role, he's been missing in action as part of the sub package rotation. At this stage in his career, Levine is more of a backup with high value in case injuries pile up.
2020 Contract: 1-year $1.8125M 4-Year Qualifying Player deal; counted $1,187,500 on 2020 Cap.
Cap Implications:  Levine is a well-respected veteran leader and Special Team contributor.  He will not likely command more than he received last year (especially since his snaps on defense declined), so a return on another 4-Year qualifying deal is certainly a possibility.
Tony's Take:
What he offers as a leader, as a team-first player and given the modest price to retain him, I think the soon-to-be 34-year old Levine will sign his last NFL contract and finish his career in Baltimore.
LB Pernell McPhee (UFA):
2020 Key Stats:  15 games (13 starts); 34 tackles, 3 sacks; 43 % of Defensive snaps.
2019 Key Stats:  7 games (7 starts); 19 tackles, 3 sacks; 27% of Defensive snaps.
Analysis:
Dev: McPhee's second stint as a Raven has been about as good as anyone could have hoped for. It's clear the team missed him in 2019 during the tail end of the season. Given how dominant he was against the Tennessee rush attack in the wildcard round, I'd argue he might have been the missing piece for the defense in the playoff loss the year prior. McPhee is so good that the coaches tend to play him too many snaps. However, McPhee's sweet spot is about 20-25 snaps per game. The value he brings to the defense is hard to measure because he does so much to set up his front seven teammates. He's the John Stockton of the defense. Takes on blockers on rush stunts and is willing to occupy blocks in the run game. He's the glue player for the defense and a vocal leader in the locker room.
2020 Contract: 1-year $1,187,500 Veteran Salary Benefit deal; counted $887,500 on 2020 Cap.
Cap Implications:  McPhee has already expressed a desire to return and it seems as if the Ravens are also interested in a reunion.  Having been healthy all of last year (he only played in 7 games in 2019), McPhee could possibly have expected to receive more than a VSB deal, but with the reduced Cap, he's likely going to have to again settle for a 1-year VSB deal.
Tony's Take:
McPhee does a lot of dirty work that isn't accounted for by stats. But the coaching staff knows better. His age and his lack of stat production suppresses his market value and as such, why not stay with a familiar team. McPhee is like one of those Amazon Essentials – a good product at an affordable price. Welcome back Pernell!
[Note: Moments prior to publishing this piece it was announced that McPhee is in fact re-signing with the Ravens]
LB Pernell McPhee, who played for Baltimore from 2011-2014 and then again the past two seasons, has reached agreement to resign with Baltimore, per source.

— Adam Schefter (@AdamSchefter) March 12, 2021
WR Chris Moore (UFA):
2020 Key Stats:  3 games (0 starts); 0 receptions; 1% of Offensive snaps.
2019 Key Stats:  16 games, 0 starts; 3 receptions, 21 yards, 0 TDs; 39% of Offensive snaps.
Analysis:
Dev: At this point in his career, Moore is strictly a special teams player. Not since the days of Billy Davis has a receiver garnered such a free pass for not adding any other value to the actual position he plays. While Moore is certainly a top-level special teams player, it's a mystery as to why he continues to be prioritized on the roster. The team should be moving on, as they need a more significant infusion of talent in the wide receiver room.
2020 Contract: 1-year $1.6725M 4-Year Qualifying Player deal; counted $1,047,500 on 2020.
Cap Implications:  Wherever he signs, Moore is likely only going to receive a minimum salary deal of $990K (minimum for a player with 4 to 6 years of service time).
Tony's Take:
I've always liked Chris Moore but he obviously doesn't do enough in practice that would inspire the Ravens offensive brain trust to create a bigger role for the 5-year vet. It seems rather obvious that he'll never make his mark as a pass catcher. He's purely a special teams guy. In 2020 there were a total of 47 returns, including both kickoffs and punts. That's roughly 3 chances per game to make a special teams tackle. In other words, Moore isn't important enough to keep around. His role is better suited for a younger player looking to make his mark with the team, eventually growing into a more prominent contributor on offense or defense. In the end, I'm not all that attached to the 2 tackles he made in 2020.
DE Yannick Ngakoue (UFA):
2020 Key Stats:  9 games (3 starts); 11 tackles, 3 sacks, 33% of Defensive snaps.
Analysis:
Dev: When the Ravens landed Ngakoue in a trade with Minnesota before the trade deadline, I thought it was a perfect fit. The team needed more front four, pure pass rush production. You could argue that Ngakoue did provide that level of value. The former Maryland Terrapin was consistently able to turn the corner and generate pressure off the perimeter. However, he was also involved with a lot of "almost" sack attempts. He easily missed out on at least three more sacks. The problem with Ngakoue is that he's not an every-down player in this defense. He won't play on clear run downs. So he's really a sub-package pass rusher all the way. Will he be okay with that role moving forward? If the team can convince him that's where he fits best, this could continue to be a pairing that makes sense.
2020 Contract: 1-year, $12M deal; counted $5,176,471 on 2020 Cap (11 games).
Cap Implications:  It seems that many seem to think that Ngakoue will still cash in on free agency pretty well, and the Ravens chose not to use the Franchise Tag ($14.530M) on Yannick.  Most seem to think Ngakoue is in line for a deal in the range of $14-17M per year.
Tony's Take:
It really depends on what the market opts to spend for someone who has produced 25 ½ sacks over the last 3 seasons. Those numbers aren't bad but if Brian's forecast of $14-$17M per year is right, I just don't see the value in Ngakoue. He's too one-dimensional. The experiment failed and it cost the team a 3rd-round pick. If he signs for those kind of numbers elsewhere, EDC picks up another comp pick (probably a 3rd or 4th) and that lessens the blow.
C Matt Skura (UFA):
2020 Key Stats:  15 games (12 starts); 64% of Offensive snaps.
2019 Key Stats:  11 games, 11 starts; 65% of Offensive snaps (100% of snaps prior to injury).
Analysis:
Dev: Before diving into any assessment of Skura's 2020 performance, it's important to acknowledge the gruesome knee injury he overcame just to suit up at center. What he pulled off was nothing short of a miracle. However, it's clear that he's not the same player he was prior to the injury. Skura unfortunately bore the brunt of botched snaps in New England that led to his benching. It seemed like he was limited in his mobility and couldn't extend on the second level blocks he made in 2019. If Skura were to return, it should be in a backup role. His days as a starter might be numbered.
2020 Contract: Played on 1-year RFA tender deal; counted $2.133M on 2020 Cap.
Cap Implications:  Prior to injury his knee late in the 2019 season, Skura was probably looking at receiving a decent contract extension here in Baltimore or on the open market this Spring.  His poor play in midseason and his benching unfortunately for him sealed his fate.  Skura is probably going to want to take a 1-year deal ($2-5M) somewhere where he has a shot to start and rebuild his value.  Given the dearth of similar interior OL already on the roster, it doesn't seem likely that that will happen here.
Tony's Take:
Skura is a good guy but he's a better man than he is a player. He's serviceable as a run blocker but in pass pro, he's a liability and his errant snaps made me think of baseball players with the yips – guys like Mackey Sasser and Dave Sax. All the best to Matt who will be wearing a different uniform in 2021.
WR Willie Snead (UFA):
2020 Key Stats:  13 games (8 starts); 33 receptions, 432 yards (13.1 ypr), 3 TDs; 52% of Offensive snaps.
2019 Key Stats:  16 games (11 starts); 31 receptions, 339 yards (10.9 ypr), 5 TDs; 61% of Offensive snaps.
Analysis:
Dev: Snead has been an unsung steadying slot receiver for the team over the duration of his contract in Baltimore. Although his raw numbers aren't reflective of his overall value, Snead has been a clutch receiver in key conversion situations and a relentless drive blocker in the run game. He's a crafty route runner who can find holes in zone coverage and is tough after the catch. While Snead has been reliable in his role, especially in three-receiver packages, it's time for the team to let the slot receivers they've drafted take over. Snead shouldn't be back unless the team can't find any viable upgrades between free agency and the draft. It's time for an upgrade.
2020 Contract: Final year of $6M contract extension; counted $5.412M on 2020 Cap.
Cap Implications:  Snead has been a reliable target for Lamar Jackson over the last couple of years, but with Devin Duvernay and James Proche drafted last year, you have to wonder if Snead's return is in the cards.  Snead is likely going to have to take a pay cut wherever he ends up and if a market does not develop for him, it's always possible that he and the Ravens could always revisit a possible return.
Tony's Take:
Willie has been a great teammate and a team-first player. He's done the dirty work, makes tough catches inside the numbers and he has been a willing participant as a blocker in the run game. But his time in Baltimore is up. The Ravens have Devin Duvernay and James Proche waiting in the wings. It's their time.
LB Jihad Ward (UFA):
2020 Key Stats:  10 games (0 starts); 16 tackles, 3 sacks; 26% of Defensive snaps.
2019 Key Stats:  11 games (0 starts); 7 tackles, 1 sack; 38% of Defensive snaps.
Analysis:
Dev: Ward is one of Eric DeCosta's brightest reclamation projects. A journeyman for most of his career, the versatile edge defender has been a revelation and always seems to make timely plays in the run game and as a hand-in-the-dirt rusher. Although Ward was inactive for a stretch of four games in 2020, he was counted on at the end of the season and continued to show why his pass-rush versatility is so valuable in Wink's multiple/hybrid defense. He's another player who delivers terrific per-snap value: tipped balls, ruined screen attempts. Ward is tough to block because he can line up anywhere along the line, has tremendous length, and plays with a nasty edge.
2020 Contract:  1-year, $1.047M Veteran Salary Benefit deal; counted $887,500 on 2020 Cap.
Cap Implications:  Ward, who again proved his value over the second half of the season, will likely only command another VSB deal. Ward's decision will likely come down to which offer comes with the opportunity for the most playing time.
Tony's Take:
With Judon and Ngakoue gone, Ward's return is important for depth and for his multi-faceted role in the Ravens defense. He provides the kind of production-to-cost value that EDC embraces.
WR DeAndrew White (UFA):
2020 Key Stats:  Spent entire 2020 season on Injured Reserve.
Analysis:
Dev: In respect to pure talent, White is still a tantalizing player who offers explosive ability and deep ball speed. That being said, the team has that skillset covered with Marquise Brown and Devin Duvernay. It's hard to imagine he'll make a roster with inevitable new additions through free agency and the draft.
2020 Contract: 1-year, $825k deal; counted as split salary of $475K on 2020 Cap (on IR).
Cap Implications:  White was signed during training camp last year and was injured within days.  If healthy, he's likely only receiving a minimum salary deal.
Tony's Take:
DeAndrew will turn 30 years old during the 2021 season. He's has 7 career catches for 93 yards and he's made 5 special teams tackles. Tough to get excited about that, right? Hey I heard the CFL and XFL are planning to partner up…
DE Derek Wolfe (UFA):
2020 Key Stats:  14 games (8 starts); 51 tackles, 1 sack; 58% of Defensive snaps.
Analysis:
Dev: Wolfe was everything the team could have possibly hoped for in his first year. He mostly stayed healthy and was an absolute rock filling in for Campbell and Williams when they went down with injuries in the middle of the season. Wolfe's ability to anchor versus the run was vital to the team's ability to stand up better in that area. However, he also added sub-package rush value, lining up inside and taking on blocks to open up rush lanes. Every defense needs a lunch pail lineman like Wolfe. He'd be an ideal player to bring back and fits the scheme well. 
2020 Contract: 1-year, $3M deal; counted $3M on 2020 Cap.
Cap Implications:  Wolfe played very well last year and his deal was a bargain.  Even with a reduced Cap, Wolfe is likely going to receive a raise over his 2020 salary.  The parties are likely both interested in a return, but this will likely come down to "right player, right price" for the team.
Tony's Take:
I thought that Wolfe would be re-signed by now. He was anxious to come to Baltimore and he seemed to enjoy his first season with the team. As the season wore on, he became a bigger and bigger contributor. He just seems to be one of the players who is a perfect fit for the Ravens. I expect him to stay unless some other team is willing to overpay. EDC talked about the longevity of a player who plays his kind of position. A 3-year deal for the 31-year-old Wolfe at around $12M would seem to be a win-win.