Another Offseason, Another WR Search
Print this article
It seems like an annual rite of passage for Ravens fans – the longing for a No. 1 wide receiver. During their history, the Ravens have selected a receiver with a first round pick four times: 2000 Travis Taylor (10); 2005 Mark Clayton (22); 2015 Breshad Perriman (26); and 2019 Marquise Brown (25). Those players have combined for a total of 45 touchdowns while wearing the purple and black. Comparatively speaking, Antonio Brown, a sixth-round pick (195), scored 74 TD's during his 9 seasons in Pittsburgh.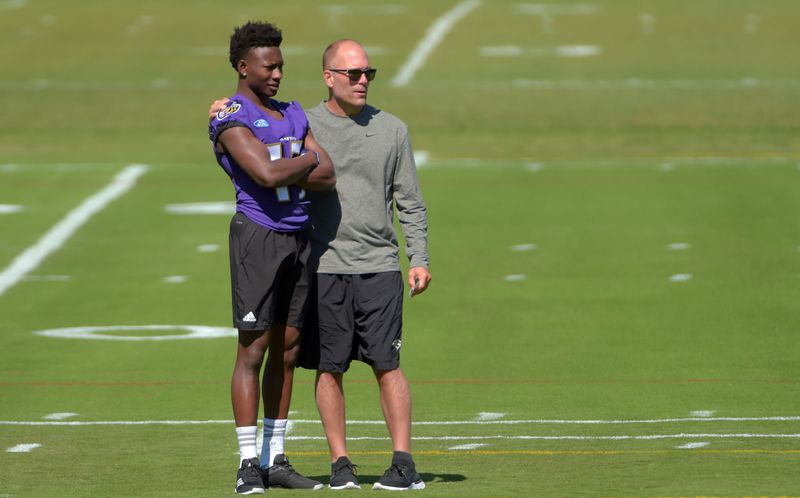 Organizationally the Ravens struggle at the position and the constant talk about their inefficiencies with their aerial attack is beginning to rub the coaching staff and front office personnel. Of course, winning is the primary goal, not stats, and the Ravens have done their fair share of winning since Lamar Jackson arrived. But they have struggled in the postseason where the best teams invest resources to choke off the Ravens rushing attack and dare them to win by air.
And they can't.
But they must…
The Ravens could invest in the position through free agency but they've been reluctant to do so either because the available pass catcher wasn't deemed the right fit or they determined that the price tag was too exorbitant. But there are other options, some of which the Ravens have begun to implement.
* One option would be to invest significant draft capital to bolster the WR corps. In 2019 the Ravens invested a first-round pick and in 2020 they invested a third and a sixth.
* Perhaps a trade is an option, looking to teams that have other needs but possess an abundance of pass catching talent. The Dallas Cowboys come to mind.
* The team could boost its offensive line to consistently provide Lamar with ample time to set and throw and allow for receivers who struggle to get open, to create separation.
* Offensive coordinator Greg Roman could re-tool his route combinations. John Harbaugh has brought in two new coaches who hopefully can influence Roman in this regard, if he allows it. Tee Martin (receivers coach) and Keith Williams (pass game specialist) both have great reputations and they've been brought in to give the passing attack a fresh perspective. Perhaps the pair can help develop the talent the Ravens already have. Devin Duvernay and James Proche seem promising while Myles Boykin has the measurables that have yet to transfer to the field.
* And lastly, the Ravens could look to the still available free agents in search of post-Christmas free agency sales, like T.Y. Hilton, Sammy Watkins, Antonio Brown, Golden Tate, et al. The question is are they any better in the Ravens offense than what the team already has. T.Y. and Sammy seem to get dinged up fairly regularly, Antonio has the looming DV issues that Steve Bisciotti has sworn to steer clear of and Tate at this point in his career is pretty much Willie Snead.
Make no mistake about it, the passing game is a problem the Ravens must solve through better play calling, execution, design and talent. This isn't debatable. The pressure is building and while the Ravens have made strides to improve this offseason, adding a new right guard and new contributors to the offensive think tank, that alone cannot evoke the enthusiasm that say a signing of Corey Davis may have triggered.
Lamar's new contract looms and if the Ravens can't get him the requisite support to be a formidable passing offense while he remains on a rookie contract, is he really worth $40M/year? He's a generational talent and credit the Ravens for moving up in Round 1 to pick him with 2018's 32nd overall pick. But without the complementary tools, the dependency upon him as a runner becomes too excessive and the last time I checked, players don't get faster as they get older.
This weekend the perception from fans is that the Ravens lost out on two more potential receivers that would have helped – Juju Smith-Schuster and Kenny Golladay. The options are growing thinner. The pressure mounts. The national media continues to throw darts at the Ravens passing attack. And even a former player throws some shade…
All of this Lamar hate is starting to get on my nerves….just know I got to see first hand what he have to deal with.. him being able to play QB is far from the issue..

— Dez Bryant (@DezBryant) March 20, 2021
The offseason is not over until it's over and there's a long way to go. But if the offseason was a boxing match and free agency represents Round 1, the Ravens are behind on points punctuated by a standing eight-count.