My Picks
Last Week: 3-2 (60.0%)
Overall: 23-21-1 (52.3%)
BDC Lock of the Week
Last Week: 1-0
Overall: 6-3 (66.7%)
Week 9 Whiffs:
— Guess what? Had the Ravens game wrong. Coming off their bye, I thought they would come out hot. Joke's on me.
— I vastly underestimated the Titans. I thought without King Henry that they would fall hard. Color me impressed.
Through Week 9, here are the ATS Rankings:
As always, here is probably the most important line that you will read:
Disclaimer: Please do not take these picks and expect to make any real money.  I enjoy picking games and the discussions they create so feel free to play along.  I will provide information for each game, but please make your own decisions and BE RESPONSIBLE!
Feel free to play along, tell me where I'm wrong, post your own picks, or just enjoy the read. Trying to get back on a roll here in Week 9…
Kansas City Chiefs @ Las Vegas Raiders (+2.5, o/u 51.5)
I'm opening up this week with one of the most disappointing teams from an ATS perspective in the NFL. The Chiefs were awful ATS in the second half of last season and that has continued into 2021. This line opened up at +3 but has already been bet down to +2.5 because of that trend.
Even with that in mind, if you're going to tell me I only have to give 2.5 points to back the Chiefs, I'm going to take it. You would have to imagine they break out of their funk at some point, right?
I'll take the Chiefs by a field goal.
Kansas City is 3-16-1 ATS in their last 20 games. The Raiders are 4-2 ATS in their last six November games.
My Pick: Kansas City -2.5
Get a Free Bet of up to $1,001 from Caesars Sportsbook win or lose by clicking here.
Buffalo Bills @ New York Jets (+11.5, o/u 47.5)
I'm rolling with another divisional game in my second pick of the week. After Buffalo's Week 9 loss to Jacksonville, they'll be primed and ready to not overlook the Jets. They'll take their frustrations out on a Jets team that ranks near the bottom of the league in nearly every category.
This is a mismatch and I expect the spread to climb a bit more through the week. Buffalo in a rout.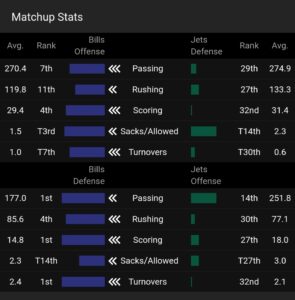 Buffalo is 0-2-1 ATS in their last three games. The Jets are 4-1 ATS in their last five home games.
My Pick: Buffalo -11.5
Click here and use promo code RUSSELL1000 to get a $1,000 risk-free bet from Barstool Sportsbook.
Philadelphia Eagles @ Denver Broncos (-3, o/u 44.5)
This is a fairly evenly matched game as the spread suggests with Denver getting the customary "here you go home team" three points. The Eagles have been very Jekyll and Hyde through the first nine weeks of the season. They look very good for stretches and then get lit up in others. I think this week will veer more towards the former.
Even with Denver's beatdown in Dallas, I still don't see this team as any threat in the AFC. Just like Philly, they show flashes, but I don't think they can sustain that success. This will be a tight game, and if you're going to give me any amount of points for the Eagles, I'm taking them (maybe straight up).
Philadelphia is 3-8 straight up and ATS in their last 11 road games. The Broncos are 2-5 straight up and 3-4 ATS in their last seven home games.
My Pick: Philadelphia +3
Click here to Bet $1, Win $100 if either team scores a point in the NFL Week 10 game of your choice with DraftKings Sportsbook.
Baltimore Ravens @ Miami Dolphins (+7.5, o/u 46.5)
Okay, maybe THIS week will be the week we don't have to pull our hair out as Ravens fans. I hope so at least. I'd like to get to bed before midnight…
This is a solid matchup for the Ravens. Their defense should be able to get back on track against the Dolphins who rank in the bottom 3rd of the NFL in all offensive categories. On the other side of the ball, the Ravens also have a distinct advantage with Miami ranking 30th against the pass and 17th against the run. If there were ever a recipe for the Ravens to roll, this is it.
Ravens 37 Dolphins 13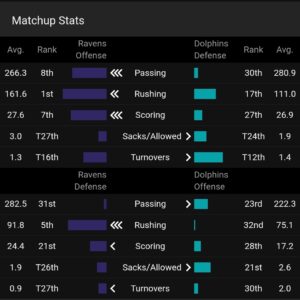 Baltimore is 13-2 straight up as a road favorite by more than a touchdown since 1995. The Dolphins are 6-16-1 ATS in their last 23 prime-time games.
My Pick: Baltimore -7.5
Bet $10, Win $200 if your NFL team scores a TD in Week 10 with BetMGM by clicking here.
BDC Lock of the Week
Los Angeles Rams @ San Francisco 49ers (+3.5, o/u 48.5)
This spread is a reflection of two things. First, the Rams' struggles last week against the Titans, particularly on offense. And second, the historically rough time L.A. has had with San Francisco. With that said, the Rams are, by far in my opinion, the better team on both sides of the ball in this matchup. I see last week as more of a blip on the radar than a sign of things to come. I like the Rams to cover easily which is why this is my lock of the week.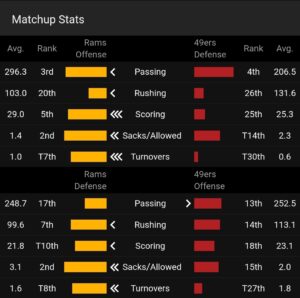 The Rams are 3-8 ATS in their last 11 games against the 49ers. San Francisco is 1-5 ATS in their last six games.
My Pick: Los Angeles -3.5
Click here to Bet $5, Win $150 cash if your team wins Rams-49ers with FanDuel Sportsbook.
Good luck in Week 10 everybody!