Unless you've been living under a rock, you know by now that the Ravens are bumping ticket prices for the 2022 season. Word is that there will be no price increase for 2023. On the heels of a torturous 2021 season that ended with a six-game losing streak, the optics of the price increase aren't good. Baker Koppelman, Sr. VP of Ticket Sales & Operations, wrote a letter to PSL owners explaining the rationale behind the wildly unpopular move.
---
"As we set our sights on the future — and strive to continue producing league-leading results in everything we do — it's vital that we remain competitive with other NFL teams. Revenue generated through your valued investment allows us to sign and retain players who will help the Ravens contend at the highest level, and it provides the kind of stadium experience you deserve and expect. We are committed to ongoing enhancements to your gameday experience, which over the next several years will include a long-term capital improvement plan for M&T Bank Stadium to keep it vibrant well into the future."
---
THERE'S A FLAG ON THE FIELD!!!
The Ravens spend to the brink of salary cap limits on an annual basis, with or without a ticket price increase. And, with or without the price increase they will continue to manage the cap as they always have. The vitality of fielding a winning product isn't just for the fans but also for the coaches and personnel staff who by virtue of their employment in the NFL are in the pay-for-performance business.
I highly doubt that Eric DeCosta backs off signing a rangy free agent safety just because Joe Blow's season ticket price is the same in 2022 as it was in 2021. If he backs off the signing, it has everything to do with their carefully mapped out salary cap strategy. Last time I checked the team's credo is, "right player, right price", NOT "right player, right ticket price".
As for the stadium's "ongoing enhancements" The Sun's Jeff Barker recently reported that, "The Maryland Stadium Authority is seeking state legislative approval to borrow up to $1.2 billion to pay for upgrades at the stadium homes of the Ravens and Orioles so the clubs won't need new pricey new venues in the foreseeable future."
If those upgrades are approved by the State, won't they be funded by the tax dollars provided by Maryland residents, many of whom are PSL owners? Wouldn't that then be considered a double-dip on said fans?
According to Statista, the Ravens average ticket price was the 13th-most expensive in the league at $110.53. And according to ESPN, they were 8th in average home capacity (99.7%) and 9th in average home attendance (70,537).
Might fans push back a bit on a price bump after a losing season? And if they do and the average home capacity drops, could there be a tradeoff with fewer concession sales? Those lost $12 beers could add up quickly.
Look, we live in a world where prices for everything seem to be spiraling skyward. And when that happens, we are moved to seek less expensive alternatives. Unfortunately for the Ravens and the NFL as a whole, one such alternative for fans is to stay home where you can see more of the game on a beautiful HDTV where concessions are dramatically cheaper, parking is free, queuing into the stadium isn't a hassle, bathroom lines are non-existent and traffic jams are a non-issue.
This price increase is a slippery slope for the Ravens. The timing of this decision is all wrong.
And given the tone of his letter, Koppelman knows it.
Weddle
I've had the opportunity to visit with the good people of Ravens Nest 14 (Eldersburg/Sykesville) and Ravens Nest 1 (Bel Air) this week to talk about our favorite team and the challenges ahead. The Q&A sessions were spirited and I thank you all for your time, consideration and passion.
One of the questions asked of me was, "Who are you rooting for in Super Bowl LVI?
My answer: The Los Angeles Rams!
For me the choice was simple. Matthew Stafford has always been a great guy, he and his family have endured some hardships that none of us would wish on anyone, plus he was forced to play in NFL purgatory for many years – aka the Motor City and the Detroit Lions. It's his time. And then there's former Raven Eric Weddle who is a 14-year vet with 6 Pro Bowls to his credit and he's a 5-time All Pro.
Weddle has played in 12 postseason games and until this year, never advanced beyond the conference championship. It's his time too!
As for who I think will win, I'll get to that in a moment. Until then, a few words from Weddle as his NFL swan song draws near:
Eric Weddle on his time with the Ravens: "I have a special place in my heart for them and enjoyed every second I was there. I really did."

Weddle said even Steve Bisciotti reached out after he signed with the Rams to tell him he was pulling for Weddle. pic.twitter.com/FyMwpGblui

— Jonas Shaffer (@jonas_shaffer) February 9, 2022
Eric Weddle is feeling the love from Baltimore 🙌 pic.twitter.com/qQqPj755of

— Raven Up (@RavenUpPod) February 8, 2022
Ravens Ponderings
I think it will take some time for the Ravens and Lamar Jackson to get together on a new contract. From the outside looking in, it would appear that he's betting on himself to deliver in a big way during the coming 2022 season. Hopefully the plan works out for him, his family and Ravens fans.
Lamar's struggles in 2021 are well-documented. The excitement and excellence that we've enjoyed in the past was missing from his game for no less than half the season. So was that boyish enthusiasm that we've collectively embraced and appreciated. Here's to the future No. 8, and to more joyful moments like this…
I love him so much 🥺 pic.twitter.com/j0rWBgPDi4

— Tess (@teresafbaby) February 6, 2022
Mandrews
Just before the 2021 season started, Mark Andrews signed a 4-year, $56 million contract extension. The deal made Andrews the fourth highest paid tight end in the league, based upon contract value, according to Spotrac. The Ravens timing on the new deal couldn't have been better.
If Andrews' monster 2021 season had been factored into the negotiations (107 catches, 1,361 yards, 9 TDs) he would be, without question, the game's highest paid TE. Ravens GM Eric DeCosta has been criticized for the contracts of Ronnie Stanley and Marlon Humphrey, both disappointments in 2021 (as if EDC could prevent injuries). But if you are among those who believe such criticisms are fair, then in the spirit of fairness, EDC's proactive approach with Andrews was a masterful stroke that saved the team significant money – and it should be properly lauded.
But back to Andrews, here's a Mic'd Up session with the first-team All Pro from this season's two-hand touch game played last week.
"YOU'RE A DAWG❗️"@Mandrews_81 mic'd up at the Pro Bowl pic.twitter.com/1KdZnSwJ0h

— Baltimore Ravens (@Ravens) February 8, 2022
Last summer, James Proche was one of the Ravens training camp stars. He worked diligently with offensive coaches Tee Martin and Keith Williams to hone his craft. The efforts paid dividends, at least during practice and the preseason. But during the regular season, Proche was a forgotten man, arguably a discarded one too.
Proche was a healthy scratch four times during the 2021 campaign, two of those inactive list designations immediately followed his 7-catch, 76-yard performance against the Bengals in Week 16. Meanwhile a rather useless Sammy Watkins dressed as did the discarded Ty'Son Williams.
I get the feeling that Proche's skillset will never be fully employed by the Ravens in a Greg Roman offense. There's absolutely no reason why he can't become a player like the Bengals Tyler Boyd. He could thrive in a west coast offense that understands how to get the most out of an efficient route-runner who has the wherewithal to attack the soft, white underbelly of a defense. Proche will one day be a productive professional. I hope it's in Baltimore. But I have my doubts.
never missing the playoffs again, I promise!
300 yds up, 1342 elevation. pic.twitter.com/dsA1kNW9O9

— pro. (@jamesproche3) February 4, 2022
Odds & Ends
The Ravens will travel twice to the Meadowlands in 2022 to play the Jets and the Giants. The latter will feature a head-to-head matchup with offensive coordinator Greg Roman and the Giants new defensive coordinator, Wink Martindale. Wink's good buddy Rob Ryan is likely to join him along the Big Blue sideline…Speaking of road games, might the Ravens be considered for a trip to Germany in 2022? The league will make its first regular season journey there…Justin Tucker won the award for Best Moment of the Year during last night's NFL Honors presentation for his 66-yard record-setting walk off field goal to sink the Lions during Week 3, 19-17.
Giants' defensive staff under new defensive coordinator Don "Wink" Martindale expected to include Rob Ryan and Bryan Cox, per league sources. Drew Wilkins, former Ravens outside linebackers coach, is also under consideration for Giants' staff

— Aaron Wilson (@AaronWilson_NFL) February 8, 2022
NFL will play its first regular-season game in Munich in 2022, and four games all together in Germany through 2025. pic.twitter.com/f9Twbu1K2P

— Adam Schefter (@AdamSchefter) February 9, 2022
Justin Tucker's NFL-record, game-winning, 66-yard field goal vs. Detroit named the NFL's Moment of the Year. pic.twitter.com/hrFSbJ9gJ1

— Jonas Shaffer (@jonas_shaffer) February 11, 2022
Justin Tucker, winner of the Bridgestone Best Moment of the Year. #NFLHonors pic.twitter.com/bMGNfKlvq5

— Tony Lombardi (@RSRLombardi) February 11, 2022
Word on The Street
Funny Money (Super Bowl)
During the Championship Round of the playoffs, I entered with just $360 from the original starting total of $1,000. Hopefully some of you went against me and got yourself a little extra scratch. In case you didn't, here's your opportunity to do it again.
Two weeks ago I won both bets and now my wagering wallet sits at $560. So this is the big game on Sunday, right? It's go big or go home, so I'm betting $500 of my total so even if I blow it all, I have enough for a great steak dinner and a couple of cocktails at Lib's Grill.
So here goes.
Rams (-4) v. Bengals, over/under at 48 ½
Last year's Super Bowl featuring the defending champs, the Tampa Bay Buccaneers and the Kansas City Chiefs, was decided at the line of scrimmage. Tampa's defensive front was dominant and frustrated Patrick Mahomes throughout the game. This year's spectacle will play out similarly as the Rams defensive front will wreak havoc on the Bengals O-Line and of course Joe Burrow.
With that said, I'll lay the 4 points and take the Rams to cover for $300. And to complete my $500 in total wagering, I will tease the over/under up to 55 and bet under, and then tease the line to Rams + 2 ½ and take the host team.
Burrow's victory stogie will have to wait awhile…
And in Non-NFL News
Jason LaCanfora took a pot-shot at former Maryland Terrapins head basketball coach Mark Turgeon following the team's demolition last night, courtesy of the Iowa Hawkeyes in College Park by the score of 110-87. And it wasn't even THAT close.
Horrible outing for Terps. But I'm over these analysts and former coaches ripping their effort and never bringing up the fact that their former coach was a coward who quit on them weeks into the season. If we're hinting the kids are quitting, tell the whole story. Turg was fraud

— Jason La Canfora (@JasonLaCanfora) February 11, 2022
Strong words from the microphone eating sports talker who has walked and talked like a fraud for years given his Twitter wars with respected journalists like Paul Kuharsky, Ian Rapoport and his "breaking stories" like the Ravens and John Harbaugh parting of ways, a Zach Orr extension or Bon Jovi buying an NFL team. Oh, and he was once a diehard Red Sox fan but somehow, ah, never mind…you know the story.
Juice
Major League Baseball has its share of labor issues that have placed the timely start of this season's Spring Training and the regular season in jeopardy. And since the owners and MLBPA can't see eye-to-eye (shocker, right?) on work strife, they've also failed to address the league's policy on performance enhancing drugs. And so for the moment, the season, whenever it finally kicks off, might be labeled, "The Juice on The Loose".
How ironic, given that Barry Bonds and Roger Clemens have been boxed out for their abuse of juice (not that I disagree). Once again, the wackiness of reality surpasses fiction.
APNewsBreak: Major League Baseball has stopped testing players for steroids for the first time in nearly 20 years due to the expiration of the sport's drug agreement.

by @ronaldblum
https://t.co/PymUrCnKdO

— AP Sports (@AP_Sports) February 7, 2022
Music Fanimal
Recently I got together with some friends and we took turns using the Xfinity remote's talking feature to play music videos at a secret pub in Catonsville. The pacing and sequencing of songs took on a life of its own, loosely paralleling the direction of our conversation. While enjoying the hospitality of this clandestine location, I was inspired to share this cover of Janis Joplin's "Me and Bobby McGee" written by Kris Kristofferson and performed by P!nk…
58 Years Ago
Fifty-eight years ago Tuesday (February 9), The Beatles made their first appearance on The Ed Sullivan Show. It changed lives and music forever. Coincidentally, this meme appeared on my time line this week. How true.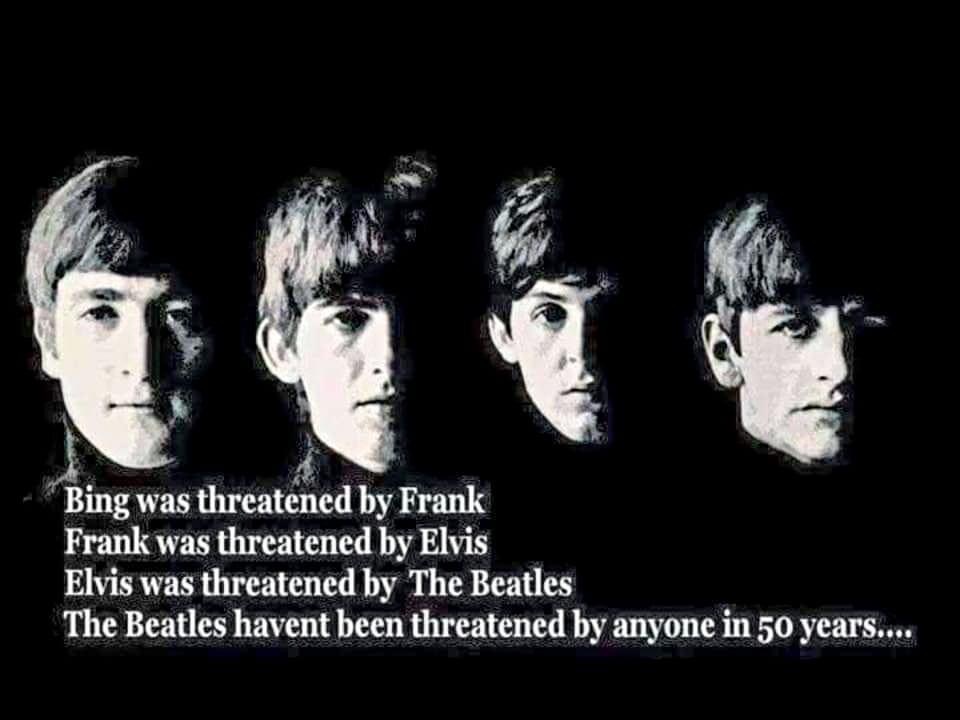 Without further ado, here is a video of The Fab Four featuring all of their performances during that legendary day in music history.
My Single Friend
My Single Friend pondered aloud: "If love is truly blind, why is lingerie so popular on Valentine's Day?"
Enjoy your Hallmark Holiday everyone!