Ravens (7-6) vs. Eagles (5-8)
Print this article
It feels like just yesterday that Ed Reed went 108 yards from one end zone to the other against the Philadelphia Eagles, but it's been eight darn years since Philly came to Charm City. That day, surprising small-school rookie Joe Flacco helped lead his team to victory on their way to a playoff berth. This time around, it's surprising small-school rookie Carson Wentz under center on the other side. While Wentz and Philly got off to a hot start, they've significantly cooled down, and the postseason is nothing more than a pipe dream.
They can, however, play spoiler. Here's to the Ravens taking care of business.
Let's take a look at the stats, quotes, and more in our weekly CRAB BAG c/o Casa Mia's White Marsh.
KNOW THY ENEMY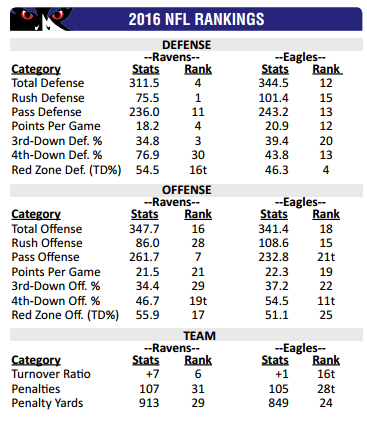 SERIES HISTORY
QUOTES OF THE WEEK
S Eric Weddle on playing in a blue collar city like Baltimore:
"This town, this city, it's hard-working, it's tough. They live and breathe their Ravens. It's just cool to see on Fridays everyone wears purple throughout the whole city. It's Purple Friday. You open your eyes a little bit when I first got here. San Diego is an amazing city, but it's not a football town, and that's just the reality of it. They have great fans there, but this is a football town. This is football. You think of football, you think of the Northeast. That's football. That's the way I am. I live, I do everything I can for my teammates, for the game. I don't take anything for granted. I try to get the most out of every day, and I think that resembles a lot of this city and this organization. It's about winning championships. It's about doing whatever you can for the team, and it shows on the football field."
Patriots QB Tom Brady on OLB Terrell Suggs:
"He's been a great player for as long as he's been in the league. He just does a lot of things really well. He's got all the rush moves, he drops into coverage, he bats down balls, he [crushes] the tight ends coming off the line of scrimmage. It's not just sacking the quarterback like most defensive ends. He makes plays in a lot of ways. He has great instincts and plays with those instincts. If he thinks the ball is going inside, he rips inside, and 99 percent of the time the ball goes inside. You can't ever count on the same thing from him. You have to play him straight up and see what he's going to do."
Offensive coordinator Marty Mornhinweg on G Marshal Yanda, who has flipped from RG to LG due to a shoulder injury:
"[He is] a valuable man to our football team. I can go through many, many strengths, and he has very few weaknesses. For him to be able to do that, both physically and mentally, it is quite a tribute to him. He is a valuable man for our football team."
James Brown of Showtime's Inside the NFL on QB Joe Flacco:
"Leadership styles come in different packages. I happen to love the leadership style of Joe Flacco."
Phil Simms of Showtime's Inside the NFL on S Eric Weddle:
"Eric Weddle, a defensive safety, has brought the team together on the [defensive] side. He's what you love. He's a baller. He's tough. He's a perfect fit for the football team. That was a great [free agent] pick-up."
GETTING TO KNOW YOU ~ Q&A with Joe Flacco
Favorite current TV show?
"It has to be Game of Thrones. Other than that, there are some other pretty good ones. I like Billions. I watched that this offseason. I just got done watching Westworld, which I watch every Sunday night."
Would it be harder to never listen to music or watch TV again?
"Probably never listen to music. I listen to a little bit of everything – mostly pop."
Do you listen to Justin Bieber?
"Oh, of course. If you aren't a Bieber fan, you are just being a hater. (laughter) Everybody likes Bieber."
What has been your favorite moment of 2016?
"I'm hoping that my favorite moment is still to come. But it was definitely exciting to get back out on the field, because I missed six games with a knee injury last season."
What is the weirdest item you have ever autographed?
"I remember someone asking me to sign their Filet-O-Fish box from McDonalds. There are some others, but that is the weirdest thing that stands out to me."
Similar to you, Carson Wentz has started every game as a rookie. What are the challenges?
"It is a lot different than college. You have to deal with a lot more mentally on a weekly basis with the wins and losses. You have to learn how to react to losing games, because it is inevitable in the NFL. You are not going to go undefeated. That is why I would say the biggest thing is just to keep your head on straight and stay confident through those times. Doing that is what is going to make you better in the end."
What are the challenges of being an NFL dad?
"I think I am going to hit some challenges in the future, because they are going to figure out who I am. For me right now, it is a challenge trying to balance raising them the way I was raised, while still dealing with the fact that I probably have been given a little bit more. My kids are growing up with a little more than I did, and I have to find a balance with providing them with what they need versus what they want and decide where to cross the line as a parent."
At what point did you think you could play in the NFL?
"I always thought I could play in the NFL. There were some little bumps along the way, but at the end of the day, I was never really told that I couldn't. I have always wanted to be an NFL quarterback. There was never really a backup plan. (laughter) I have a degree, but I wouldn't call that a backup plan."
Have you ever been star struck?
"When I was a rookie, I did something with Brett Favre for Madden. That was really cool. [At the Super Bowl 50 MVP ceremony], I probably was a little bit star struck. I had the chance to meet Roger Staubach and Len Dawson. I also got to meet Joe Montana, who I had never met before. He was my favorite quarterback growing up."
What is different about Ravens fans?
"Baltimore has a lot of similarities to where players in the NFL came from. A lot of us came from tight-knit communities that stick together, and that is how the Ravens fans are. Even though it is a small, tight community, this city brings a big-time energy and makes itself known around the league. We have a really great fan base."
HEY, YOU LOOK FAMILIAR! ~ Key Connections
Ravens head coach John Harbaugh led Philadelphia's special teams units for nine seasons (1998-2006) and secondary for one (2007). Following the 2001 campaign, Harbaugh was voted the NFL's Special Teams Coach of the Year by his peers. He was also named The Dallas Morning News Special Teams Coach of the Year that season.
Ravens quarterbacks coach Marty Mornhinweg was a member of the Eagles' coaching staff for 10 years as a senior assistant (2003) and offensive coordinator/assistant head coach (2004-12). Ravens offensive line coach Juan Castillo led Philly's offensive line from 1998-2010 before moving to defensive coordinator for the 2011- 12 seasons. Castillo entered the NFL coaching ranks as an Eagles' offensive assistant in 1995, moved to tight ends coach in 1997 and remained with the team before joining Baltimore in 2013.
Ravens secondary coach Leslie Frazier did a stint in Philadelphia as the defensive backs coach from 1999-2002, while Ravens strength and conditioning coach Bob Rogucki was an assistant strength and conditioning coach on the Eagles' staff during the 2006-07 seasons.
Eagles defensive coordinator Jim Schwartz was the Ravens' outside linebackers coach from 1996-98.
Eagles S Terrence Brooks was a third-round draft pick (79th overall) of the Ravens in 2014 and saw action in 23 games before being claimed off waivers by the Eagles this September.
Eagles VP of player personnel Joe Douglas spent 16 seasons (2000- 15) with the Ravens. He started as a player personnel assistant and worked his way up to national scout, a position he held from 2012-15.
Eagles assistant director of player personnel Andy Weidl joined the Ravens as their West-area scout in 2005. After four years in that role, he moved to the Northeast for three years before assuming the Eastregional scout title from 2013-16.
NUMBERFIRE PREVIEW
Our friends at Numberfire give the Ravens a 70% chance to win on Sunday.
LAUGH OF THE WEEK AT EXPENSE OF RAVENS' OPPONENT