Flacco Continues to Leave Yards on Field
Print this article
Last Sunday's game against the Tennessee Titans felt like Groundhog Day for the Baltimore Ravens offense. After an impressive showing in the previous game against the Miami Dolphins, the offense resorted back to its typical ways, filled with three-and-outs, dump-off throws, and missed opportunities.
No aspect of the offense was more frustrating than quarterback Joe Flacco going back to his roots of inexplicably throwing for short gains and seemingly never looking at receivers downfield. His infatuation with using tight end Ben Watson as a safety blanket has gone too far, and quite frankly it is damaging the Ravens offense.
It is not a coincidence that Watson has posted an impressive 38 receptions thus far this season, but is only averaging 6.9 yards per catch. This is reminiscent of when tight end Dennis Pitta hauled in 86 catches last season, but only averaged a mere 8.5 yards per catch.
The constant in both scenarios? Flacco.
While his big arm has been on display at times in 2017, the majority of the year for Flacco has been spent dumping off the ball for minimal gains while rarely even considering other options downfield. That is seen in the numbers, given Flacco's rather solid 64.3 completion percentage, but putrid 5.3 yards per attempt, the worst in the NFL among quarterbacks with over 100 attempts.
(This article will assume, for the sake of argument, that the problem isn't by design, as suggested by Dennis Pitta. You can discuss Pitta's comments on our board here.)
As mentioned, Sunday's game against the Titans was a prime example of Flacco resorting to dump-offs to Watson instead of taking chances downfield. Let's take a look at some scenarios where Flacco left yards on the field in favor of throws to Watson for minimal gains.
With Flacco's arm strength, getting chances with receivers one-on-one downfield is ideal. Here, Flacco has two receivers to choose from.
Now, Watson is running across the middle of the field with open space, and had Flacco thrown the ball at the above moment in the play, this would be a double-digit gain. But Flacco waits, dismisses the receivers downfield and allows Watson's defender to catch up to him before the throw.
Flacco still gets the completion, but its a near-non-existent gain in a play that could have netted the Ravens plenty of positive yardage, with better timing.
It's not only the poor decision making by Flacco – what is with this footwork here? He's stepping AWAY from his target, and ends up looking like this when he lets the ball go:
Even if he had been trying to lead Watson to space, it's no surprise that mechanics like these led to an inaccurate pass. A head-scratcher to say the least, but the kind of thing we've seen far too much of.
[Related: Truth Revealed About Ravens Offense?]
Later in the game, Flacco favors Watson off the snap, failing to even look at any other receivers on the play. This is a predetermined, one-read throw that quite frankly should not have been made.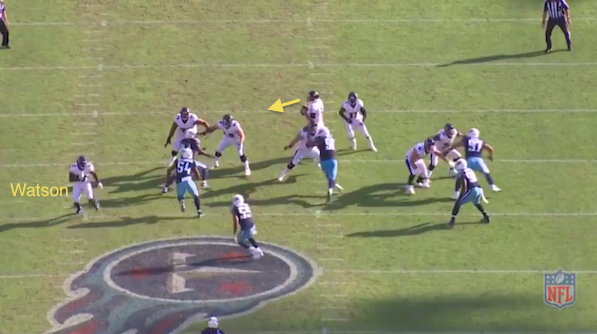 If we step back and look at the full play, Watson is breaking open up the middle; however, on the left side of the play, wide receiver Mike Wallace has an open field to work with, as well as separation.
Unfortunately for Wallace, Flacco never once looks to his left on the play, missing out on an easy pitch-and-catch to Wallace over the middle which would have allowed the receiver to do some damage after the catch.
From Wallace's perspective, this has to be beyond frustrating. After being a go-to receiver for the offense in 2016, he has only caught 20 balls this season, largely due to Flacco dismissing his receiver on most plays.
Speaking of dismissing key receivers, let's look at what was far and away Flacco's worst decision from Sunday's game. When this play happened live, it was cringeworthy to watch.
Here, Flacco rolls out and immediately zeroes in on Watson for a short throw, never looking downfield.
If we step back, we will see that, yes, Watson is open. However, both Breshad Perriman and Jeremy Maclin are breaking free downfield. In fact, Perriman is *wide open* and given his speed in the open field, it is not a stretch to say a pass to Perriman (granted, he would have to actually catch the ball, which is never a guarantee) could have resulted in a touchdown.
As Watson hauls in the throw, Perriman and Maclin could not be more open. The defenders are zeroing in on Watson, because they've seen this play countless times on tape while scouting the Ravens – they know where the ball is going. This play may have worked in Weeks 1 and 2, but by now, defenses are more than ready for it.
This is just inexcusable on Flacco's part, particularly because on this play, he never once looked downfield for his receivers. Had he done so, the outcome of Sunday's game could have been quite different.
The irony of writing this article is that it reminds me of an article I wrote on 11/13/2014 (almost exactly three years to the day), in which Flacco's footwork was downright awful in a game against none other than the Titans. If you thought Baltimore's offense felt like Groundhog Day on Sunday, imagine how I felt writing this article.
There is a silver lining for the Ravens offense, which is the fact that receivers ARE getting open downfield. That is half the battle; now it is up to Flacco to deliver. Another red flag at the moment is that Wallace is a free agent after this season, and from his perspective, there is no incentive to return to Baltimore if Flacco is still the quarterback in 2018 (or, perhaps, if John Harbaugh & Marty Mornhinweg are still here).
As for Maclin, he is probably not too content with his decision to commit to Baltimore, as Flacco's poor decisions are killing his ability to succeed. The longer Flacco continues to favor dump-offs to Watson over deeper throws to more talented receivers downfield, the longer Baltimore's offense will fail to take the next step.
Sure, Marty Morninwheg is no stud offensive coordinator, but Flacco's decisions are making the offense look worse than it actually is. He may not be the problem, but he is certainly a big part of it.