When the Ravens were sitting with a 4-5 record in early November, it seemed that this article would be coming early again this year, but the Ravens rallied and provided their fans with meaningful football into late December. Unfortunately, Sunday's shocking last second loss to Cincinnati ruined their playoff hopes and ended the season on a real down note.
After another uneven season for both the offense and defense, it is now time for the Ravens to focus on 2018 and determine which players can be contributors in the future and which players it is time to cut loose.
Having now missed the playoffs in 3 straight seasons and 4 of the last 5, the Ravens face yet another offseason full of questions, and once again with limited Cap space and even more limited Cap flexibility.
So, with that in mind, here's your look at the Ravens' 2018 Free Agency and Salary Cap status:
PLAYERS UNDER CONTRACT
The Ravens presently have the following 55 players under contract for 2018 (with Cap Numbers indicated):
QBs (2): Joe Flacco ($24.75M); Josh Woodrum ($480K)
RBs (5): Danny Woodhead ($3.3M); Buck Allen ($734K); Kenneth Dixon ($636K); John Crockett ($630K); Ricky Ortiz ($480K)
WRs (4): Jeremy Maclin ($7.5M); Breshad Perriman ($2.77M); Chris Moore ($779K); Tim White ($557K)
TE (3): Max Williams ($1.289M); Nick Boyle ($747K); Darren Waller ($734K)
OL (10): Marshal Yanda ($10.125M); Ronnie Stanley ($5.589M); Austin Howard ($5M); Alex Lewis ($753K); Andrew Donnal ($715K); Nico Siragusa ($710K); Stephane Nembot ($634K); Jermaine Eluemunor ($622K); Brandon Kublanow ($557K); Steven Moore ($480K)
DL (7): Brandon Williams ($11.545M); Bronson Kafusi ($939K); Carl Davis ($877K); Chris Wormley ($851K); Willie Henry ($726K); Michael Pierce ($633K); Patrick Ricard ($557K)
LBs (9): CJ Mosley ($8.718M); Terrell Suggs ($6.95M); Kamalei Correa ($1.568M); Albert McClellan ($1.45M); Tyus Bowser ($1.267M); Za'Darius Smith ($826K); Tim Williams ($810K); Matt Judon ($694K); Bam Bradley ($556K)
CBs (7): Jimmy Smith ($15.675M); Brandon Carr ($7M); Marlon Humphrey ($2.693M); Tavon Young ($781K); Maurice Canady ($655K); Jaylen Hill ($555K); Robertson Daniel ($480K)
S (5): Tony Jefferson ($8.991M); Eric Weddle ($8.25M); Lardarius Webb ($2.55M); Anthony Levine ($1.533M); Chuck Clark ($599K)
ST (3): Justin Tucker ($5.046M); Sam Koch ($3.55M); Morgan Cox ($1.14M)
The above 55 players are under contract for a total Rule of 51 Salary Cap commitment (which includes dead money from players no longer on the team) of $170,822,449.
[Link to 2018 Salary Cap Spreadsheet]
Initial projections indicate that the 2018 Salary Cap is expected to see roughly the same increase in the Cap as in recent years, jumping the Cap up to around $178M (up from this year's $167M Cap). These initial projections by the NFL Management Council have historically been on the lower end, so the Cap may well increase to over $178M. For the purposes of this projection, though, we will use the $178M projection and hope that this will provide the lower end of the Ravens Cap prospects.
So, using the figure of $178M for the estimated Cap, the Ravens will initially have around $7.178M in Cap space, accounting for the 55 players presently under contract.
This will be the basis for early reports on the status of the Ravens' Salary Cap, but it's important to keep in mind that this number is based only on the 55 players that are presently under contract and nowhere near representative of the team's Cap with a full roster and with the other factors that will be explained below.
So, between now and March 14th at 4:00 p.m., when the new league year and free agency begins, the Ravens will have a lot of work to do.
PRACTICE SQUAD FREE AGENTS (FAs)
The Ravens have usually re-signed most of their Practice Squad players to "Future" contracts for the following year. Over the last 2 days, the Ravens have signed 5 of their 10 Practice Squad players to 2018 contracts.
The 5 players from the Practice Squad that haven't yet been re-signed are:
WR Kenny Bell
OT Dieugot Joseph
DT Kapron Lewis-Moore
CB Robert Nelson
LB Darnell Sankey
Most of these players will likely be re-signed to one-year contracts of $480K, but some, because they already have a credited season (or two), will received base salaries of $555K or $630K.
2017 SALARY CAP CARRYOVER
Under the terms of the CBA, teams are now allowed to carry over excess Salary Cap space from one year to the next. The Ravens finished the 2017 with $3.28M in available Cap space, so we can expect the Ravens to carry over that $3.28M into 2018. This will increase the Ravens available 2018 Cap space by that amount.
OTHER SALARY CAP ADJUSTMENTS
WORKOUT BONUS ADJUSTMENT: All teams will have an adjustment of $619,200 added to their Cap for team workout bonuses. This number is essentially the total amount of CBA mandated workout bonuses that could be earned by the players in the offseason. This amount is a debit from the Cap. Once training camp begins, this debit will be removed and the actual amount of workout bonuses earned by the players will be added onto the Cap.
INCENTIVE ADJUSTMENTS: The Ravens' 2018 Cap will also see adjustments for incentives earned that didn't count against the 2017 Cap ("Not Likely To Be Earned" incentives) that were actually earned and incentives that did count against the 2017 Cap ("Likely To Be Earned" incentives) but weren't earned.
The Ravens have often liked to use NLTBE incentives as a way of lessening the present year's Cap number, especially in years with tighter Caps.
The incentives contained in player contracts are usually not widely reported, so the amount of these incentive adjustments is usually not disclosed until the beginning of the 2018 league year in March.
That said, we do know some of the adjustments that exist:
First, due to the Ravens missing the playoffs, Safety Eric Weddle did not collect his $1M incentive that would have been earned if he made the Pro-Bowl (which he did) and the Ravens had made the playoffs (which they didn't).
Safety Lardarius Webb also has a complicated scheme of up to $1.4M worth playing time and personal and team performance incentives. Early in the season, Webb looked likely to cash in on a lot of those incentive (2 INTs in 1st 2 games), but as the season went on, his playing time decreased, lessening the impact of some of those incentive. Still, Webb did earn $625K worth of those incentives and those will count as a negative Cap adjustment against the team's 2018 Cap.
Other players with reported incentive – albeit with the parameters of those incentives being unreported – are Safety Anthony Levine, DT Brandon Williams, WR Michael Campanaro, TE Ben Watson and WR Jeremy Maclin.
There are likely other unreported NLTBE incentives that may also impact the team's 2018 Cap.
The Ravens had no LTBE incentives counting against the 2017 Cap, so there will be no offsets in the Ravens' favor.
PROVEN PERFORMANCE ESCALATOR: The 2011 CBA mandated 4-year contracts for all draft picks, which eliminated a player's chance to receive the higher paying RFA tender in their 4th year. To offset this, the new CBA implemented the Proven Performance Escalator (PPE), which allows lower draft picks (3rd through 7th rounds) to receive an upgrade salary that is equivalent to the low RFA tender if the player performed well over the 1st 3 years of his contract. The player's "performance" is measured by playing time, so the escalator is earned if the player either (1) plays in 35% of offensive or defensive snaps in 2 of the player's first 3 seasons or (2) plays in 35% of the cumulative snaps over his first 3 seasons.
The Ravens currently have 5 players drafted in 2015 who are still playing under the terms of their rookie contracts – DE Carl Davis, LB Za'Darius Smith, RB Buck Allen, TE Nick Boyle and TE Darren Waller.
Of those players, only Za'Darius Smith earned the PPE and he will see his base salary jump from $705K to approximately $1.915M. Do keep in mind, though, that the PPE is not guaranteed, so if Smith is released or traded, the PPE has zero effect on the team's Salary Cap.
Buck Allen reached the 35% playing time threshold in 2017, but did not reach 35% overall and fell just a few snaps short of 35% in 2015. Boyle had over 64% of the offensive snaps in 2017, but fell way short in the other two years and fell short overall as well. Neither Davis nor Waller were even close to meeting any of the criteria for the PPE.
EXCLUSIVE RIGHTS FREE AGENTS (ERFAs)
These players must be tendered contracts of the league minimum, based on the player's length of service in the league ($630K, $555K or $480K). Once tendered, these players are fully under the team's control and are not free to negotiate with other teams.
The Ravens have 7 players who are Exclusive Rights Free Agents (ERFAs):
WR Quincy Adeboyejo
RB Alex Collins
CB Stanley Jean-Baptiste
TE Vince Mayle
LB Patrick Onwuasor
G Maurquice Shakir
OL Matt Skura
In past years, because of the minimal cost and minimal impact on the Salary Cap, the Ravens usually tendered all of their ERFAs.
RESTRICTED FREE AGENTS (RFAs)
These are players whose contracts have expired and who have 3 years of accrued service time. The team must tender the player with an RFA offer. Once tendered, another team can sign the player to a RFA offer sheet, but the Ravens then have 7 days to match that offer sheet and retain the player under the terms of that offer sheet. If the Ravens were to choose not to match the offer sheet, they would then receive compensation based on the level of RFA tender made to the player.
There are 3 RFA tenders: 1st Round Tender, 2nd Round Tender and the Low Tender.
The Ravens do not have any players who are pending Restricted Free Agents (RFAs).
PROJECTED ADJUSTED TEAM CAP AND RULE OF 51 SALARY CAP COMMITMENT
Based on all of the above, it is estimated that the Ravens will have an Adjusted Team Salary Cap of $177.456M. The team's Adjusted Cap consists of the projected league-wide Salary Cap of $178M, plus the carryover of the 2017 excess Cap space of $3.275M (estimated), less adjustments for workout bonuses ($619,200) and the incentives adjustment (est. to be $3.2M).
Presently, the Ravens only have 55 players under contract, but assuming they tender all of their ERFAs, they will eventually have 62 players under contract or tendered. They will likely continue to sign additional players to contract for 2018.
During the offseason, though, when roster can balloon to up to 90 players, only the highest 51 Salary Cap numbers (and all 2018 bonus prorations and all dead money from released players) are counted for Salary Cap purposes. This is called the "Rule of 51".
As such, the Ravens' estimated Rule of 51 number – including the above factors and the projected ERFA tenders – would be a Cap commitment of approximately $171.122M.
[Link to "2018 Projected Cap"]
When compared to the team's Adjusted Cap of $177.456M, this would leave the Ravens projected to just under $6.334M under the Salary Cap.
Again, this estimate is a worst case scenario and done before the Ravens make any other roster moves. But, it is a starting point and – much like last year – underscores just how tight their Cap will again be and just how much work they will need to do to create the Cap space necessary to address various holes in their roster (WR!) and otherwise strengthen the overall roster.
UNRESTRICTED FREE AGENTS (UFAs)
The following 12 players are Unrestricted Free Agents (UFAs) and will be free to sign with other teams if they haven't re-signed with the Ravens before Free Agency begins on March 14th at 4:00 p.m.:
CB Brandon Boykin
OL Luke Bowanko
WR Michael Campanaro
TE Crockett Gillmore
OL James Hurst
G/C Ryan Jensen
LB Steven Johnson
QB Ryan Mallett
DT Brent Urban
WR Mike Wallace
TE Benjamin Watson
RB Terrance West
At this time, it is not expected that the Ravens will use the Franchise Tag on any of their free agents. Some have suggested that the Ravens use the Franchise Tag on Center Ryan Jensen, but for tag purposes, all offensive lineman are lumped together, so the franchise tag amount is basically based on Tackle and Guard money and too expensive (estimated to be over $14M) to use on a Center. Plus, quite simply, the Ravens aren't going to have the available Cap space to use the tag on anyone.
2018 DRAFT PICKS
The Ravens are expected to have 8 draft picks in the 2018 draft. They presently have all of their original draft picks in each round and are expected to receive a 3rd round Compensatory pick for the 2017 loss of OT Rick Wagner. The Ravens will have the 16th pick in the 1st round.
Based on their present draft position, the Ravens will likely have a rookie Cap of around $7M. While that number won't factor into their initial Cap calculations, it is something that the team will be very mindful of as they otherwise build their roster.
EXTENSION/RELEASE/RESTRUCTURE
Based on the above, it's pretty clear that the Ravens are going to have to create additional Salary Cap space in order to be able to re-sign players and/or sign other players to the roster. There are two primary ways of creating additional Salary Cap space – (1) signing players to contract extensions to lessen their 2018 Cap number, (2) releasing/trading players and/or (3) restructuring of contracts.
EXTENSION: There is really only one player that falls into this category – LB CJ Mosley. As a former 1st round pick, Mosley is slated to play the 2018 season under the "5th year option", which entitles him to a substantial raise in 2018. Because of the high salary ($8.991M), signing Mosley to an extension would greatly reduce his Cap number and create a sizeable amount of Cap space ($4-6M). This is how the Ravens handled CB Jimmy Smith and his 5th year option in 2015 and it would seem likely that they would pursue the same course with Mosley.
And, of course, an extension would pretty much secure Mosley's future as a Ravens.
That said, it takes two sides to agree to a contract and because of their Cap woes and the real need to get something done, the Ravens have likely thrown a huge chunk of leverage into Mosley's lap.
Stay tuned…
RELEASE/TRADE
The below chart lays out the Salary Cap implications of the release or trade (both are treated the same for Cap purposes) of some Ravens players:

As the above chart shows there are different implications to releasing a player prior to June 1 and releasing the player after June 1. Releasing the player before June 1 allows the player to be fully cleared off the books immediately, by taking the enter hit of dead money (the acceleration of bonus money from signing bonuses) in the present year. This generally makes for a smaller amount of Cap savings, but also keeps the release from having any Cap implications in the following season. Releasing a player after June 1 (or using a June 1 designation on a release prior to June 1), allows for a more sizeable Cap savings, but pushing dead money onto the following year's Cap. More importantly, though, any Cap savings realized from a post-June 1 release (or a June 1 designation release) is not available until after June 1, so there's no benefit to such a release in March, at the time when the money is generally needed to sign or re-sign players to build your roster.
The Ravens have historically shied away from releasing players post-June 1. In the past, they have at most used just one post-June 1 release, but it can be a useful tool when a team has a tight Salary Cap.
FLACCO: Let's get this one out of the way immediately, the Ravens are not going to – and basically, can't – release or trade Flacco. There are $28.75M reasons why – that being the amount of dead money the team would take on by doing so. A post-June 1 release just pushes more pain into 2019, so that's not really an option either (other than being the nuclear option). Plus, Flacco played much better in the 2nd half of the season, as it appeared that he had finally put his preseason back injury behind him.
MACLIN: This one is easy – short of a pay cut, "he gone". The Ravens will create $5M in desperately needed Cap space by releasing Maclin.
WEBB: While still a valuable veteran to have around, this is probably the end of Webb's Ravens career. While, the Cap savings ($1.75M) really isn't terribly significant, the emergence of Maurice Canady and the expected return of Tavon Young (and Jaylen Hill, at some point), likely puts Webb's spot on the team in great jeopardy. Plus, as shown above, the more Webb plays, the more chance he has to earn incentives, which basically lessen his value to the team (at least, from a Cap perspective).
McCLELLAN: This will be an interesting one. McClellan spent all of 2017 on Injured Reserve and, while there again isn't a great amount of Cap savings ($1.25M) involved, the Ravens are going to need ever bit of space they can muster. In addition, the special teams played very well in McClellan's absence, further imperiling McClellan's roster spot. It also wouldn't be a great surprise to see the Ravens draft an ILB in the draft, which would likely spell the end for McClellan.
PERRIMAN: This one will be really interesting, but while it seems that most fans would like to see him released, the state of the returning Ravens WR corps may likely keep him around. At this point, with Wallace and Campanaro set to be free agents and Maclin likely to be cut, Perriman and Chris Moore are the only returning WRs who saw any semblance of playing time this season. Because of that, the bet here is that Perriman returns, at least initially. That said, once (or if) a veteran WR is brought it (or Wallace is re-signed), Perriman's tenuous hold on a preseason roster spot could become greatly in jeopardy.
However, if they've simply had enough of him and are ready to cut the cord, his release would create $1.622M in Cap savings.
WOODHEAD: The 2017 season certainly did not turn out as planned for the Ravens and Danny Woodhead. His injury in the 1st quarter of the 1st game basically shelved him for 2/3rd of the season and when he returned, he simply didn't add much value. Part of that may have been that he simply wasn't 100% healthy and part was likely due to the emergence of Alex Collins and Buck Allen as the primary RB duo. Whatever the reason, for a team in need of Cap space, the release of Woodhead is likely going to be a consideration. His release would create $1.8M in prior to June 1 or $2.25M if post-June 1.
CARR: At the beginning of the season when Carr was playing well, this wouldn't even have been a consideration. Then, Carr's play declined, Humphrey and Maurice Canady emerged, and the possibility of release didn't seem so remote. Then, Jimmy Smith got injured and now who knows?!? Much of this decision will likely revolve around the timing of returns for injury of Smith, Tavon Young and Jaylen Hill.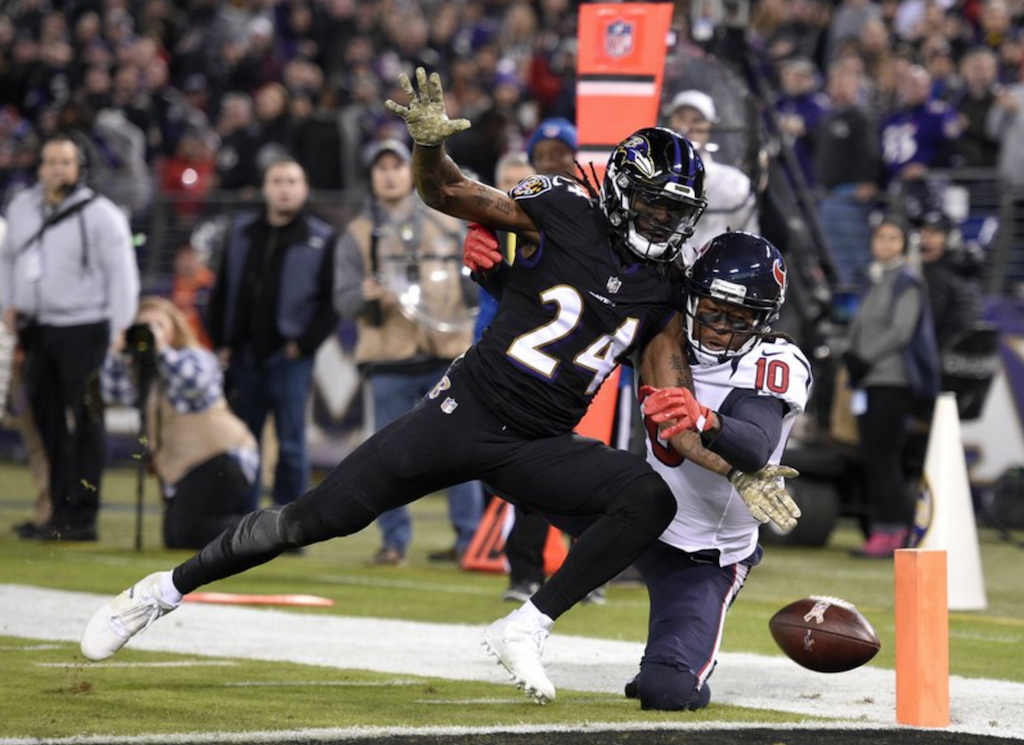 Releasing Carr would save $4M (or $6M of post-June 1), but given the serious injuries to Smith and Hill (and with Young returning from injury), Carr's spot on the roster is probably secure.
HOWARD: Austin Howard's season was kind of the polar opposite of Carr's. Howard seemed to start slow and looked like an early candidate to be a Cap casualty in September, but he settled down well and played pretty well down the stretch. Much of the decision regarding Howard will likely depend on the Ravens' plans for G/T Alex Lewis. If the Ravens still view Lewis as a RT, then Howard will be expendable, although, the team should be mindful that Lewis' has been injured more than available over the last two seasons. If Lewis is slated to be the LG, then Howard likely stays, so long as the Ravens don't make RT a draft priority.
WEDDLE: This one seems highly unlikely, as Weddle has become a team leader and a fan favorite in just 2 seasons in Baltimore. That said, there always seems to be a surprise cut, and if there's one on the list, it's Weddle, mainly because of the sizeable amount of Cap space involved. If Weddle is released prior to June 1, the savings is $4.75M; if released post-June 1, it would be $6.5M.
SUGGS: Suggs has said he plans to play for a few more seasons and coming off of an 11-sack season, there's no reason to think he can't. Given his status as a franchise great, it would be a surprise to see the Ravens move on from Suggs, but if they did, they would create $4M in Cap space.
RESTRUCTURE: For most of the decade from 2003 to 2013, the Ravens eschewed restructuring contracts to create Cap space. Owner Steven Bisciotti made it clear that the franchise did not want to go down that road again. However, since the rollback of the Salary Cap in 2011, the Ravens have struggled to have adequate Cap space and have felt the need to restructure deals to create Cap space. In 2015, the Ravens first reversed course and restructured the contract of Terrell Suggs. In 2016, it was the contracts of Marshal Yanda and Jimmy Smith. Last season, they went even further and restructured 4 contracts (Williams, Smith again, Jefferson & Tucker) to create much needed flexibility.
Now, because restructures eat into your future Cap space, the Ravens are really starting to feel the effect of the restructures.
One of the main drawbacks of constantly restructuring contracts is that it's often a vicious cycle that causes the team to continue and continue to restructure deals and, depending on what other moves the team does, or does not, make, the team may again be forced to restructure deals to create additional needed Cap space.
The problem the Ravens face, though, is that there really are no ideal candidates to and having restructured so many over the last couple of years, the number of candidates is much more limited. This is where their Cap flexibility has now really been compromised.
For better or worse, the most likely candidates to restructure are Joe Flacco, Eric Weddle and Sam Koch.
OUTLOOK
The Ravens may not be in "Cap Hell", but they are most certainly in "Cap Purgatory" and they are probably in their worst Cap condition since 2002.
The Salary Cap is a puzzle, and the Ravens' Front Office will likely use a combination of the above maneuvers to create the Cap space necessary to address the team's pressing roster issues, but it won't be easy.
As always, there's never a dull moment and the months of February, March and April will once again be an interesting time for the Ravens.