Print this article
NO STATE OF THE RAVENS PRESSER?
During the past few years, the Ravens have held the State of the Ravens presser shortly after the end of their season, with 2015 being the exception. Here are those dates:
• 2016 Season: 1/10/17
• 2015 Season: 1/6/16
• 2014 Season: 2/24/15
• 2013 Season: 1/8/14
If you recall, 2014 was the last time the Ravens made it to the playoffs, eventually dropping out of the tourney following a Divisional Round loss to the Patriots. That, the East-West Shrine Game, the Senior Bowl and the Super Bowl were the likely culprits in the extended delay of the SOTR presser in 2015.
This year's presser has obviously been delayed and now if it happens, it's unlikely to take place until after the Super Bowl…or not. Don't be shocked if there isn't a presser hosted by owner Steve Bisciotti.
AND WITH THE 16TH OVERALL PICK…
There's been some discussion as to whether or not the Ravens will use one of their 2018 draft picks on a quarterback.
Albeit unlikely, 2019 is really the first season that the team could part ways with Joe Flacco if they wanted to. Therefore, it stands to reason that the Ravens should start grooming a successor to Flacco's crown.
But don't be shocked if the Ravens kick reason to the curb. John Harbaugh has to win in 2018 and therefore, he needs as many playmakers as possible on the field. A clipboard carrying rookie quarterback who will only see the field in the event of injury, won't help Harbaugh's somewhat desperate cause.
That said, on a related note, Ravens CB Marlon Humphrey recently sent out an interesting tweet asking, "Who does #RavensFlock like at pick 16?"
He too, was then asked for his preference. His answer was interesting.
Honestly I like Mayfield cause he has that dog in him you don't see out of quarterbacks. But he wouldn't come in and start so Ridley or Kirk whoever is there.

— Fruit PUNCH (@marlon_humphrey) January 11, 2018
Draw your own conclusions.
ON THE WEBB
Following the controversial player protests in London, the Ravens hosted the Steelers on October 1. The team decided that they would kneel together in prayer just prior to the National Anthem. An unprepared crowd, still agitated by the protest a week earlier, wasn't initially clear on the message or the players' intent and they treated the team to a cascade of boos.
Lardarius Webb later posted the following on Twitter which has since been deleted:
Bad Spiderman was also agitated by recent criticisms of the now infamous Marcus Williams whose mistake prevented the Saints from advancing to the NFC Championship Game. Here's what Webb had to say on Twitter and Instagram: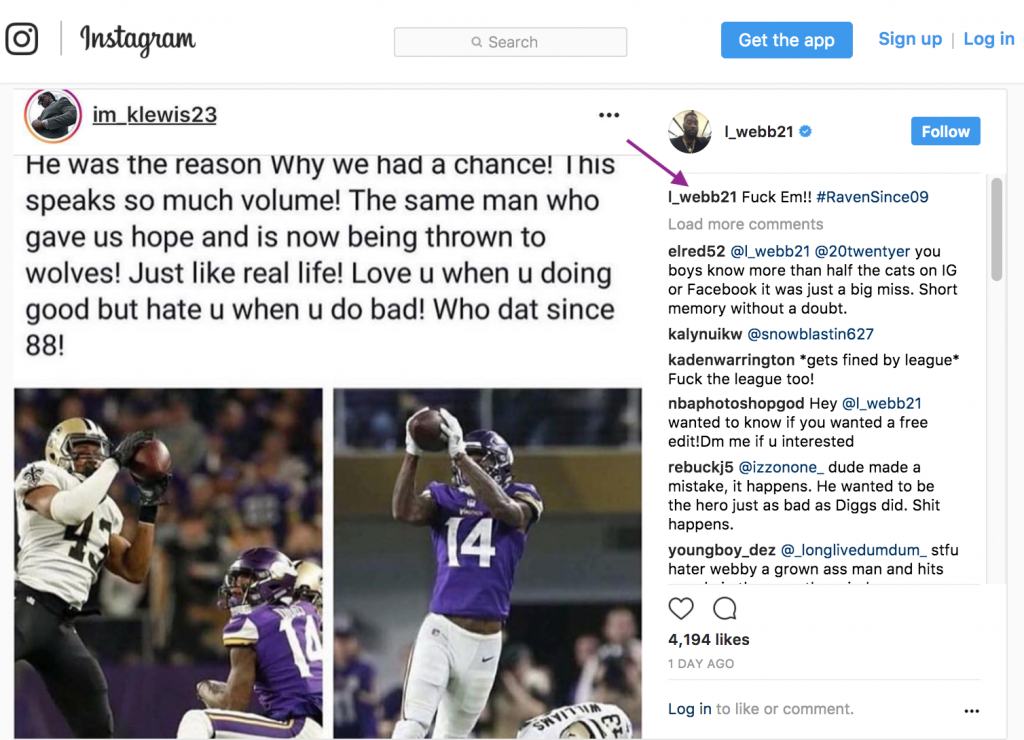 Webb was an afterthought late in the 2017 season and with the return of Tavon Young in 2018, we've likely seen the last of former Nicholls State University DB in a Ravens uniform. His departure will trigger a cap saving of $1.75M. He's been a good teammate and for a few years a very good Raven, albeit a bit chippy one, nowadays.
PROPER ATTRIBUTION
---
"To steal ideas from one person is plagiarism; to steal from many is research." ~ Comedian Steven Wright
---
It's a generally accepted common courtesy to give proper attribution to journalists when using or referencing another's work. While there are some who choose not to (you know who you are), the overwhelming majority do. The "P" word in journalism is the kiss of death.
Perhaps the same rules do NOT apply to social media.
Back on January 1st our Senior Editor Derek Arnold tweeted the following when word began to spread that Chuck Pagano might rejoin John Harbaugh's staff.
In Chuck Pagano's lone year as Ravens DC, they finished:

3rd overall
4th vs pass
2nd vs run
T-2nd sacks
3rd ppg

This year, Pees' "best" year:

12 overall
10 vs pass
15 vs run
11 in sacks
6 in ppg

— Derek Arnold (@BMoreBirdsNest) January 1, 2018
On January 3, @PurpleReignShow tweeted out the following: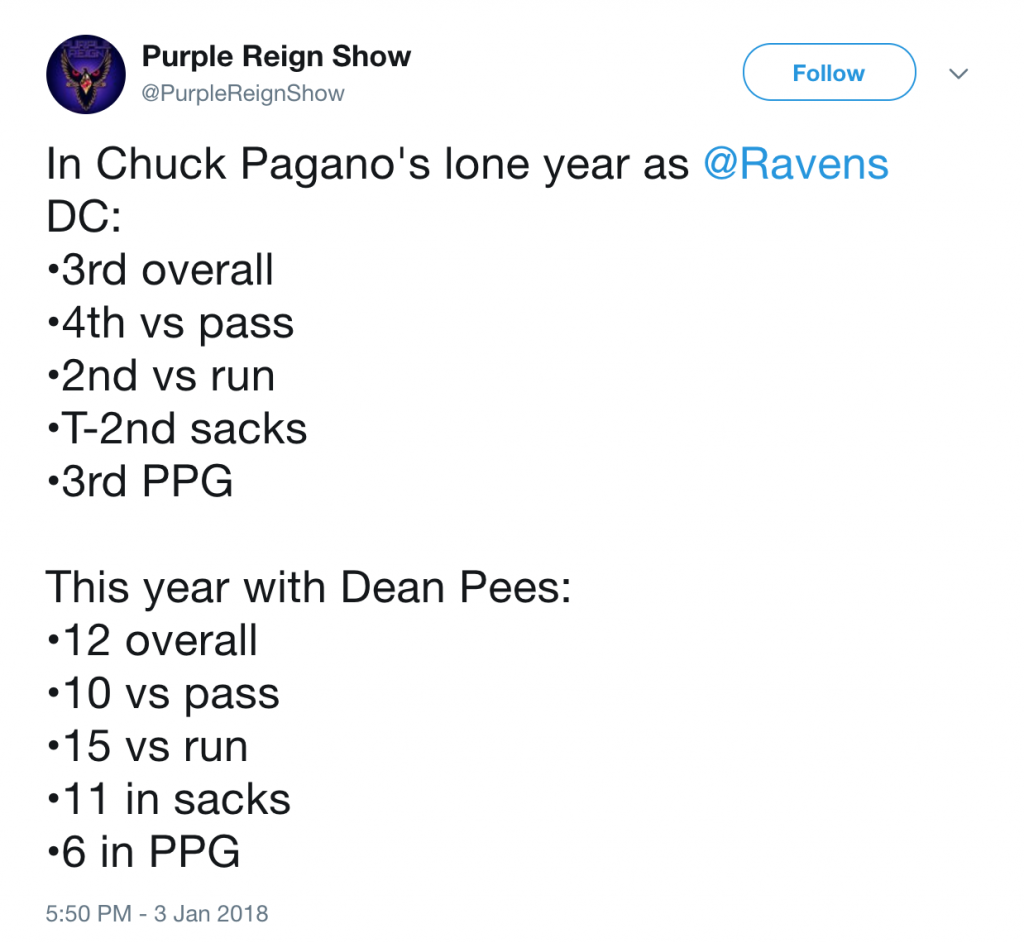 No attribution.
This tweet has since been removed.
Once again, draw your own conclusions.
DILLY, DILLY
And lastly, I jested (sort of) that John Harbaugh's last press conference, given the highly redundant messages, was like a scene out of Groundhog Day.
[Related Article: Groundhog Day]
I later quipped on Twitter, "Good luck selling Marty Mornhinweg to PSL owners on the fence."
Michael Armstrong's reply was classic!
We seem to enjoy the Pit of Misery. Dilly Dilly!

— Michael Armstrong (@WoodlawnMike) January 4, 2018
Anyone out there open to taking on the creative challenge of writing and casting the Ravens version of "The Pit of Misery"?