Ravens Fans Won't Like These Picks at 16
Print this article
In five weeks, the Ravens have a decision to make as to what they should do with the 16th pick in the draft. The consensus around town and in the mock draftverse is that they should select a wide receiver, presumably Calvin Ridley (I would prefer D.J. Moore). This would continue the revamping of the offense which would then fall in line with what the front office has been saying all offseason.
Since the season ended, the talk has been offense, offense, offense – and rightfully so. But let's take a step back for a second and look at the draft in a different way. One that may not be popular among Ravens fans, but is realistic.
Say Ozzie and company don't value Ridley or Moore at 16th. With the recent signings of Michael Crabtree and John Brown, Oz feels they can use that pick on another area of need and get better value and then get a similiar receiver in the second or third round. Michael Gallup, Anthony Miller?
And let's say after the impressive job Greg Roman and Joe D'Alessandris did with the offensive line last year, the front office has faith in them to develop a later-round lineman or work with what they have to replace Ryan Jensen.
Just to cover all the bases here, there is no tight end worthy of the 16th pick.
[Related: Later-Round Wideouts to Keep an Eye On]
If the Ravens decide to stay at 16 (I am a strong advocate of trading down) there is a good chance they could go the defensive route (cue a collective groan from all reading). That is not necessarily a bad thing. Even though the Ravens invested a ton on defense last season, there are still holes on that unit. New DC Wink Martindale has vowed to be more aggressive and if the Ravens get one of these guys, it could take the defense to a whole new level.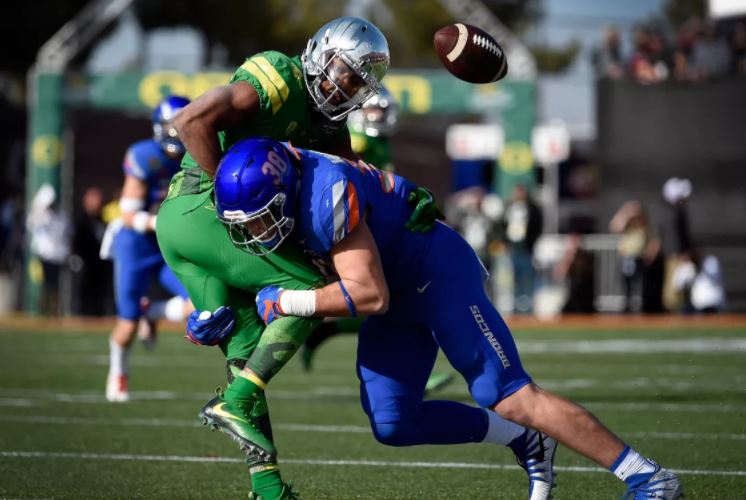 Leighton Vander Esch, ILB (WILL), Boise State: This pick will likely excite nobody, and many will hate it. But hear me on out on this one. The Ravens have no one to play next to C.J. Mosley, and with this pick they get the new prototypical linebacker. Vander Esch was the Mountain West Defensive Player of the year and is a sideline-to-sideline, three-down, coverage linebacker who will complement Mosley perfectly. He had 10 games of seven plus tackles last year and has above average coverage skills.
LVE also finished top five in the vertical and broad jump at the combine as well as the three cone, 20- and 60-yard shuffles. Asking why you should care about that? For LB that is huge, and shows he can adjust well to the play and has the ability to change direction quickly to get to the ball carrier. With an impressive athletic background in which he was a state high school champ in football and basketball, his athleticism and high football I.Q. will allow him to start day one. And yes, he was a one-year starter and before we get to the whole Kamalei Correa comparison, LVE had more tackles in one year then Correa had in his whole career at Boise St.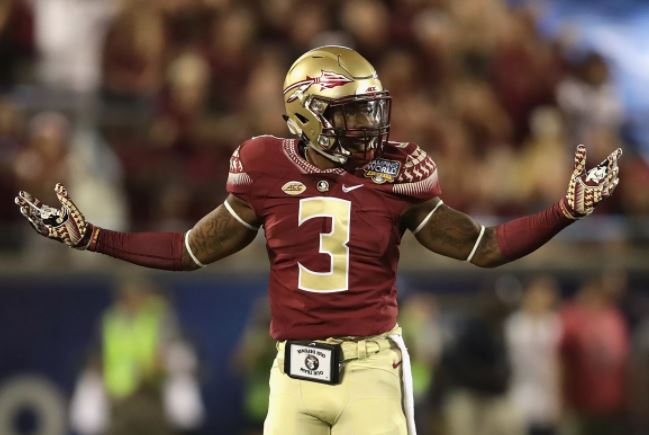 Derwin James, S, FSU: Of all the players on this list, James may be the only one not there at 16, but if he is, the Ravens should run to turn the card in. Yes, the Ravens currently have Eric Weddle and Tony Jefferson, but with James, think Kam Chancellor. James is a freakish athlete, who can play up against the run, cover a tight end or slot receiver, and be sent on a blitz. He is not the rangy centerfielder the Ravens need, but James can be a dominant safety for years in the NFL.
Martindale says he will be aggressive and James is the kind of safety the Ravens need to play that style again. Imagine for a second, James and Jefferson on the field with Suggs, Judon, Mosley, and Weddle. Who's blitzing, who's dropping into coverage? That is a scary thought for opposing QBs.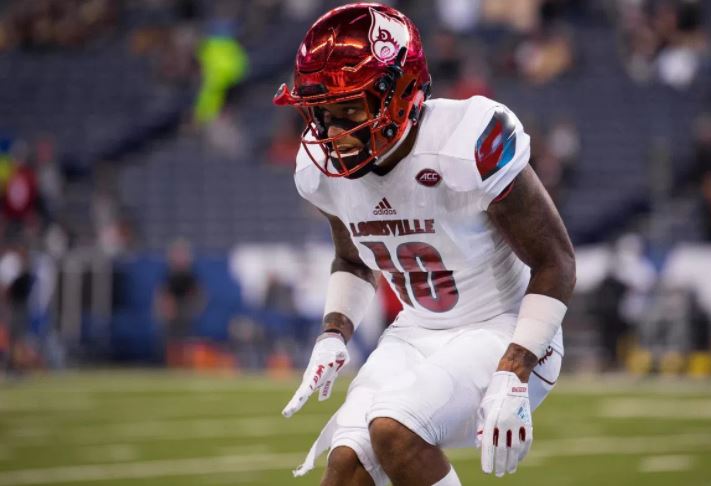 Jaire Alexander, CB, Louisville: His name is here with the assumption that both Denzel Ward and Josh Jackson are gone. This pick may be more luxury than anything else, but given Jimmy Smith's injury history, how much can he really be trusted for the future? This pick allows the Ravens to team Marlon Humphrey up with another young, aggressive corner for the future. The drafting of Alexander would provide an upgrade over Brandon Carr if there is an injury to a starter and would also let the team move on from Carr after the 2018 season. Alexander can play not only on the outside, but he can move into the slot due to his athleticism.
Though he missed time last year due to injury, in the 305 snaps he played, Alexander allowed just five receptions for 19 yards. Teaming him up with Humphrey could lead the Ravens to having their own version of a "No Fly Zone."
Marcus Davenport, DE/OLB, UTSA: Terrell Suggs will be 36 this season, Za'Darius Smith is in the last year of his contract, Tyus Bowser and Tim Williams did nothing last year to get fans excited. So with the 16th pick, the Ravens take a raw but elite talent in Davenport. The 6'7" edge rusher could be mainly a one trick pony this year as a third-down blitzer, but his upside maybe too high to pass up.
Davenport has the speed to blow past tackles, as evidenced by his 21 sacks, 21 QB hits, and 78 hurries the past three years. For 2018 Davenport could mainly line up over RT as opposed to LT while he refines his moves instead of relying solely on just natural talent. I cannot say enough how raw he is, but he is coachable and has improved every year in college. Davenport is capable of setting the edge in the run game as well. Teaming Davenport up with Matt Judon is yet another way of looking ahead to the future.
You can never have too many quality pass rushers in this day and age of the pass first NFL.
*All stats provided by the Pro Football Focus 2018 Draft Guide*