Final Ravens 2018 Mock Draft Tracker
Print this article
With one week to go until the 2018 NFL Draft, we follow up from last month's Mock Draft Tracker to see which prospects are being linked to the Baltimore Ravens in the first round.
If the Ravens stay put and pick at 16 (which is never a guarantee with Baltimore's trading tendencies) some of the most realistic positions in play are right tackle, wide receiver, pass rusher and the ever-present best player available.
Let's take a look at which prospects are being linked to Baltimore in the first round as the draft approaches.
NFL Network's Daniel Jeremiah and CBS Sports' Pete Prisco: Hayden Hurst, TE, South Carolina
Jeremiah's analysis:
I think the Ravens would be looking to trade back in this scenario. Hurst is a good fit for this offense, but they can probably land him 5-7 spots lower in Round 1.
Prisco's analysis:
They need to get a weapon inside for Joe Flacco. Hurst is the best tight end in this class.
RSR analysis: Yeah, no thanks. Hurst will be a 25-year-old rookie (for comparison, Maxx Williams just turned 24) and is not even the best tight end prospect in this draft class. Even if the Ravens trade back and pick up Hurst as Jeremiah suggests, that is still not an ideal scenario. Hurst is a solid prospect, but should not be an option in the first round.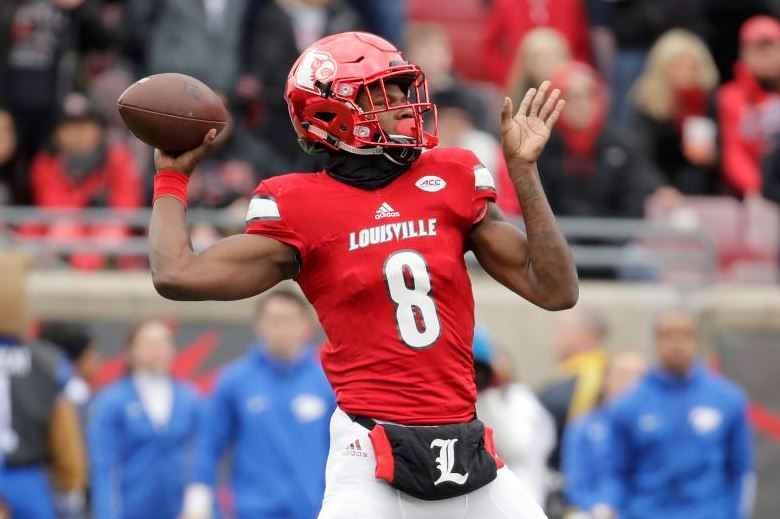 NFL Network's Bucky Brooks: Lamar Jackson, QB, Louisville
Brooks' analysis:
With Joe Flacco viewed as a potential salary cap casualty in 2019, the Ravens can secure their future QB by grabbing Jackson if he is available at No. 16. Remember, Ravens offensive coordinator Marty Mornhinweg and assistant head coach Greg Roman have experience nurturing athletic quarterbacks into dynamic playmakers (see Michael Vick, Donovan McNabb, Colin Kaepernick), so the Ravens could be the perfect fit for the 2016 Heisman winner.
RSR analysis: Jackson is the most polarizing prospect in this class and is a fun one to watch, but the odds of this actually happening seem pretty slim.
SB Nation's Dan Kadar and NFL Network's Charley Casserly: Mike McGlinchey, OT, Notre Dame
Kadar's analysis:
There is a ton of depth at wide receiver this year, and that could lead the Ravens to look in a different direction in the first round. If so, McGlinchey would be a smart choice. He would give the Ravens a pair of bookends on the line. In the second round, players like Michael Gallup of Colorado State or Anthony Miller of Memphis would be smart choices.
Casserly's analysis:
The Ravens decide to address their offensive line and get a bookend for LT Ronnie Stanley.
RSR analysis: The draft's best offensive tackle prospect, McGlinchey should be a major priority for Baltimore heading into draft day. If the Ravens could manage to stay put at 16 and still land McGlinchey, it would be a huge win for the Baltimore front office.