7-Round Ravens Mock: Final Edition
Print this article
Thursday night is almost here, which means we'll finally be able to stop speculating about the Baltimore Ravens draft picks and actually see the real picks pan out. 
But until then, we speculate!
Fellow RSR writer John Darcey and I teamed up for our final seven-round Ravens mock of the draft season. Before diving into our latest mock, check out our last mock to compare and contrast. 
Round 1, Pick 16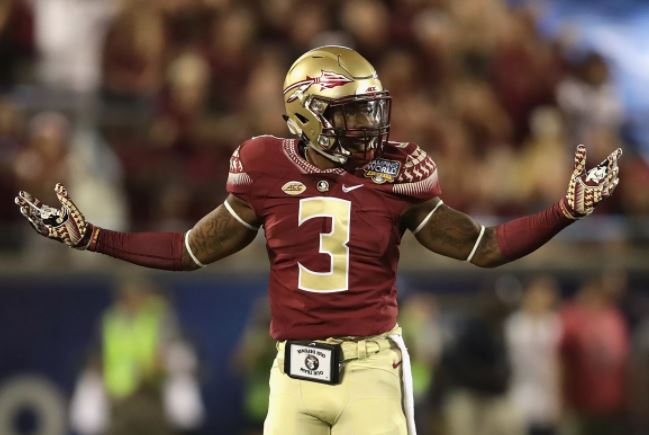 Kyle Casey (KC): Derwin James, S, Florida State – The diversity of James would give new defensive coordinator Don Martindale a young, athletic chess piece to work with. James flashes ability at safety, corner and weakside linebacker, and would fit in well as an aggressor on defense.
John Darcey (JD): Mike McGlinchey, OT, Notre Dame – Not a sexy pick at all, but if the Ravens stay at 16, they get a guy with the potential to be a 10-year starter in the league. Trading down is an option to keep an eye on.
Round 2, Pick 52
KC: Brian O'Neill, OT, Pittsburgh – If the Ravens do not go for a player such as McGlinchey in round one, O'Neill is a capable day-two consolation prize. O'Neill is a raw prospect, but his athletic ability offers intriguing upside.
JD: Anthony Miller, WR, Memphis – I don't care if he played in Conference USA or not. Opponents knew he was the only player they needed to stop on Memphis and Miller still had six games of 140+ receiving yards. He is a playmaker and that is what the Ravens need, accounting for 2,891 yards and 32 touchdowns over the last two years.
Round 3, Pick 83
KC: DaeSean Hamilton, WR, Penn State – The Ravens just added Willie Snead, but it is only a two-year deal and the Ravens can afford to add some more long-term stability in the slot. Hamilton offers some of the cleanest routes in this draft class and is a smooth mover in the open field.
JD: Mark Andrews, TE, Oklahoma – I'd rather have Dallas Goedert or Mike Gesicki, but I don't see the Ravens taking either at 16 nor will they be around at 52. Andrews is the pick here. He is the athletic red zone threat they need.
Round 4, Pick 118
KC: Ian Thomas, TE, Indiana – An injury history and underwhelming production in college move Thomas to the third day of the draft, but his diverse skill set (offers promise as both a blocker and pass catcher) fits just what Baltimore's offense needs.
JD: Justin Watson, WR, Penn – Continuing to revamp the receiver room, the Ravens select one of the most overlooked prospects in the draft. Watson can contribute this year, but with all the new additions, he will not be forced into immediate action, allowing him to ease is way into the rotation while helping on special teams.
Round 5, Pick 154
KC: Andrew Brown, DL, Virginia – An active, disruptive interior rusher, Brown has the ability to be an Arthur Jones-type player in Baltimore's defense, and would offer continued youthful depth up front.
JD: Mason Cole, C, Michigan – The center position has not been talked about much this offseason but needs to be addressed in the draft. Harbs gets some insider information from his brother to ensure him Cole is the right pick here.
Round 6, Pick 190
KC: Chase Litton, QB, Marshall – Of the expected day-three quarterback picks, Litton is one of the more intriguing options at 6'6, 230 pounds. He was a surprise early entry to the draft after his junior season at Marshall, but Litton has three years of starting experience to his name.
JD: Dorian O'Daniel, ILB, Clemson – Though a bit small at 6'1" and 220 pounds, O'Daniel played in a pro style defense at Clemson so he should adjust well. He may just be an average linebacker but he is exactly what the Ravens need next to C.J. Mosley: a linebacker who can make plays but more importantly, excels in coverage.
Round 6, Pick 215 (Compensatory Pick)
KC: Justin Jackson, RB, Northwestern – I mocked Jackson to Baltimore in our last mock draft, and I continue to believe he is a strong option as a late-round pick to build out depth at running back. Jackson has a clean running style and is talented enough to offer a breather to Alex Collins, Buck Allen and Kenneth Dixon when necessary.
JD: Nick Keizer, TE, Grand Valley St – This could be Miami's Chris Herndon as well. This position needs to be re-built as well with Nick Boyle and Maxx Williams both in the last year of their contracts. Keizer is from the same school as current Raven Matt Judon (that has worked out well!). I think they take two tight ends with the latter being more of a project player coming off injury.
Round 7, Pick 238
KC: Shaun Dion Hamilton, ILB, Alabama – Hamilton very well may get drafted earlier than the seventh round, but if the Ravens could scoop him up this late, he would be a steal as a talented depth option at inside linebacker.
JD: Armari Coleman, CB, Central Michigan – Coleman can play special teams this year, either on coverage team or as a punt returner, which he did in college. He also provides depth at cornerback, where he made the All-MAC first team as a senior.