Championship Weekend Picks
Print this article
Last Week: 1-3
Overall: 116-129-11 – 47.3%
Divisional Whiffs
— I was one of the many who thought the Chargers would roll into Foxborough and win another road game this season. We were oh so wrong. The Chargers defense that looked so dominant against Baltimore was exposed by her majesty.
— The public as a whole. If you're a contrarian bettor, you made out pretty well last weekend. Following the public money would have gotten you to a whopping 0-4 on Divisional weekend. Luckily for me, I tend to be more contrarian than anything else so even though I went 1-3 here, once I saw where the public money was going on Saturday morning, I personally ended up 3-1 with my only loss being the Chargers.
If it hadn't been for the Philly/New Orleans game, the Divisional weekend would have been full of stinkers. That being said, the way the games fell sets up two much anticipated rematches from the regular season that saw a total of 80 points in the Saints/Rams game and 83 in the Patriots/Chiefs game. The weather may water down the points in Kansas City a little, but we should all still expect fireworks in both games.
Side note: If New England and Los Angeles win on Sunday, there's a 100% chance ol' Rog is walking around pantsless at the NFL office for the next two weeks.
Here are the ATS rankings of the final four teams left in the playoffs: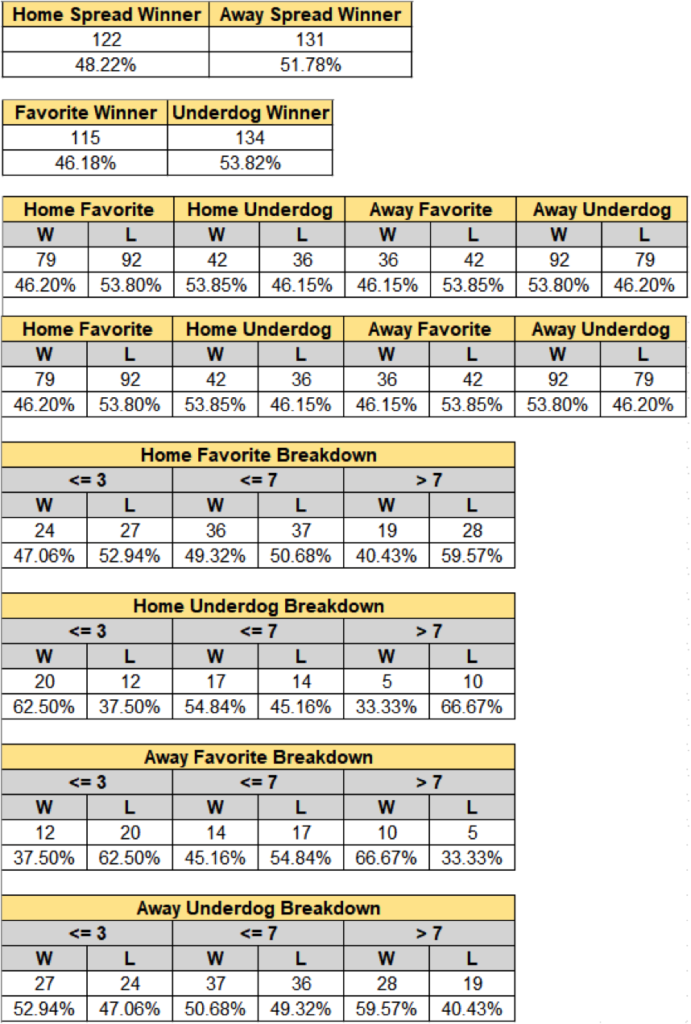 Disclaimer: Please do not take these picks and expect to make any real money. I enjoy picking games and the discussions they create so feel free to play along. I will provide information for each game, but please make your own decisions and BE RESPONSIBLE!
Here are my Conference Championship picks…
Sunday – 1/20/19
Los Angeles Rams vs. New Orleans Saints (-3.5, o/u 56.5)
When picking games, you have to try and look at the entire story and not get stuck looking at just the last game. It's tough because last week is fresh. The Rams dismantled the Cowboys in the Divisional round whereas the Saints barely squeaked by the Eagles. L.A. looked like the better team and one that could win a Super Bowl.
This is a new week, however, and the Rams will have to travel into the Superdome where Sean Payton is undefeated in the playoffs. As tough as I think the extra half point makes this game, I'm leaning toward the Saints because of their defense which has really stepped up since their early struggles. Since Week 7, the Saints have allowed only 18.5 points per game. The Rams will go over that number, but not enough to keep up with Drew Brees and Michael Thomas this week. Saints 34-23.
These teams have faced off seven times since 2009. The home teams are 7-0 ATS in those matchups.
The Rams are 0-3 straight up and ATS in their last three games in New Orleans losing by an average of 18.67 points per game
New Orleans is 1-5 ATS in their last six games
Los Angeles is 4-2 ATS in their last six games
The Over is 4-0 in the last four NFC Championship games
My Pick: New Orleans -3.5
New England Patriots vs. Kansas City Chiefs (-3.0, o/u 55.5)                 
Dear Kermit Patrick,
(Most of) America here. We like you. We like your coach. You guys deserve this. There's one thing standing in your way and that's the NFL's version of the evil empire. PLEASE stop them here this week so we don't have to listen to them and their fans for two weeks. We've had enough.
Sincerely,
(Most of) America
I felt like in her majesty's post game interview that he was staring right at me when he said "people think we suck." I won't go that far, but I'm definitely in the "they're not as good as they used to be" camp. Luckily for Tommy, he has a running game this year with rookie Sony Michel, who averaged 4.5 yards per carry this season. That has taken some of the burden off his shoulders to completely carry the Pats.
The Pats have been two-faced this season, going 3-5 straight up and ATS on the road this season with a -2.4 average point differential and have averaged 12.2 fewer points on the road than at home. They won't be fazed by the weather, but their struggles on the road have been too great to ignore. Per Oddsshark:
An aspect of the Chiefs that is overlooked is their defense. They had the 3rd ranked defense at home this season, only giving up 17.4 points per game which was true to form last week against a surging Colts team as they held them to 263 total yards and 0-9 on third downs. This week, their offense will put up plenty of points against the Patriots and her majesty won't be able to muster up any of that playoff magic. Chiefs 31-20.
New England is 7-1 straight up and ATS in their last eight games as an underdog
They are also 17-8 in their last 25 games on the road
Kansas City is 2-5-1 ATS in their last eight games
The Chiefs are 2-4 ATS in their last six games at home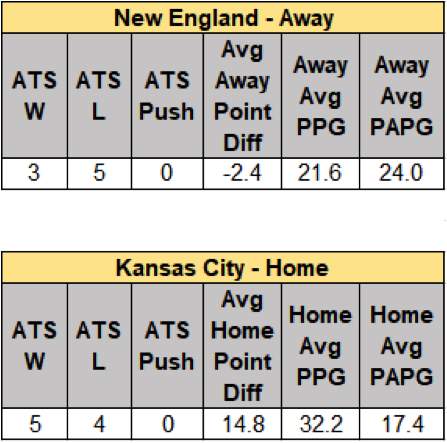 My Pick: Kansas City -3.0
So my favorite two weekends of the football season were uncharacteristically boring. I'm hoping that just means that the football gods were just saving up all the excitement for these two this week and then the Super Bowl.
Good luck this week!