Terrell Lewis, EDGE, Alabama
Print this article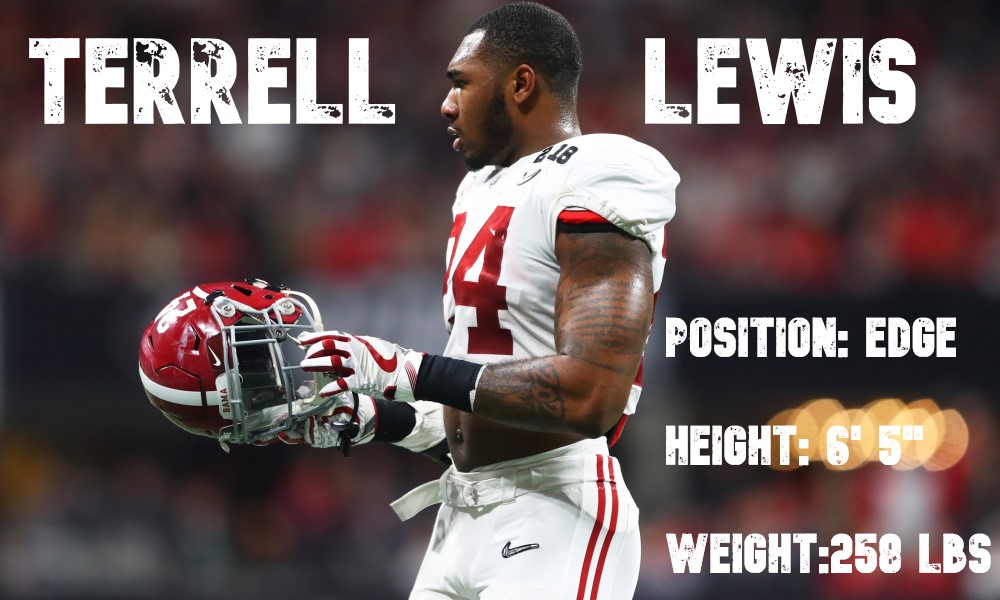 Name: Terrell Lewis
Position: EDGE
School: Alabama
Year: RS Junior
2019 stats: 31 tackles, 11.5 TFL, 6 sacks
Career stats: 58 tackles, 14.5 TFL, 8 sacks
Terrell Lewis is a 6'5", 255-lb EDGE who appeared in only 26 games over four seasons with the Crimson Tide. Lewis missed almost all of 2017 with a torn ligament in his elbow and all of 2018 with a torn ACL. Lewis is best suited to be a standup 3-4 OLB in the NFL.
Strengths
Lewis is a long pass rusher who lined up mostly as the end man on the line of scrimmage for Alabama. He showed the ability to slide inside and he can operate from either a two-point or a three-point stance. As a pass rusher, Lewis has an explosive first step. He primarily uses a speed rush, but his length allows him to be effective with a long arm. Lewis also has a nice hesitation move and has a violent spin move that could become dangerous with some fine-tuning. He has a real knack for getting his long arms up and disrupting throwing lanes. Lewis has the demonstrated ability and athleticism to play in space and be effective dropping into zone coverage when needed.
Best Trait: Explosiveness
[See All Our Scouting Reports at Ravens Draft Central]
Weaknesses
Despite four seasons at Alabama, Lewis is still a very raw prospect. Against the run, there are times when Lewis really struggles to diagnose the play. He also tends to have trouble disengaging from offensive linemen. A player with his length would be expected to have more success setting the edge. Lewis could improve against the run by adding some weight to his long frame. As a pass rusher, Lewis tends to have hot and cold streaks. There are games in which Lewis disappeared and games in which he made a handful of spectacular plays in a row. Lewis' motor is a serious concern. He regularly showed subpar effort and can often be found on film playing at half speed. Lewis' durability is a problem. Unfavorable medicals at the NFL Combine could do major damage to his draft stock.
Worst Trait: Durability
Ravens fit
Lewis would play OLB for the Ravens. He would need time in the Ravens' strength and conditioning program to add weight. Until he proved that he's capable of holding his own against the run, Lewis would likely play exclusively as a pass rush specialist for the Ravens. Given his experience in a similar role at Alabama, Lewis could earn some snaps sliding inside to rush the passer on obvious passing downs. Lewis, with his athletic profile, would be expected to contribute on special teams.
Player Comparison:
Danielle Hunter, EDGE, LSU (MIN, 2015 – Active)
Like Lewis, Hunter was a long and explosive pass rusher who was an incredibly raw prospect. At LSU, Hunter won largely with athleticism and mostly struggled against the run. Lewis would be thrilled to follow a path like the one that Hunter has taken to this point in his young career. Hunter turned his serious potential into serious production and signed a five-year, $72 million extension with the Vikings prior to his fourth season in the NFL.
Draft Grade
2nd Round
If Lewis performs well at the NFL Combine and is given a relatively clean bill of health, he could be a late 1st round pick. If he has an average combine and teams leave Indianapolis with serious concerns about his injuries, his draft stock will take a serious hit. Injury concerns notwithstanding, Lewis is a raw talent with intriguing physical traits who is worthy of a mid-to-late 2nd round selection. In my opinion, taking Lewis in the 1st round would be far too risky for the Ravens. But if Lewis was available to them late in the 2nd round, they would have to strongly consider taking him.