The Ravens season has now come to an end. A season that started with the highest of expectations, took a nosedive with a mid-season three-game losing streak, only to rebound with an exciting December playoff push. However, after an uplifting wildcard weekend, the season came to a halt in windy Buffalo. Now, with the season over, it's time to turn our attention to 2021. The Ravens certainly have some holes to fill, but overall have an exciting young talent base to continue to build around.  Unfortunately, the Covid pandemic is going to put a major dent in their hopes of taking advantage of the early, cheaper years of QB Lamar Jackson's career. Now, like most teams, the Ravens are going to need to be creative with their offseason plans, given that the originally expected Cap space of $40-50M will, unfortunately, not be coming to fruition. 
Instead, the Ravens are going to have a very tight Cap and are going to need to do a lot of maneuvering to create the Cap space needed to accomplish their offseason goals.
So, with that in mind…….
PLAYERS PRESENTLY UNDER CONTRACT
The Ravens currently have the following 51 players under contract for 2021 (with Cap Numbers indicated):
QBs (3):  Lamar Jackson ($3.014M); Trace McSorley ($890K); Tyler Huntley ($780K)
RBs (3):  J.K. Dobbins ($1.302M) Justice Hill ($1.035M); Ty'son Williams ($660K)
FBs (1):  Patrick Ricard ($3.983M)
WRs (6):  Marquise Brown ($3.214M); Miles Boykin ($1.064M); Devin Duvernay ($1.039M); James Proche ($882K); Binjmen Victor ($660K); Jaylon Moore ($660K)
TE (4):   Nick Boyle ($7.833M); Mark Andrews ($1.129M); Jake Breeland ($665K); Eli Wolf ($660K)
OL (8):  Ronnie Stanley ($15.25M); Orlando Brown ($1.1.36M); Ben Powers ($1.024M); Bradley Bozeman ($949K); Tyre Phillips ($988K); Andre Smith ($875K); Ben Bredeson ($904K); C/G Patrick Mekari ($853K);
DL (7):  Calais Campbell ($15M); Brandon Williams ($14.42M); Justin Madubuike ($1.103M); Broderick Washington ($853K); Aaron Crawford ($660K); Braxton Hoyett ($660K); Chauncey Rivers ($660K)
LBs (6):  LJ Fort ($3M); Jaylon Ferguson ($1.076M); Patrick Queen ($2.764M); Malik Harrison ($1.023M); Otaro Alaka ($853K); Aaron Adeoye ($660K)
CBs (7):  Marcus Peters ($13.468M); Marlon Humphrey ($10.24M); Tavon Young ($5.988M); Jimmy Smith ($2.25M); Anthony Averett ($1.129M); Iman Marshall (1.019M); Chris Westry ($660K)
S (3):  Chuck Clark ($3.875M); DeShon Elliott ($889K); Nigel Warrior ($660K)
ST (3):  Justin Tucker ($5.1M); Sam Koch ($2.9M); Nick Moore ($660K)
The above 51 players are under contract for a total Rule of 51 Salary Cap commitment (which includes dead money from players no longer on the team) of $154,721,049.
Present projections for the 2021 Salary Cap still indicate that the Cap is expected to drop to the agreed upon floor of $175M. This would be a drop of close to $25M from the 2020 Cap and a $35-40M drop from where the 2021 was expected to be prior to the pandemic. There have been some recent reports that the Cap may end up being in the $180-190M range, so there is perhaps some optimism for a better Salary Cap outlook for 2021, but at this point that remains to be seen. 
For the purposes of this projection, though, we will stick with the projected $175M floor for our projection and use this to provide the low end of the Ravens' 2021 Cap prospects.
So, using the figure of $175M for the estimated Cap, the Ravens will initially have around $20,278,951 in Cap space, accounting for the 51 players presently under contract. 
This will be the basis for a lot of early reports on the status of the Ravens' 2021 Salary Cap, and doesn't sound too bad – and certainly better than for a lot of NFL teams – but it is important to keep in mind that this number is based on just the 51 players that are presently under contract and nowhere near representative of the team's Cap with a full roster and with the other factors that will be explained below.
So, between now and Wednesday, March 17th at 4:00 p.m., when the new league year and free agency begins, the Ravens have a lot of work to do and not a whole lot of Cap space with which to accomplish it.
PRACTICE SQUAD FREE AGENTS (FAs):
The Ravens have already re-signed 11 of their former Practice Squad players to "Future" contracts for next year.  If not re-signed before then, there are 8 former Practice Squad players who will become free agents next Monday, January 25th:
CB Terrell Bonds
TE Sean Culkin
CB Pierre Desir
G Patrick Ehringer
DB Jayron Kearse
C Greg Mancz
OT Jordan Mills
G RJ Prince
If re-signed, most of these players will sign a 1-year deal worth the applicable minimum salary based on their service time.
2020 SALARY CAP CARRYOVER
Under the terms of the CBA, teams are allowed to carry over excess Salary Cap space from one year to the next. The Ravens presently have only $586,822 in remaining 2020 Salary Cap space. Assuming the Ravens elect to carry that amount over (as they always have), they will see an increase in available 2021 Cap space by that amount. It's certainly not much, but every little bit helps.
OTHER SALARY CAP ADJUSTMENTS
WORKOUT BONUS ADJUSTMENT: All teams will have an adjustment of $792,000 added to their Cap for team workout bonuses. This number is essentially the total amount of CBA mandated workout bonuses that could be earned by the players in the offseason. This amount is a debit from the Cap. Once training camp begins, this debit will be removed and the actual amount of workout bonuses earned by the players will be added onto the Cap.
INCENTIVES AND OTHER ADJUSTMENTS: The Ravens' 2021 Cap may also see adjustments for incentives earned that didn't count against the 2020 Cap ("Not Likely To Be Earned" incentives) but that were actually earned and incentives that did count against the 2020 Cap ("Likely To Be Earned" incentives) but weren't earned.  Those will be a positive or negative adjustment on the Ravens' 2021 Cap.
For many years, the Ravens have used NLTBE incentives as a way of lessening the present year's Cap number, especially in years with tighter Caps. More recently, though, as the prospects of their Cap woes starting to lessen, the Ravens have used fewer incentives in their deals. This year, with a tight Cap, they're very likely to use them in some of the contracts that will be signed this year, but will most likely be structured as NLTBE so as to be pushed into 2022 if earned.
Unfortunately, incentives are not widely reported, so the amount of these incentive adjustments is usually not disclosed until the beginning of the 2021 league year in March.
One set of known 2020 incentives were for CB Jimmy Smith. The 1-year deal he signed last March included up to $2.5M in incentives. Due to injuries late in the year, Smith only earned one of those incentives by reaching 42% of the snaps on defense and thus earning a $500K incentive. Smith also nearly missed another $500K worth of incentives, falling just short of the 44% playing time threshold. It appears that the Ravens made that up to Smith, as they paid him $1M during the last week of the season. Since this amount reduced their 2020 Cap space, it would appear that there will be no carryover into 2021 for Smith's incentive package.
The Ravens will get a credit though. The Ravens guaranteed $308,500 worth of salary for their UDFAs in 2020. Under the Cap, rules, all of those guarantees counted against the 2020, even though offsets would apply. For all guaranteed money that earned, either with the Ravens or another team, but offset, the Ravens will get a credit.  The exact amount of the credit is unknown at this time.
For now, we will use $500,000 as an estimated negative incentives adjustment for 2021, understanding that it could be more or less than that amount, hopefully less.
PROVEN PERFORMANCE ESCALATOR: The 2011 CBA mandated 4-year contracts for all draft picks, which eliminated a player's chance to receive the higher paying RFA tender in their 4th year. To offset this, the 2011 CBA implemented the Proven Performance Escalator (PPE), which allows draft picks (3rd through 7th rounds) to receive an upgrade salary that is equivalent to the low RFA tender if the player performed well over the 1st 3 years of his contract. The 2020 CBA added 2nd round picks to this calculation, changed the criteria for earning the PPE and adding additional compensation levels.  Under the revised rules, meeting playing time thresholds (35%) still will earn the PPE at the low RFA tender level, while more playing time (55%) will earn the low tender, plus $250K, while reaching the Pro-Bowl (1st ballot only) will be paid at the 2nd Round RFA tender.
The Ravens have four (4) players from the 2018 draft who will earn the PPE – TE Mark Andrews, OT Orlando Brown, Jr., G Bradley Bozeman and S DeShon Elliott. Andrews and Brown earned the Level 3 escalator by virtue of the Pro-Bowl selections and thus earning a pay raise from $920K to the 2nd Round RFA tender salary of $3.384M.  Bozeman, a 6th Round pick, will also see his $920K salary jump to the low RFA tender amount of $2.183M, as did Elliott, who used a big 2020 season to barely reach the 35% playing time threshold.
Do keep in mind, though, that the PPE is not guaranteed, so if the player is released or traded, the PPE will have zero effect on the Ravens' Salary Cap.
EXCLUSIVE RIGHTS FREE AGENTS (ERFAs)
These players must be tendered contracts of the league minimum, based on the player's length of service in the league ($660K, $780K or $850K). Once tendered, these players are fully under the team's control and are not free to negotiate with other teams.
The Ravens have 5 players who are Exclusive Rights Free Agents (ERFAs):
OL Tristan Colon-Castillo
CB Khalil Dorsey
P Johnny Townsend
LB Kristian Welch
WR Antoine Wesley
In past years, because of the minimal cost and minimal impact on the Salary Cap and because offseason roster can include up to 90 players, the Ravens usually have tendered all of their ERFAs.  It is expected that the Ravens will retain all of the above players via ERFA tenders.
RESTRICTED FREE AGENTS (RFAs)
These are players whose contracts have expired and who have 3 years of accrued service time.  The team must tender the player with an RFA offer. Once tendered, another team can sign the player to a RFA offer sheet, but the Ravens then have 7 days to match that offer sheet and retain the player under the terms of that offer sheet. If the Ravens were to choose not to match the offer sheet, they would then receive compensation based on the level of RFA tender made to the player.
Under the terms of the CBA, the RFA Tender amounts increase at the same rate as the overall Salary Cap, plus a certain dollar amount for 2021 ($50K for the low tender and $125K for the 1st or 2nd round tender). Since the 2021 Salary Cap is actually going to go down, the base RFA tender will not change from 2020 and only the change in 2021 will be respective $50K or $125K added amounts.
There are basically 4 RFA tenders: 1st Round Tender, 2nd Round Tender, Low Tender and Right Of First Refusal (ROFR).
* 1st Round Tender:  allows the team to receive compensation of a 1st round – $4.766M (est).
* 2nd Round Tender:  allows the team to receive compensation of 2nd round pick – $3.384M (est).
* Low Tender:  allows the team to receive compensation of a draft pick equal to the round in which the player was originally drafted – $2.183M (est).
* ROFR: allows the team to simply match an offer, with no draft pick compensation or for players who were UDFAs – $2.133M (est).
The Ravens have 2 players who are pending Restricted Free Agents (RFAs), with their draft pick compensation:
LB Chris Board
RB Gus Edwards
It would seem to be a given that Edwards will receive a RFA tender, and given his status as an UDFA, it seems highly likely that the Ravens will tender Edwards with the 2nd round RFA tender, thus likely ensuring Edwards' return in 2021. 
Board will be an interesting decision since he was also an UDFA. The ROFR tender would only give the Ravens a chance to match any offer sheet, but the 2nd round tender seems too much, especially in a year with a greatly reduced Salary Cap. On the other hand, even $2.133M might to too rich for Board, especially if the Cap drops to $175M.
The guess here is that the Ravens will not tender Board at all, but will attempt to re-sign him to 1- or 2-year deal for a lesser annual salary.  This has often been their approach over the years with players who are core special teamers, who may also see limit snaps on defense, most notably for players like Anthony Levine. 
PROJECTED ADJUSTED TEAM CAP AND RULE OF 51 SALARY CAP COMMITMENT
Based on all of the above, it is estimated that the Ravens will have an Adjusted Team Salary Cap of $174,294,823. The team's Adjusted Cap consists of the projected league-wide Salary Cap of $175M, plus the carryover of the 2020 excess Cap space of $586,823, less adjustments for workout bonuses ($792,000) and the incentives adjustment (est. to be $500K).
Presently, the Ravens have 52 players under contract, but assuming they tender Edwards with the 2nd round RFA tender and tender all of their ERFAs, they would have 58 players under contract or tendered.
During the offseason, though, when roster can balloon to up to 90 players, only the highest 51 Salary Cap numbers (and all 2021 bonus prorations and all dead money from released players) are counted for Salary Cap purposes. This is called the "Rule of 51".
As such, the Ravens' estimated Rule of 51 number – including the above factors (including the PPE) and the projected ERFA and RFA tenders – would be a Cap commitment of approximately $165,639,049. See the "2021 Projected Cap" tab here.
When compared with the team's Adjusted Cap of $174,294,823, this would leave the Ravens projected to be $8,655,773 under the Salary Cap.                                                                                                         
Again, this is just an early estimate and done before the Ravens make other roster moves that will create additional Salary Cap space and/or make additions that will strengthen the roster, but it underscores the impact of the reduced Cap and just how tight the Ravens Cap is going to be. 
UNRESTRICTED FREE AGENTS (UFAs)
The following 17 players are Unrestricted Free Agents (UFAs) and will be free to sign with other teams if they haven't re-signed with the Ravens before Free Agency begins on March 17th at 4:00 p.m.:
LB Tyus Bowser
WR Dez Bryant
LS Morgan Cox
DT Justin Ellis
OL DJ Fluker
LB Matthew Judon
DB Anthony Levine
LB Pernell McPhee
WR Chris Moore
DE Yannick Ngakoue
S Jordan Richards
C Matt Skura
WR Willie Snead
TE Eric Tomlinson
DE Jihad Ward
WR DeAndre White
DE Derek Wolfe
The Ravens have two players who could perhaps receive the franchise tag – DE Yannick Ngakoue and LB Matthew Judon.  However, since the amount of the Franchise Tag is either the scheduled amount based on the Salary Cap or 120% of the player's prior year salary, a tag for Judon would be $20.170M (120% of $16.808M). So, while the Ravens may have interest in retaining Judon, it seems unlikely that they will use the franchise tag to do so.
If the Franchise Tag is used, it's more likely going to be used on Ngakoue.  The Franchise Tag for DE's is estimated to be $15.409M.  However, to use the Franchise Tag and be able to conduct other business, the Ravens are going to have to find a way to create a lot of Cap space.
2021 DRAFT PICKS
The Ravens are expected to have 6 draft picks in the 2021 draft. They presently have four (4) of their own round picks (1st, 2nd, 4th and 6th) and the Steelers' 5th round pick (Chris Wormley trade). The Ravens traded their own 3rd (Yannick Ngakoue trade), 5th (Ngakoue) and 7th (Wormley trade).  The Ravens are expected to receive a one 5th round Compensatory draft pick for the loss of DT Michael Pierce. 
So, for now, the Ravens' present draft picks are 1st, 2nd, 4th, 5th, 5th and 6th.
Based on their present draft position, the Ravens will likely have a rookie Cap of somewhere around $5.6M depending on their final record.  While that number won't factor into their initial Cap calculations, it is something that the team will be very mindful of as they otherwise build their roster.
EXTENSION/RELEASE/RESTRUCTURE/PAYCUT
If the Cap does drop all the way down to $175M, the Ravens are going to have to make moves to create additional Salary Cap space in order to be able to re-sign players and/or sign other players to the roster.  There are three primary ways of creating additional Salary Cap space – (1) signing players to contract extensions to lessen their 2020 Cap number, (2) releasing/trading players and/or (3) restructuring contracts.
EXTENSION: An extension is generally used when a player has a large base salary and is in the later years of his contract.  An extension will allow the team to turn much of that large base salary (and often, more) into a Signing Bonus to go along with new years that are added to the contract. This essentially works to reduce the player's present Cap number. Of course, it takes two to tango and teams and players often don't see eye to eye on value, so extensions aren't always a foregone conclusion. 
The main candidates for contract extensions to create Cap space would be DT Brandon Williams, DE Calais Campbell, CB Marcus Peters and/or TE Nick Boyle. However, several of these players are now in or entering the later parts of their careers and extensions can create dead money in the future, so extending any of these players is not without some possible danger if the player's performance were to decline quickly. 
The Ravens may also look to reach extensions with QB Lamar Jackson, TE Mark Andrews and OT Orlando Brown.  Extensions for these three wouldn't be about creating Cap space, but about getting them locked up long term. An extension for Jackson would not create Cap space and would likely require a decent amount of additional Cap space to complete. Extensions for Andrews or Brown would likely only create minimal Cap relief.
RELEASE/TRADE
The below chart includes players who have most often been discussed by fans as candidates for release and lays out the Salary Cap implications of the release or trade (both are treated the same for Cap purposes) of those players: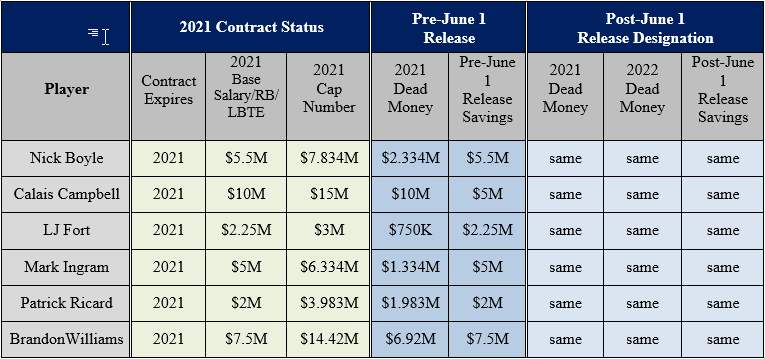 With a tight Cap, creating Cap space is going to be imperative, but the Ravens really don't have a great deal of candidates for release.
INGRAM:  Reports are that Ingram will be released today.
WILLIAMS: Many Ravens fans have been trying to cut Williams for years, even though the Ravens' run defense has historically been very poor in his absence. It doesn't seem likely to happen this year either – especially since Williams took a 2021 pay cut as part of restructuring his contract in September – but since it's the last year of his present contract, there's certainly more of a chance this time around. It would still be rather surprising, but with Cap space at a premium, there are likely going to be some surprises. Releasing Williams would create $7.5M in Cap space.
BOYLE:  This one would also be a surprise, but the Cap savings can't be ignored, especially given that the Ravens don't have a lot of great options for creating Cap space.  Releasing Boyle would create $5.5M in Cap savings.
PETERS: Because of his high base salary, Marcus Peters has been mentioned as a possible Cap casualty, but Peters 2021 base salary, which was initially only injury guaranteed, became fully guaranteed on the 5th day of the 2020 league year, so there is no Cap savings involved.
RESTRUCTURE:  The main drawback of constantly restructuring contracts is that it often becomes a vicious cycle that forces the team to continue and continue to restructure deals year after year. The Ravens have been stuck in this cycle over the last couple of years and those restructures have created some bloated Cap numbers (Williams, Jefferson) that aren't easy to get away from.
If the Cap was going to be $215M as expected, the need to restructure deals wouldn't exist, but with the Cap falling by so much, the Ravens may have to consider it.
The best candidate to restructure to create significant Cap space is OT Ronnie Stanley. Stanley's base salary of $7.5M could be reduced down to $1M, with the balance being paid as a Signing Bonus, which would then prorate $1.3M over 2021-2025. This would create $5.2M in Salary Cap space.
There also may be extensions that essentially amount to a restructure by adding "phony" years to the end of the deal.  Those "phony" years automatically void next year, but allows the team to spread out his 2021 Cap hit and essentially trade 2021 Cap space for 2022 Cap space. For instance, Nick Boyle is in the final year of his contract and will be a UFA in 2022.  The Ravens could take Boyle's $5.5M salary, reduce it to $1.5M and give him a $4M Signing Bonus, while adding 3 voidable years to his deal.  Boyle would still get the same amount of money (might have to add a little to entice him) and would still be a UFA in 2022 because the added years will void, but his 2021 Cap number would be reduced by $3M.  That $3M would then count in 2022 when the 3 added years officially void.  This is not the greatest way to manage your Cap (see the New Orleans Saints), but may be a necessity in some cases this year). 
PAYCUT:  In normal Cap years, getting a player to accept a paycut is a difficult task.  The team's only leverage is to release the player and when the market is flush with cash, players are often willing to take their chances.  This year, however, it's likely that a lot of player's league-wide are going to be asked to take a paycut, with teams knowing that there's going to be little money for the players on the open market.  
OUTLOOK
While 2021 was supposed to be the second year that the Ravens would have ample Cap space to continue to build their roster around QB Lamar Jackson, the Covid pandemic had other ideas.
So now, the Ravens, much like most NFL teams, are going to have to make tough decisions about their rosters – and perhaps release some players they would otherwise prefer to keep. 
The Salary Cap is always a puzzle – especially this year – and the Ravens' Front Office will likely use a combination of the above maneuvers to create the Cap space necessary to address the team's pressing roster needs. While it's going to be tough for the Ravens, there are certainly a lot of teams in far worse shape than the Ravens. At least that bodes well for the Ravens.  As such, it's going to be interesting to see how free agency plays out and to what lengths teams will need to go to create Cap space. It is also going to be interesting to see how the lower Cap impacts free agent contracts. One thing that can be pretty easily predicted though is that if the Cap does go down to $175M, there's going to be a lot of pain felt by both the players and by many teams.
As always, the months of February, March and April will once again be an interesting time for the Ravens as the look to tweak their roster in hopes of finally getting over the hump and on to the Super Bowl.