Ranking Rookies' Year-1 Impact Chances
Print this article
After the 2017 NFL Draft, I took a stab at stack ranking the year-one potential of each Baltimore Ravens rookie.
With the exception of the Nico Siragusa injury, and the fact that Tim Williams had an extra-quiet rookie year, I did pretty well, if I do say so myself (granted, Marlon Humphrey was the only rookie who truly contributed last year overall).
With 12 draft picks to work with this year in Baltimore, let's take a look at which rookies have the best chance to produce in year one.
(My colleague Vasilios Nikolaou did a similar exercise a few weeks back, if you'd like to compare our lists.)
1. Hayden Hurst – I will preface this by saying I was not a fan of taking Hurst in the first round, and am still skeptical that he will live up to his first-round billing. With that said, Hurst enters a lackluster tight end group, and as long as Joe Flacco is still the starting quarterback, he should rack up the catches early and often.
2. Orlando Brown – Similar to Hurst, the Brown selection warranted plenty of question marks; however, outside of Hurst, no Ravens rookie has an inside path to a starting job in 2018 quite like Brown. If Brown wins the starting right tackle job by Week 1, it is hard to not put him high on this list even if he struggles as a rookie.
3. Mark Andrews – Hurst figures to get more reps than Andrews early in their respective careers, but Andrews should also benefit from a weak tight end group. More of a big slot receiver than true tight end, Andrews promises to garner some targets early on in his tenure in Baltimore.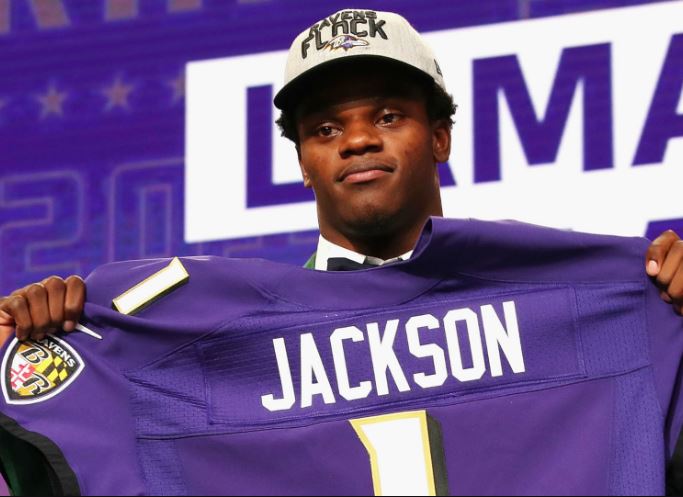 4. Lamar Jackson – If the rookie quarterback wins the starting job earlier than expected, then we can move him to the top of this list without hesitation. Jackson is the biggest unknown here, so we will conservatively place him in the same group as the other top Ravens selections in case he sees more playing time than it looks like he will at the moment.
5. Jordan Lasley – The dark horse of the Ravens rookie class to exceed year-one expectations is Lasley. His inconsistencies with catching the ball will show, but his big-play ability with the ball in his hands will allow him to do damage after the catch in the short-to-mid passing game early in his career. He will also offer some skill as a vertical threat.
6. Anthony Averett – Long-term, Averett figures to be the best of the day-three picks of the 2018 Ravens class. His athletic ability and experience is rare for a fourth-round cornerback, but in 2018, his path to having a notable role would require an injury. Granted, Jimmy Smith and Tavon Young are both returning from season-ending injuries, so there is opportunity for Averett so show off his skills while Smith and Young ease back into it.
7. DeShon Elliot – Potentially the steal of the third day of the draft for the Ravens, Elliot was an All-American and playmaker in college who is more than capable of rotating into the secondary as a rookie.
8. Bradley Bozeman – Similar to Lamar Jackson, Bozeman's ranking is more of a guess than the other rookies, as he has a chance to start at center, while there is also a chance he does not even touch the field if he misses out on the starting role. Vague, I know, but that is where things stand with Bozeman.
9. Kenny Young – There is a starting inside linebacker role to be won, and Young will compete for that opening, but realistically the rookie will be a rotational defender and special-teamer as a rookie.
10. Jaleel Scott – The big-bodied receiver offers an intriguing skill set to work with, but the Ravens never properly develop receivers like Scott. He would be the exception to the rule if he happens to make a major impact as a rookie.
11. Zach Sieler – Dominant in college but against inferior competition, Sieler's NFL prospects are hard to judge. He is a fringe final roster player, but may be too good to try to sneak onto the practice squad.
12. Greg Senat – The truest developmental prospect of the group, Senat likely would only make the final roster if multiple (let's hope not) injuries occur along the offensive line during the preseason. The Ravens probably hope they can sneak the former basketball player onto the practice squad and let him develop there.