The Best 7-Round Mock Draft
Print this article
In just a few days we'll get answers to months (and months) of questions and we'll realize that months and months of analysis was all for naught when NFL GM's shock the world.
How can Ravens GM Eric DeCosta shock the world? Well he can roll with my seven-round mock draft and have the best possible draft, that's how! Let's get into it.
Disclaimer: I tried to be realistic and there can always be a debate on where someone should or shouldn't be taken, but I think this mock is pretty fair in terms of expected value.
28 – Ruiz, IOL, Michigan
55 – Aiyuk, WR, ASU
60 – Harrison, ILB, OSU
92 – Wallace, S, Clemson
106 – Highsmith, EDGE, Charlotte
129 – Fotu, IDL, Utah
134 – Hodgins, WR, Oregon State
170 – Keene, TE, VT
225 – Adams, OT, Washington

It feels realistic? Thoughts #RavensFlock

— Cole Jackson (@ColeJacksonRSR) April 20, 2020
Round 1, Pick 28

Cesar Ruiz, C, Michigan
Ruiz comes into the 2020 draft as my IOL1. He is a versatile big man that brings a rare blend of athleticism, size, strength and age. Age? Yes, age. Ruiz is still only 20 years old and is one of the youngest guys in the draft. Now, this is relevant because his jump in his technical abilities from 2018 to 2019 on film was outstanding and I think that is a very significant factor. He's coachable and he's continually getting better, which makes his ceiling sky high.
I see Ruiz as a LG in the Ravens scheme despite playing C for the Wolverines. He can play all three interior positions, but his athleticism would be a nice paring beside Ronnie Stanley and some of the outside zone runs to the left could really open up to give a nice mixture to the inside zone and power gap that the Ravens used in 2019.
Round 2, Pick 55

Brandon Aiyuk, WR, Arizona State
When I'm looking at the WR position, there's a few roles that need to be filled. On one hand, the Ravens could really use a guy that can run some tight routes outside the numbers and open up those passes. On the other hand, this was the #1 offense in football last year and simply upgrading the players on the roster should lead to continuity of its lethality (I had to google lethality, apparently its a word).
Well I see Brandon Aiyuk fitting really nicely into that Seth Roberts role outside. He is a nice complement to Marquise Brown and also brings abilities to move through the X, Z and slot positions, which is something I can see the Ravens valuing. He has great YAC abilities, strong hands, sharp routes and most importantly, he does his best work against zone coverage. No one in the NFL sees more zone than Lamar Jackson.
Round 2, Pick 60

Malik Harrison, ILB, Ohio State
Malik Harrison has the desired combination of size and speed for a modern day MIKE LB. While he hasn't done amazing work in pass coverage, I think he has the tools to develop that part of his game even further. He has loose hips and a strong read of the field. He works through blockers really well and he was able to position himself on pulling guards among the best in this ILB class. 
Round 3, Pick 92

K'Von Wallace, S, Clemson
K'Von Wallace seems like he was born to play in Wink Martindale's scheme. He's a safety that can operate as a slot corner and a dime safety. He could fit right into Brandon Carr's role and fill the void as a backup sCB. Marlon Humphrey can slide inside, but it's best to keep your best players at their best positions. Wallace is a swiss army knife and no one uses them like Wink does.
Round 3, Pick 106

Alex Highsmith, EDGE, Charlotte
Highsmith is another NFL-ready prospect that's coming out of the small school Charlotte which is producing some really nice prospects as of late (Nate Davis last year and don't sleep on their LT, Cameron Clark this year). Highsmith is a really nice complement to Jaylon Ferguson. He really needs to develop his game, particularly against the run, but he's a twitched-up edge rusher who uses a number of pass rush moves to work on the edge. I love this pairing with Ferg because they can keep it simple for him. Let Ferg continue to develop with the majority of snaps, but kick him inside so Highsmith can come on, pin his ears back and just get after the QB. I see this as a 3rd-an- long guy that hunts QBs all game.
Round 4, Pick 129

Leki Fotu, IDL, Utah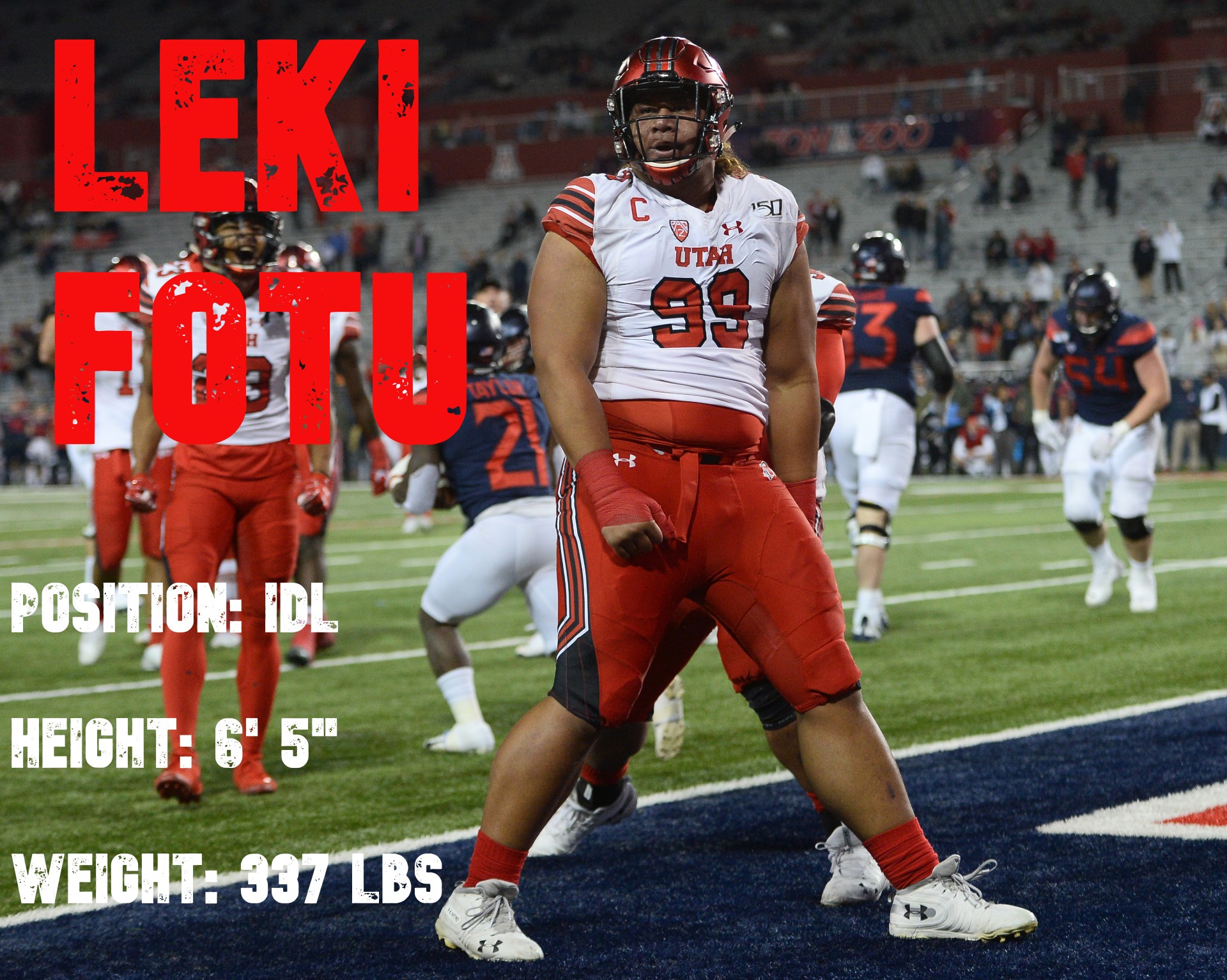 Michael Pierce was a tough guy to watch walk. It made sense and the value for the money wasn't there, but his anchor is going to be missed. Well, enter Leki Fotu, who is a mammoth of a man that eats double teams and two-gaps among the best of them. He would fit right in behind Brandon Williams as a 1-tech developmental guy. He has a little bit of juice in his pass rushing game that he could really develop his skillset there.
I think this is an ideal spot to land where he can develop behind a guy like B-Will and provide that 80-20 ability if they want to get out of Williams contract in the next two offseasons.
Round 4, Pick 134

Isaiah Hodgins, WR, Oregon State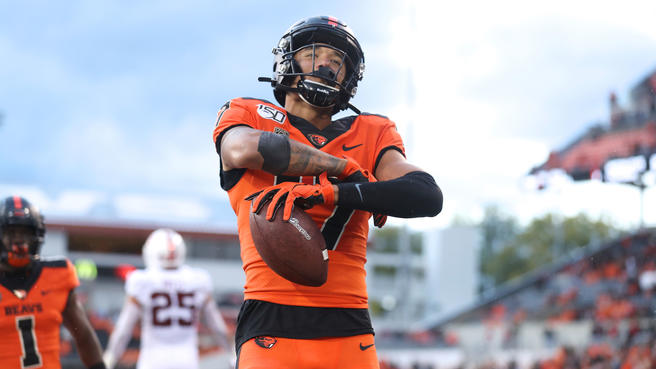 Well, with Aiyuk on the team now, we're still missing that outside-the-numbers, contested-catch-grabbing, route-running son-of-a-gun. Hodgins brings that type of skillset to act as another developmental guy with Miles Boykin, Antonine Wesley and I guess Jaleel Scott (but I don't expect to see him unless he learns to be a bully). Hodgins is big, long and he uses it. He featured a 1.1% drop rate in college. He won't get you YAC and he's not that dynamic, but he'll move the chains and will push Boykin in the classic X role. 
Round 5, Pick 170

Dalton Keene, TE, Virginia Tech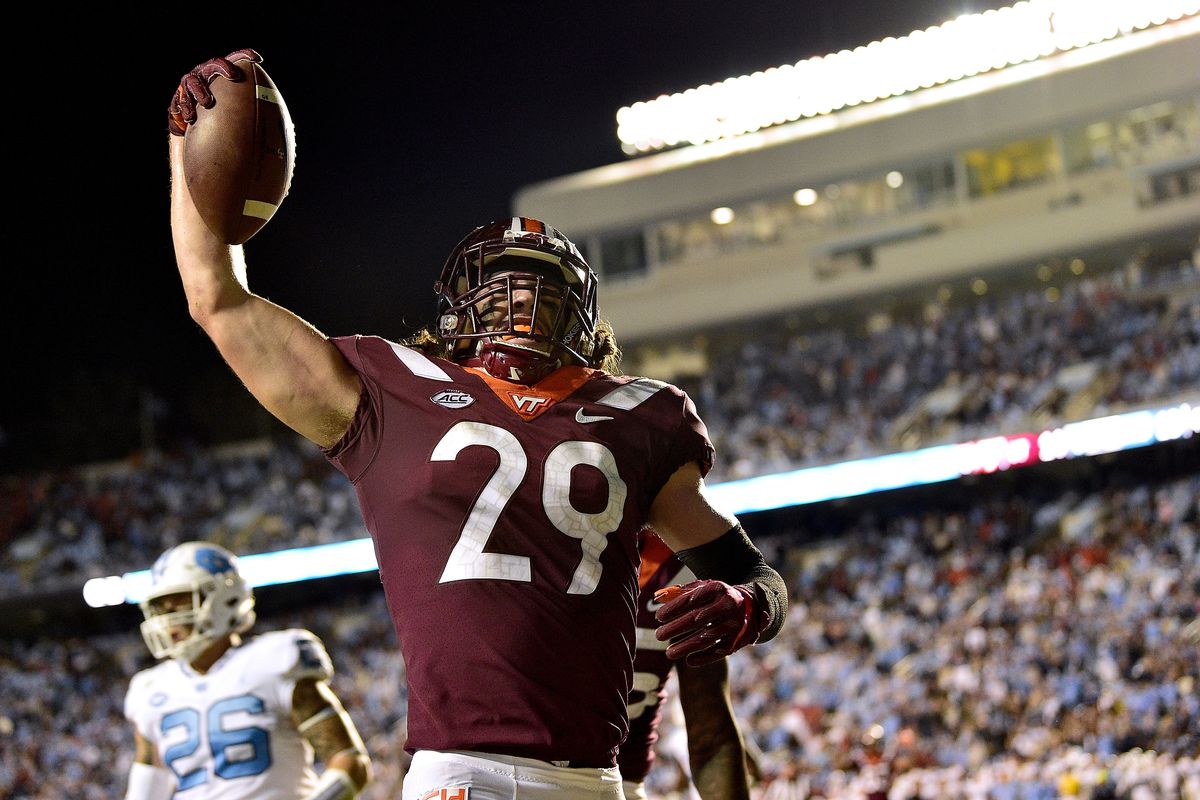 I really want Josiah Deguara, but I don't see him getting here. Keene is a similar guy that can move around the formation, act as an H-Back and fill that Hayden Hurst role. Keene needs to clean up his blocking and work on not narrowing his base (he blocks like a WR), but he shows good tenaciousness and he does a nice job getting out in the flats and grabbing YAC. High upside pick here with a TE3. He'll have an easy workload that will allow him time to develop.
Round 7, Pick 225
Trey Adams, OT, Washington
Yes, the guy that said he wants a bigger horn makes his way to Baltimore. On the real, Adams has been slept on all draft season. He had one of the worst combines, which is why he's this low, but he's not going to be asked to run 40 yards so I'm not very concerned. Adams has great size, quick feet can play both gap and zone despite his lack of straight line speed. He needs some development and that's why you get him in the seventh round.

See the other guys' mock drafts here!