Print this article
The Baltimore Ravens are coming off a season in which they went 14-2 and earned the #1 seed on the AFC side of the NFL playoffs. After having an extra week off to rest and prepare for their first playoff game, the Ravens suffered an embarrassing defeat at the hands of the Tennessee Titans in the divisional round.
Expectations for the 2020 Baltimore Ravens are as high as they've been in the 25-year history of the franchise. The AFC's 2019 #1 seed returns its general manager, head coach, offensive coordinator, defensive coordinator and MVP Quarterback. The Ravens also return a whopping eighteen starters (10 offensive/8 defensive).
Over the last 25 years, most Super Bowls (with a few odd exceptions) have been won by a team starting either a future Hall of Fame QB or a QB playing on his rookie contract. The teams who won with future Hall of Fame QBs won, at least in part, due to exceptional QB play. The teams who won with a QB on a rookie deal won, at least in part, due to the depth of the team that was built around a young QB who took up a small percentage of his team's cap space.
There is certainly a chance that Lamar Jackson goes on to have a Hall of Fame career. For the time being, though, the Ravens are trying to join the list of recent teams who've won a Super Bowl with talented QBs playing on their rookie deals (2005 Steelers, 2007 Giants, 2012 Ravens, 2013 Seahawks, 2019 Chiefs). Including a 5th--year option, the Ravens have three seasons (2020, 2021, 2022) until they'll likely have to cough up an exorbitant amount of money to retain Jackson. That gives Baltimore a three-year window in which they can win a Super Bowl with their salary cap unburdened by a massive QB contract.
In the 2020 NFL Draft, the Ravens should have a few main goals. In addition to always striving to find "value" by selecting the "Best Player Available" (or BPA+, as my RSR/RDC colleague Adam puts it) as often as possible, the Ravens should be looking to:
Add players capable of starting early at the team's thinnest positions (EDGE, C, RG, ILB)
Add players capable of becoming contributors within the team's current three-year "Super Bowl window"
Add talented, young depth
The Ravens currently hold the following selections in the 2020 NFL Draft:
1st round: 28th overall
2nd round: 55th (from ATL)
2nd round: 60th
3rd round: 92nd
3rd round: 106th (compensatory pick)
4th round: 129th (from NE)
4th round: 134th
5th round: 171st (from MIN)
7th round: 225th (from NYJ)
Positional Needs
The following are my rankings of the Ravens' positional needs ahead of the 2020 NFL Draft:
EDGE
iOL
ILB
WR
OT
TE
iDL
S
RB
CB
QB
The "2020 Baltimore Ravens Draft Guide" is my effort to compile my thoughts on the Ravens' approach to the 2020 NFL Draft. For each position, I:
— Talk about players currently on the roster
— Discuss possible draft strategies
— Detail my preferred draft approach for that position
— List a handful of players that I personally like for each scenario described
(Each player's projected draft round appears in parentheses after their name)
I am attempting to be an open book about how I view the draft. My hope is that this will be revealing, informative and entertaining. I appreciate you taking the time to read it.
Enjoy the draft!
Quarterback
Jackson, the reigning NFL MVP, is on the third year of his four-year (five-year with a team option) rookie deal. Robert Griffin III is an experienced backup who can execute the offense and serves as an excellent mentor to Jackson. Trace McSorley, a 2019 draft pick, rushed for 1697 yards at Penn State and is the third QB on the roster.
The 2020 QB class has plenty of intriguing options, but it is highly unlikely that the Ravens will be looking to add to their QB room through the draft this year. The Ravens should instead add an undrafted free agent (UDFA) "camp arm" who will have a chance to make the team's practice squad. That player should also, ideally, be a fit to run the team's unique offense.
Players to Watch: Khalil Tate, Arizona (UDFA). Bryce Perkins, Virginia (UDFA)
Running Back
With the help of Jackson, the 2019 Ravens offense gained more rushing yards than any team in NFL history. In 2020, the Ravens bring back the talented trio of Mark Ingram, Gus Edwards, and Justice Hill.
There are some in the local and national media who've suggested that the Ravens should strongly consider selecting a RB early in the draft. Their thought process is that adding a first-round talent at RB would make the rushing attack virtually unstoppable and give the Ravens a young star in the backfield for years to come. Ingram will be 31 during the 2020 season and Edwards is playing on a series of one-year deals. Plus, Hill is unproven, and an injury can strike at any time.
While the Ravens should absolutely be open to adding a RB through the draft, they should be focusing on positions of greater need in the early rounds. The 2020 RB class is deep. After big-school stars like D'Andre Swift, Johnathan Taylor and Clyde Edwards-Helaire (whom Chibs wants), there are talented RBs of all shapes, sizes and skill sets who will be available late into Day 3. Their Day 3 target should provide depth and another element to the team's already diverse rushing attack. Boston College's A.J. Dillon is one of my favorite players in the class and is a hammer who opposing defenders won't want to tackle in the 4th quarter.
Players to Watch: Zach Moss, Utah (4th). Dillon, Boston College (5th). Sewo Olonilua, TCU (7th).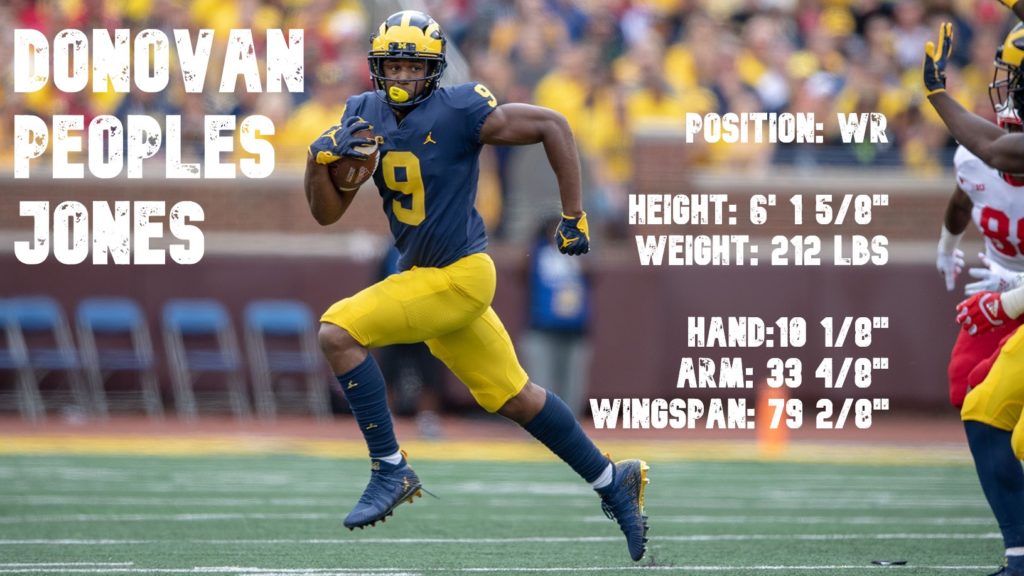 Wide Receiver
In the 2019 draft, the Ravens spent a 1st round pick on Marquise "Hollywood" Brown and a 3rd round pick on former Notre Dame WR Miles Boykin. Brown and Boykin are joined on the Ravens roster by veteran slot WR Willie Snead and by primary special teamers Chris Moore and De'Anthony Thomas. Jaleel Scott, Antoine Wesley, and Sean Modster are already on the 2020 roster bubble.
As was the case with seemingly every NFL Draft in recent memory, the Ravens will hope to add at least one WR. When exactly the Ravens front office should be targeting WRs in this draft has been one of the more hotly debated draft questions among Ravens fans. I don't believe that the Ravens should target a WR in the 1st round. Names like Denzel Mims' have been thrown around, but I would advise against taking any WR not named CeeDee Lamb, Jerry Jeudy, Henry Ruggs or Justin Jefferson with the 28th overall selection.
[See Our WR Draft Profiles Here]
Instead, I would take advantage of an incredibly deep WR class and select a talented, NFL-ready WR with one of my four Day 2 selections. The Ravens should select a WR who is a complementary piece to Hollywood Brown. They would be smart to target a talented route runner who can produce after the catch with the football in his hands. Arizona State's Brandon Aiyuk fits the bill and is my preferred option, among WRs who may be available in Round 2, for the Ravens.
Players to Watch: Aiyuk, ASU. (2nd). Tee Higgins, Clemson (2nd). D. Peoples-Jones, Michigan (3rd).
Whether they're selecting their first WR or doubling up with a selection from Day 2, the Ravens should continue to take advantage of the depth of the WR class and target a WR in the second half of the draft. They could use a Day 3 pick to add a player to learn from, and eventually replace, Snead in the slot. Realistically, though, they could take any style of pass catcher they'd like to fill out their WR room. South Carolina's Bryan Edwards is one of my favorite players in the class. Edwards has great size, put up big numbers in the SEC and is dangerous after the catch.
Players to Watch: Edwards, S. Carolina (4th). Van Jefferson, Florida (4th). K.J. Hill, Ohio St. (5th).

Tight End
Before free agency, I would've suggested that the Ravens should simply add an UDFA TE at the conclusion of the draft. Then, with free agency in full swing, the Ravens traded former 1st round pick Hayden Hurst for a 2nd round pick in this year's draft. After Mark Andrews, who is quickly becoming one of the NFL's best TEs, and Nick Boyle, the league's best blocking TE, the only other TE on the roster is second year TE Charles Scarff. Scarff, a Delaware product, impressed during the 2019 preseason and will have a fair shot to make the roster, but the Ravens will almost certainly want to add more competition.
[See Our Tight End Prospect Profiles Here]
The TE class in the 2020 draft is one of the weakest in recent memory. Notre Dame's Cole Kmet, the consensus top TE in the draft, may not come off the board until the late 2nd or early 3rd round. Luckily for the Ravens, they don't need to add a do-it-all TE with 1st round talent this year. The Ravens should, instead, look to add to their TE group on the third day of the draft. They could add a bigger TE like Dayton's Adam Trautman to bolster the run game. They could also look to an oversized WR like Stanford's Colby Parkinson in lieu of adding a second WR. I think that they should try to add a swiss army knife TE who could help their offense in a variety of ways. Virginia Tech's Dalton Keene is one of my favorite prospects in the class. In the Ravens offense, Keene could be a do it all H-Back in the mold of 2013 4th round pick Kyle Juszczyk.
Players to Watch: A. Trautman, Dayton (4th). D. Keene, VT (5th). C. Parkinson, Stanford (6th)
Interior Offensive Line
Adding interior line help is, in my mind, the Ravens' biggest draft need on the offensive side of the ball. 2018 6th round pick Bradley Bozeman is a serviceable LG. Matt Skura has developed into a good young center, but there is just no way of knowing when he'll return from the devastating knee injury that he suffered against the LA Rams last season. At RG, the Ravens lost future Hall of Famer Marshal Yanda to retirement. For the first time since 2007, the Ravens won't be able to pencil Yanda into the starting lineup.
[See Our Offensive Line Prospect Profiles Here]
The interior offensive line class is not star studded, but the Ravens might have a chance to turn the 28th pick into a Day 1 starter. Michigan's Cesar Ruiz, the consensus top iOL in the class, is an athletic and intelligent player with the versatility to play Center or Guard. Ruiz is the only true iOL who I consider to be a 1st round option and one of the few players who I would not pass up if I were making the 28th pick.
Players to Watch: Cesar Ruiz, Michigan (1st).
If the Ravens don't land Ruiz in the 1st round, I would earmark one of their four Day 2 picks for adding an iOL. The Ravens value versatility, size, and intelligence on the offensive line. In the 2nd and 3rd rounds, there will be players available with C-G versatility and G-T versatility. Wisconsin's Tyler Biadasz was talked about as a potential 1st round pick before he chose to return to school for his junior year. As a Wisconsin-trained lineman with three years of starting experience in a run heavy offense, Biadasz may be ready to start sooner than most 3rd round offensive linemen.
Players to Watch: Robert Hunt, ULL (2nd). Ben Bredeson, Michigan (3rd). Biadasz, Wisconsin (3rd).
Offensive Tackle
The Ravens enter the 2020 season with a pair of young, bookend offensive tackles of the type that most NFL teams would love to have. Ronnie Stanley and Orlando Brown Jr. are locked in as starters, but the only other tackle on the roster is former 6th overall pick Andre Smith. The Ravens may be fine with Smith as their swing tackle in 2020, but he's a 12th-year veteran with a long injury history and the Ravens must be looking to add young depth to the position.
Stanley is set to be an unrestricted free agent after the 2020 season. The Ravens will certainly try to re-sign him to a long-term deal, but there is little doubt that Stanley's next contract will make him the highest paid offensive linemen in the game. While it is not a move that I will advocate, the Ravens could go "off script" and select a tackle early in the 2020 draft as part of their preparation for potentially losing Stanley. A 1st-round selection could slide inside to start at RG in 2020 before moving to LT in 2021 if Stanley leaves Baltimore in the offseason.
Players to Watch: Josh Jones, Houston (1st). Austin Jackson, USC (1st).
Instead of selecting an offensive tackle in the 1st round, I would support drafting an offensive tackle in the middle or late rounds of the draft. Ideally, I would be looking for an experienced college tackle who can slide inside and play guard. I am not looking for a starting tackle with this pick. I would instead be searching to replace James Hurst with another player who can back up multiple spots on the line and develop into a starter in a few years. Michigan's Jon Runyan is my favorite late-round option to fill that role. Runyan has two years of starting experience as a left tackle in the Big Ten and will almost certainly play guard in the NFL. The Ravens' connection to Michigan through the Harbaugh brothers makes Runyan going to the Ravens feel like a very realistic possibility.
Players to Watch: Jack Driscoll, Auburn (4th). Hakeem Adeniji, Kansas (5th). Runyan, Mich. (7th).
Interior Defensive Line
Despite losing Michael Pierce in free agency to the Vikings and Chris Wormley in a trade to the Steelers, the Ravens are seemingly better equipped along the defensive line for the 2020 season than they were in 2019. The projected starters in the base 3-4 defense are Brandon Williams, Calais Campbell, and Derek Wolfe. Jihad Ward, Justin Ellis and 2019 draft pick Daylon Mack round out the defensive line.
The Ravens should be looking to, at the very least, add depth to their DL through the draft. Williams and Campbell each have two years remaining on their current deals. Wolfe, Ward and Ellis are all playing on one-year contracts. Beyond the fact that the team should be looking to add quality depth in the trenches in every draft, the Ravens need to be preparing replacements for a defensive line with many expiring contracts.
The iDL group in the 2020 draft is thin. After a few stars at the top, the talent levels off quickly. Because they don't need to add an immediate starter and should focus primarily on adding depth, the Ravens should add a promising developmental iDL prospect on Day 3. UNC's Jason Strowbridge is a long and versatile iDL prospect who could play all over a defensive line and makes a ton of sense for Baltimore.
Players to Watch: Strowbridge, UNC (5th). Bravvion Roy, Baylor (5th). James Lynch, Baylor (5th).
EDGE
The 2019 Ravens ranked 21st in the NFL with 37 team sacks. While the additions of Calais Campbell and Derek Wolfe to the defensive line will certainly help their sack production, the team still needs to make additions to their OLB group. Heading into the draft, the team's OLB group is led by Matthew Judon, Tyus Bowser and 2019 3rd round pick Jaylon Ferguson. Second year UDFAs Aaron Adeoye and Mike Onuoha are also under contract.
EDGE is the Ravens' position of greatest need in the 2020 NFL Draft. Getting a good pass rush is paramount to a topflight defense. Baltimore's defense could be even better in 2020 if they paired their top-notch secondary with an improved pass rush. Beyond simply having a great need for pass rush help, the Ravens must prepare contingencies for both Judon and Bowser becoming unrestricted free agents after the season.
The Ravens should target a pass rusher with one of their first few picks in the draft. In 1st round, Ohio State's Chase Young is a virtual lock to be selected #2 overall and LSU's K'Lavon Chaisson is likely to have a new home by the time the Ravens are on the clock. A.J. Epenesa is my single favorite player in the 2020 draft. The versatile DE from Iowa is strong, sets a hard edge against the run and feels like an excellent fit for the Ravens defense. If he's available with the 28th pick, he'd be a fantastic pick for Eric DeCosta.
[See All Our EDGE Prospect Profiles Here]
Players to Watch: Epenesa, Iowa (1st). Y. Gross-Matos, Penn St. (1st). Zach Baun, Wisconsin (1st).
If the Ravens go in a different direction with their 1st round pick, they should select a pass rusher with one of their four picks on Day 2 of the draft. In the 2nd or 3rd round, the Ravens could add a proven player with high level college production like Bradlee Anae or a player with a higher ceiling like Alabama's Terrell Lewis. Julian Okwara is my personal favorite amongst the pass rush options that may be available in the 2nd round. The Notre Dame product is well rounded and has all the physical tools to become an impact player in the NFL.
Players to Watch: Okwara, Notre Dame (2nd). Josh Uche, Michigan (2nd). Bradlee Anae, Utah (3rd).
With only three of their five current OLBs presumably locks to make the 53-man roster, the Ravens may look to double up in the draft. Day 3 of the draft may present the Ravens with the option to add to draft a pass rusher who they think can be a starter down the road. Matt Judon, Za'darius Smith, and Pernell McPhee are all pass rushers selected by the Ravens in the 2nd half of the draft.
Players to Watch: K. Willekes, Mich. St (4th). A. Robinson, Syracuse (5th). D. Tuszka, ND St. (6th).
Inside Linebacker
As it stands today, the Ravens are incredibly thin at the ILB position. L.J. Fort, Chris Board and Otaro Alaka are the only ILBs currently under contract with the team. The Ravens have the best CB duo in the league, a talented DL, and a formidable safety pairing. They should use the draft to add to their ILB group and plug one of their very few holes on defense.
In recent years, ILB has become devalued as a position. Besides RB, ILB may be the position in the NFL with the lowest "positional value." As the league gets faster and offenses increasingly favor the passing game, the "thumping" ILB is going the way of the dinosaur. Modern NFL ILBs are required to be fast, athletic, and comfortable in coverage against TEs and RBs. Even some of the better coverage LBs in the game are sometimes substituted for safeties who play as sub package ILBs.
The decrease in the positional value of ILBs means that talented ILBs should be available well after their draft board position. Although ILB ranks third among the Ravens biggest needs, they could choose to target one in the 1st round. Patrick Queen is a Top 15 player in this class and would step in right away to be a three-down player at ILB. If there aren't any pass rushers or offensive linemen who the Ravens value available at 28, Queen would be a fine choice.
[See All Our ILB Prospect Profiles Here]
Players to Watch: Patrick Queen, LSU (1st). Kenneth Murray, Oklahoma (1st).
If, for whatever reason, the Ravens do not come away with Queen or Murray in the 1st round, there are a handful of ILB prospects who are excellent Day 2 prospects. Some of the 2nd and 3rd round ILB options may need a season or two to develop, but they should be able to step in and help the rotation right away. Logan Wilson is a personal favorite of mine and a player who has recently received Top 100 buzz. Wilson, a three-year captain at Wyoming, is tackling machine who is talented in coverage and would be an excellent pick for the Ravens.
Players to Watch: M. Harrison, Ohio St. (2nd). J. Brooks, Texas Tech (2nd). Wilson, Wyoming (3rd).
Regardless of whether the Ravens select an ILB in the early rounds, they may be looking at ILBs on Day 3. If they select one in the early rounds, they may double up at the position to add to the group. If they don't, they'll still be trying to fill that void. With the positional value of ILBs down and the franchise's history of success with unheralded ILBs, waiting to select one until the late rounds or signing an UDFA feels like something that they might do.
Players to Watch: Akeem Davis-Gaither (4th). Evan Weaver, Cal (4th). Marcus Bailey, Purdue (5th).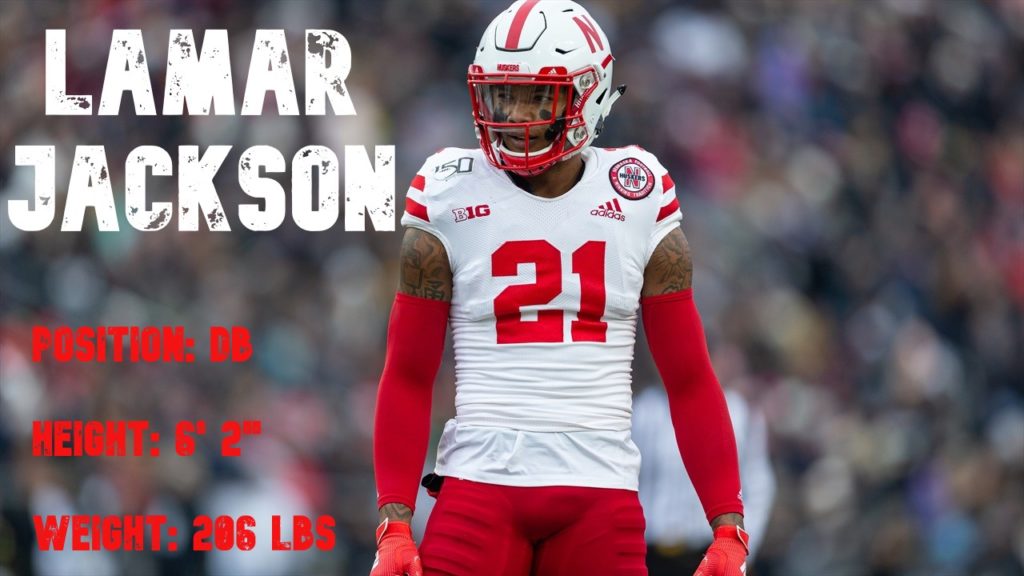 Cornerback
The Ravens are lucky enough to enter the 2020 season with the best CB duo in the NFL. After being brought over in a midseason trade, former Chiefs and Rams CB Marcus Peters joined homegrown talent Marlon Humphrey on the AP's 2019 All-Pro team. Joining Humphrey and Peters in Baltimore's CB group are starting slot CB Tavon Young, Jimmy Smith, Anthony Averett, Iman Marshall, and Terrell Bonds.
Former Ravens GM Ozzie Newsome has been on the record multiple times in the past saying something to the effect of: "A team can never have enough good cornerbacks." The Ravens have seemingly had that idea in mind in recent drafts and have selected at least one CB in each of their last five. They could take a Day 2 or 3 outside CB in this year's draft. Jimmy Smith is playing on a one-year deal and neither Averett nor Marshall have been overly impressive in their short careers.
[See All Our CB Prospect Profiles Here]
While an outside CB is an option, the Ravens would be better off selecting a CB to backup Tavon Young in the slot. Young's injury history is disconcerting, and their best slot CB after Young is Humphrey. This draft class has some intriguing slot CBs who may be available on Day 3 of the draft and could serve as Young's primary backup and play special teams while they adjust to the pro game.
Players to Watch: Amik Robertson, La. Tech (4th). John Reid, PSU (6th). Lavert Hill, Michigan (7th).
Safety
It is highly likely that the 2020 Ravens will roll out the same safety pairing that served them so well for most of the 2019 season. Earl Thomas will start at FS and Chuck Clark, who took over for the departed Tony Jefferson during the season, will start at SS. As the roster stands today, DeShon Elliott is slated to be the primary backup. Anthony Levine will captain the special teams and have a role in sub packages.
Unless the Ravens find themselves enamored with a prospect who would play frequently in the slot and as a linebacker, they'd be wise to wait until at least the middle rounds to add to their safety group. The Ravens could look to add a developmental FS prospect who could learn from and back up Thomas. Even though Wink Martindale likes his safeties to be versatile, there simply isn't a good backup FS option on the roster. Free Safeties are hard to come by in the NFL Draft, but there are a few middle/late round prospects who might fit the bill.
Players to Watch: Julian Blackman, Utah (6th). Jordan Fuller, Ohio State (6th).
Adding a FS to backup to Thomas is certainly a reasonable option, but I would advocate for the Ravens to add a do-it-all safety prospect on the 3rd day of the draft. A player who can play FS, SS and as a slot CB or sub package LB would be a valuable addition to an increasingly versatile Ravens defense. Clemson's K'Von Wallace is one of my favorite players in the entire draft. Wallace would give the Ravens a player who can play man coverage in the slot and provide Wink Martindale with another talented blitzer.
Players to Watch: K. Wallace, Clemson (4th). A. Gilman, ND (5th). A. Brooks, Maryland (6th).